Morocco is simply mesmerizing. It's a country we could explore for months and never tire of. How could you, when it encompasses the vastness of the Sahara, the most ancient medinas, countless epic mountain ranges, and more? And that's without even taking into account the hospitality of the locals and the flavors of the food. Yes, it's safe to say that this North African destination has countless attractions to boast of. So, how to narrow them down? Well, these top 10 Morocco experiences are a pretty good place to start.
Here at Intrepid we've spent hours combing through cities up north, port towns in the west, and scenic spots all over, to come up with this list. Our favorite activities include the iconic and the unconventional, the obvious and the lesser-known, and we're excited to share them with you. Here they are, a selection of Moroccan experiences truly worth crossing off your bucket list:
Spend a night in the Sahara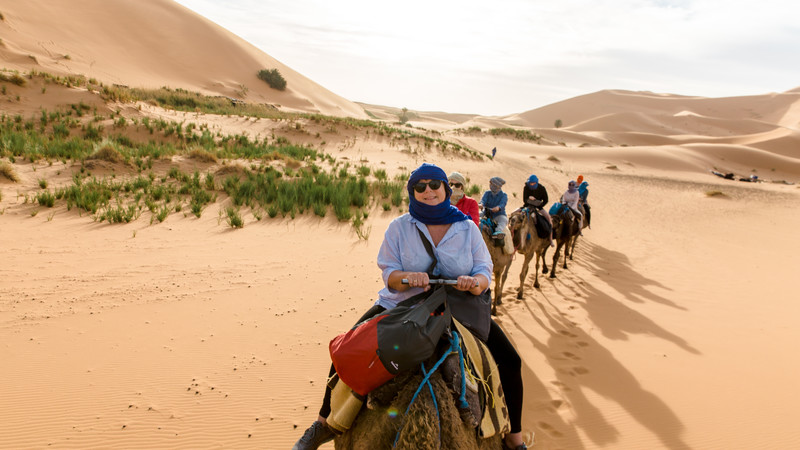 Forgive us for starting with such an obvious one, but visiting the Sahara just defines a quintessentially Moroccan experience. An experience that'll stay with you forever – particularly if you plan your camel ride to coincide with sunset, and visit the dramatic sand dunes of Erg Chebbi (psst, our Morocco Uncovered trip does!). In all honesty, the landscape here is so spectacular and otherworldly that it'll leave you breathless.
Close to the Algerian border, the closest Saharan village (Merzouga) is as isolated as it gets. But that's not to say you'll be lonely when visiting. Visit with Intrepid (we have a 10-day trip, if you're short on time) and you and the group will camp out on the dunes in traditional style, try local cuisine, enjoy an open fire, and gaze up at the stars. It's a night like no other.
READ MORE: A FIRST-HAND ACCOUNT OF WHAT IT'S REALLY LIKE VISITING THE SAHARA
Horse ride in Essaouira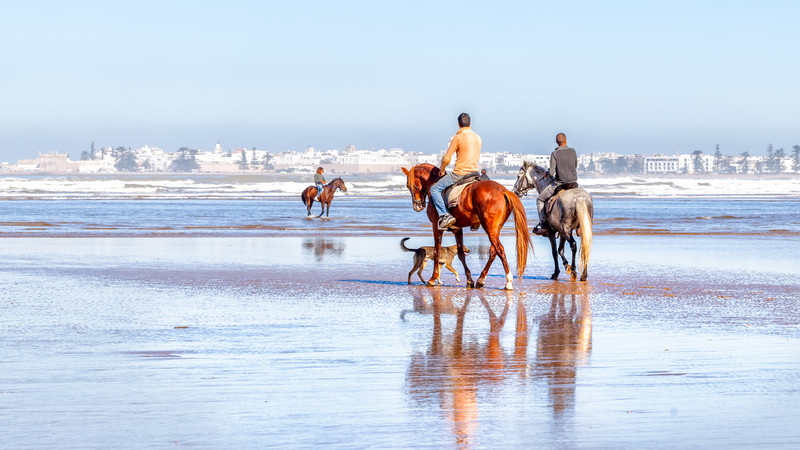 We love Essaouira. The port city is as unassuming and relaxed as it is stunning and white-washed. It's a destination you go to sit on the ancient city ramparts and just listen to the crash of the Atlantic waves. A destination where you feel at home immediately, thanks to the sense of calm and the winding streets. And although we love it so much that we've written a whole ode to it, we better mention some activities you can do there (lest you think it's only for chilling).
Known as the 'Wind City of Africa', the seaside attractions are plentiful. Kite-surfing and general surfing are big here. You can take lessons and make the most of peak windsurfing season – April to November. Our favorite activity, however, is horse riding. It's hard to explain exactly why but there's just nothing as memorable as a horseback ride across Essaouira's white-sand beaches, the wind in your hair and the feeling of freedom that's, um, oh so freeing.
HORSE RIDE IN ESSAOUIRA ON OUR 7-DAY 'MOROCCO: BIKE, HIKE & HORSE RIDE' TRIP
Try Berber cuisine in Aroumd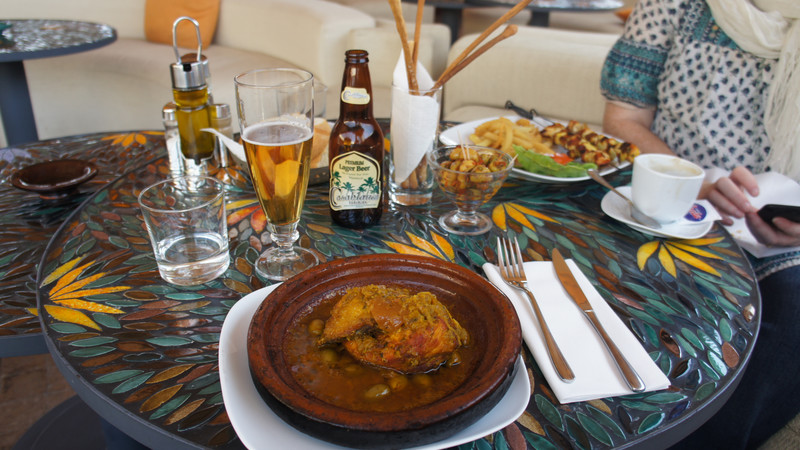 Morocco itself is a melting pot, so it will come as no surprise that the food is reflective of this – containing the best of Berber, Arabic and European influences. It's full of fresh ingredients, served with exceptional hospitality, and, in fact, is so delicious that we dedicated our 10-day 'Morocco Real Food Adventure' to it. Experiences on it range from an olive press visit to a cous cous demonstration and dinner, but one of our most-loved has to be the homestay in Aroumd.
For those of you not in the know, Aroumd is a small Berber village set in the sweeping High Atlas Mountains. It might be a long drive to get to, but the snow-dappled mountains (in winter) and valley in full flower (in warmer weather) are just magical.
But, of course, it's the people not the place that count for the most. And the Berber host family here are more than happy to share their orchard, and its culinary delights, with you. Surrounded by the smell of woodstoves and bread, you'll learn how to prepare Berber cuisine (such as the iconic tagine) before enjoying a shared dinner overlooking mountain vistas and a memorable night's stay.
ENJOY THIS FOODIE EXPERIENCE (+ MANY MORE) ON OUR MOROCCO CULINARY TOUR
Cycle around Tangier
Tangier is a city that often gets left off visitors' wishlists, but we think the 'gateway to Africa' is pretty fascinating. Set in the far north of the country, the port city is close to Spain, but has so much history and culture that it's incomparable to anywhere else. And here, the whitewashed, hillside medina is certainly worth a visit, but there's so much to see that our favorite activity is actually cycling around.
Where to bike? Well, start by visiting the Grottes d'Hercules (Caves of Hercules), a cave that Hercules (allegedly) stayed in. It's an interesting little spot as it's been used as a brothel, a concert venue and much more since. From here, venture to a dream day trip destination: Cap Spartel. Situated at the northwestern extremity of Africa's Atlantic Coast, this 19th century lighthouse offers gorgeous views, a selection of beaches nearby, and a gorgeous journey to reach through the pine-covered headland.
BIKE ENTHUSIAST? OUR 2-WEEK 'CYCLE MOROCCO' TRIP IS PERFECT FOR YOU
Watch sunrise over Chefchaouen
Even if you Google 'Chefchaouen' for yourself, it's easy to think this Northern Moroccan city has somehow been enhanced by Photoshop. The many shades of blue it's been painted in are just THAT surreal and breathtaking. But no, this spot that's set high in the Rif Mountains, is no mirage. It's a peaceful haven, a place where you can sip mint tea and relax, a highlight of our 9-day North Morocco Adventure.
There's oh so many things we love to do here. Visiting a hammam (Moroccan bathhouse) is always an experience for the books. And the quaint medina is by no means Morocco's largest, but vendors and crammed antique shops still sell everything from woven blankets to brass teapots to leather goods. Then there's even hiking opportunity aplenty at nearby Talassemtane National Park.
But an even nearer must-do is the short hike to the nearby Spanish Mosque for awe-inspiring views over the mountains and town. 30 minutes from the eastern medina gate and you'll find yourself in literal (okay, not quite literal) heaven. Insider tip: for even more picturesque views, go during sunrise or sunset.
READ MORE: EVERYTHING YOU NEED TO KNOW ABOUT MOROCCO'S BLUE CITY, CHEFCHAOUEN
Surf in Taghazout
Taghazout, though close to the resort city of Agadir and the port town of Essaouira, had stayed fairly below the radar until recently. But we're delighted that the fishing village has begun to get some recognition. After all, the prime surfing spot is pretty impressive. The waters stay warm from September through to April and the surf is excellent for starters and adept wave riders alike. Start your exploration with a walk past its sleepy cafes and surf shops, or better yet, acquaint yourself with the waves before watching the sun slowly sink into the sea.
We're so into the unexpected surf scene here that we included a half-day surfing course in our 8-day 'Morocco Atlas and Atlantic' trip. The intensity of the course is adjusted to the group's abilities, so it's a great chance to try the sport for all. We also arrange an hour-long yoga class after the surfing session (you're welcome) so you can relax and work out any tension you might have.
Before or after any trip to Taghazout, venture to the nearby and aptly-named Paradise Valley. You'll be greeted by rock pools, small waterfalls and an array of scenic gems that'll make you fall even harder for the country.
TRY YOUR HAND AT SURFING IN TAGHAZOUT ON OUR (NEW) 8-DAY MOROCCO TRIP
Shop in the Marrakech medina
Marrakech's medina is so special that it's a genuine UNESCO Heritage Site. Walk around here (read: get lost in) and you'll understand the allure. Its main landmark is the minaret of the Koutoubia mosque, but its Jemaa El-Fna square, the main square, where you'll likely spend a lot of time. Overwhelming – thanks to the hive of activity and abundance of musicians, food stalls and craft-sellers – it's also captivating. We recommend heading to any of the many rooftop terraces around the main square and watching it become (even more) alive at sundown.
READ MORE: HOW TO SPEND THE PERFECT 24 HOURS IN MARRAKECH 
Of course, you don't want to miss out on the shopping opportunities either. The souks (traditional Arab markets) pulsate with life, and offer everything from spices to antiques to lanterns to silks. There are quite literally thousands of shops packed into a maze of small alleyways.
But with so much choice and so many winding roads comes the issue of not knowing where to browse first. Enter the half-day tour that our sister company, Urban Adventures, provides. Not only does it explain how to haggle in Arabic and offer secret shopping spots away from the main tourist trail, you also get access to exclusive price discounts, learn about traditional craft methods from local artisans and enjoy some Berber tea and snacks at a local cafe. Bliss.
Explore the tanneries of Fes
Morocco's second largest city is a joy to behold. If you found the medina and markets in Marrekech spellbinding then just wait until you explore them in the country's cultural capital, Fes. The huge, well-preserved medieval old city makes you feel like you've ventured back in time, while the donkeys that pass make you understand why this is one of the largest car-free urban zones in the world.
In addition to sights such as the Belghazi Museum and the Mellah (Jewish Quarter), the tanneries are a must-visit. Fes is known for its clothing and fabrics (leather, in particular) and so a visit to the tanneries demonstrates just how they all come about. Visit on our 15-day 'Best of Morocco' trip and you'll not only visit the most famous one – seeing the iconic view overlooking its dye pits – you'll also visit a traditional ceramics factory.
So, what should you expect from a tannery trip? First off, a stench that's pretty pungent (there's no point lying!). Thankfully, your tour guide can supply fresh mint to hold up to your nose and overcome it. Secondly, sights that more than make up for the smell. You'll see workers waist deep in different-colored dyes, tending to the animal hides soaked in the vessels. The process of turning the hides into leather products is all done manually, giving you a fascinating insight into a practice that has barely changed since medieval times. What an experience.
READ MORE: WHAT IT'S LIKE VISITING MOROCCO AS A SOLO FEMALE TRAVELER
Mountain bike the Atlas Mountains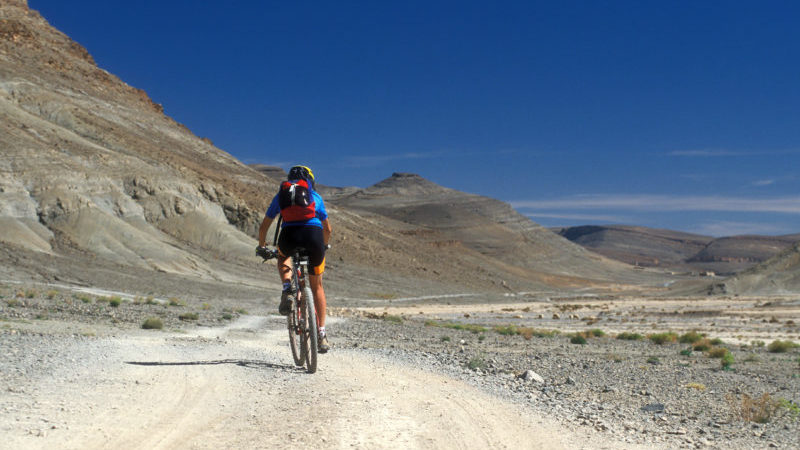 Morocco's diversity really knows no bounds. We've taken you through ancient souks and windy beaches, through small surf towns and into the expansive Sahara. But, for some reason, not many people think of mountains when they think of Morocco. Which is a shame, because there's nothing like the Berber villages, canyons and ravines of the Atlas Mountains.
READ MORE: WHAT IT'S REALLY LIKE VISITING THE ATLAS MOUNTAINS WITH INTREPID
We might be biased, because we're obsessed with our new 7-day adventure-filled tour of the mountains and coastline, but there's nothing like getting to grips with the region via mountain bike. When you visit with us you'll have a scenic drive up to the Ourika Valley and then mountain bike down. We can tailor the route to experience levels, meaning the only thing to do it enjoy the ride and gawp at the dramatic views.
To finish off a truly memorable day mountain biking the Atlas Mountains, there's a classic Moroccan lunch of tagines and freshly-baked bread, and in the evening you spend the night with a local Berber family.
Seek out street art in Casablanca
We thought we'd end with a quirky option.. Because everyone loves a bit of street art, right? And the largest city in Morocco, Casablanca, has quite the up-and-coming creative feel to it. Graffiti included. And industrial slaughterhouse-turned-cultural center included too (yep, head to La Fabrique Culturelle des Anciens Abattoirs de Casablanca for street art exhibitions plus dance and music events).
The old city is home to much of the street art, and it's well worth a browse, especially as the murals you'll see are some of the only and best in the country. This is no coincidence. Street art has been encouraged here, and whether you're walking round the Al Hank neighborhood or lazing around the United Nations Square, you'll see evidence of this.
But it's not just about the street art in Casablanca – the city provides an important insight into modern Morocco. It's a country home to 'Morocco Mall' (one of the largest shopping centers in the continent), Art Deco villas and expats in fancy restaurants as much as it's home to ancient medinas and souks. And it's a country that never fails to surprise, bewilder, and delight.
Tempted to pay this stunning country a visit? Check out our wide range of small group adventures in Morocco.
—
(Image credits from top to bottom: Intrepid Travel, Intrepid Travel, Intrepid Travel, Intrepid Travel, iStock/jmoor17, Intrepid Travel, iStock/tony4urban, Intrepid Travel, Intrepid Travel, iStock/guenterguni, Intrepid Travel)
Feeling inspired?