When I think of Morocco I think of ancient medinas, rolling deserts, blue painted hillside towns. I think of colourful tiles and piled Tagines and Berber men wrapped in blue turbans. I think of so many things; colour, sounds, religion, tradition. Yet I never thought of mountains.
I never imagined I'd find myself in a hillside village under snow-capped peaks, wrapped in blankets and under a wooden hat as the sun rose. But 10 days into our Best of Morocco tour and we are about to do just that.
The mountains have been teasing us for days now. It was before the Sahara that we first caught a glimpse of their rocky white tips. Since then, they always seem to be in sight, just teasing us on the horizon line. 'That's Toubkal', our guide Mustafa had frequently said to us, while driving along mountain roads, or sat drinking tea on the top of a Kasbah. It was always there, somewhere on the horizon, but it took us 10 days before we got close enough to make out the curves in the rock, to feel the bitter mountain air and to experience a whole new culture of Morocco.
We arrive in the village of Imlil in the early afternoon. The winding lanes of the village are full of trekking shops, small bakeries and spice sacks. It's a town I would have placed in the Himalayas, yet it's here in Northern Africa, at the foot of Morocco's highest peak.
We pass carpets laid out on the side of the rocks and mules tied up with rainbow saddle covers. Here, mules are the main form of transport up and down the mountains. Their size and strength make them perfect animals for the winding mountain paths which rise up to Toubkal.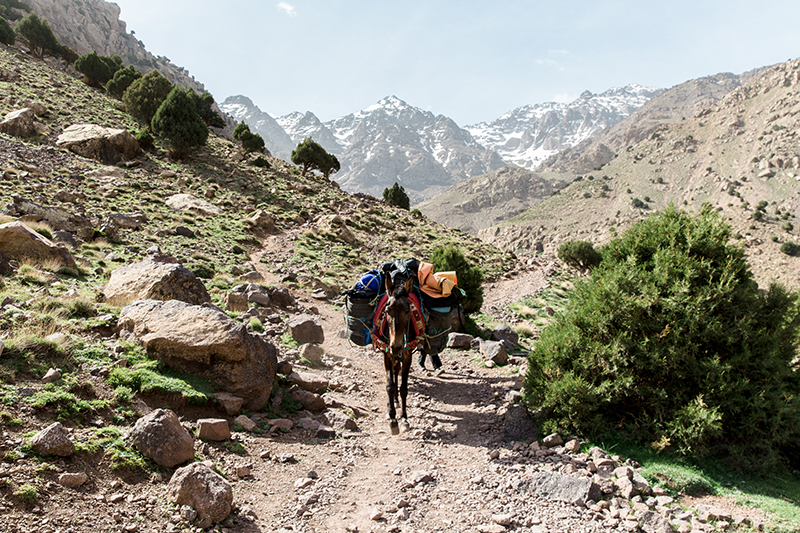 We won't be travelling all the way to the top of the mountain, but instead to the village of Aroumd. It's an hour and a half walk away from Imlil and sits on a ridge facing the peaks in the distance. The walk is quick and steady on my feet yet the beauty all around means I'm constantly stopping to capture it all.
Today, mist shrouds the mountains and villages, it adds a sense of mystery to where we are. As it's spring, wildflowers are in full bloom, and we cross a field of blooming yellow canola before we continue along the rocky path to Aroumd.
The village is perched on the hillside and home to 2000 people. From a distance, the houses appear unfinished, each an unpainted colour of concrete. Yet head into the small streets and you'll find colourful doors, green gardens holding mules and even a Hamman/Boulangerie in one. Our gite (a mountain home) is covered in colourful fabrics and the small dining room houses a wood burning stove, which becomes much welcomed as the sunsets and the mountain chill descends.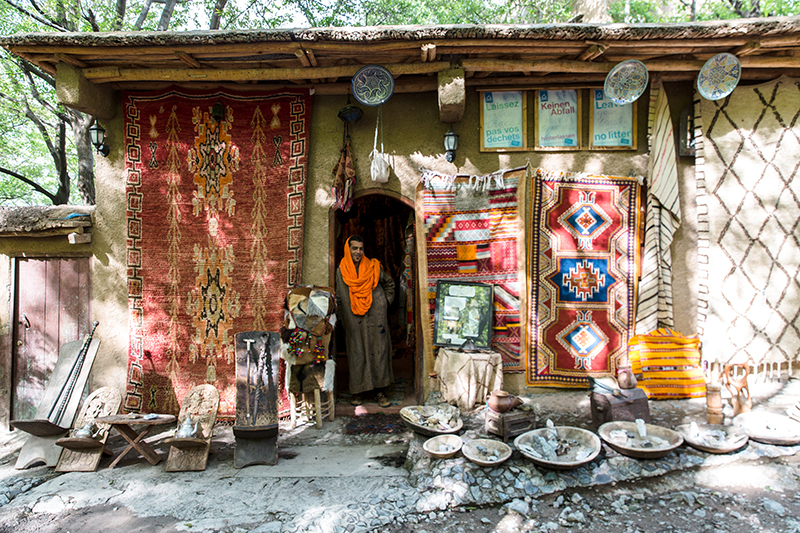 The food here is some of the best we eat in Morocco. Lentil soup, followed by flavoursome tanginess and fresh fruit. The tea is different too, due to a mountain mint which tastes more like spearmint than the traditional peppermint used in teas around the country.
READ MORE: 10 EXPERIENCES EVERY TRAVELLER SHOULD HAVE IN MOROCCO
The next morning we are up at 7:30 am to hike unto the shrine at Sidi Chamharouch. The morning mountain air is crisp and clear, and the sky is a perfect blue. We have the path almost to ourselves, save a few passing local mules. It's a steady 4-hour hike to the small hamlet which is a mix of ramshackle homes, tea shops and the main attraction here; the mosque and white rock shrine. Our guide tells us that this shrine is an attraction for people from all over Morocco who come here looking for happiness or marriage. Sacrifice a sheep here, and Allah will grant you a pretty good wife, but sacrifice a cow, and you'll get a great one.
We stop briefly at the top to admire the views of the snow capped peaks, enjoy the clean flowing water at the waterfall and drink a couple of cups of thyme tea. A man bakes bread in one cubby hole shop in the market, and another sells precious rocks from the area around. We spot a couple of groups of keen trekkers, ready to take on Toubkal in the next few days. Mules are everywhere, as are their orange peels.
As we head back down to Aroumd and on further to Imlil, the path gets busier with pilgrims, trekkers and locals heading up to the surrounding villages. On the back of one mule, we spot a sheep baa-ing for its freedom, almost like it knew what was coming when it reached the shrine. I guess that person was only after a pretty good wife this time.
Feeling inspired to take your own journey in the shadow of the Toubkal? Check out our small group Morocco itineraries! 
—
Words and images by the lovely Annapurna Mellor, who travelled on our 15-day Best of Morocco tour. Check out her website and Instagram for some serious wanderlust inspo! 
Feeling inspired?