There's no denying that the coronavirus (and more annoyingly, Omicron) has pressed pause on many people's travel plans so far in 2022. But as restrictions begin to ease in certain parts of the world and people are starting to dream about getting out and exploring again, we thought it was time to start providing you with a little bit of travel inspiration for later in the year.
For the next few months, we're going to approach our popular month-by-month travel guides a little differently. Normally, we'd help you choose your next destination for an international adventure, without having to trawl through endless travel mags and guidebooks for answers. Instead, we're celebrating our brand new range of local experiences and encouraging people all around the world to travel a little closer to home right now.
Aussies, listen up! Here are our recommendations for your close-to-home adventures this September.
Top 10 Australia Tours September 2023
1. If you're based in Tasmania…
The Bay of Fires. Image by Damien Raggatt.
Tasmanians are blessed with plenty of wild, natural landscapes to explore to help them shake off the cabin fever from staying home. The Bay of Fires is a bucket-list destination for many; spanning over 50 kilometres, this stretch of coastline is well-known for its fiery orange boulder-clad landscape and rugged beauty. But Tassie is not only about the great outdoors. As restrictions for restaurants, cafes and wineries begin to ease, there is no shortage of local producers to support. Indulge in a cheese tasting at Ashgrove Farm near Launceston, a glass of local pinot noir near Wineglass Bay or fresh seafood in the state's capital of Hobart.
Top trips: 
2. If you're based in Victoria…
The Great Ocean Road. Image by Matt Freer.
Victorians are spoiled for choice when it comes to short breaks, but there is nothing more iconic than a road trip down the Great Ocean Road. Some brisk, sea air will be just what the doctor ordered after months of being cooped up at home, and with the weather beginning to warm up in September, there's no better time to hit the open road. Stop for photo opportunities at sites such as the world-famous 12 Apostles or keep an eye out for whales in Warrnambool.
Top trips:
3. If you're based in New South Wales or Canberra…
There has been some controversy around Sydneysiders flocking to popular beaches during lockdown, but as restrictions ease, there will be ample opportunity to enjoy some authorised time on the coast. Bondi is a crowd-favourite with locals and foreigners alike, but if you are looking to get out of the city, Byron Bay is an excellent option. This laid-back coastal town has plenty of incredible local produce to taste, beach walks to be had and, in the spirit of the hippie-culture it's famous for, many a sunrise yoga session on offer. Plus, visit a local B-Corp Brewery for a tour and the chance to sample some local, sustainably brewed beer.
Top trips:
VISIT BYRON BAY ON OUR BRAND NEW 4-DAY INTREPID RETREAT
4. If you're based in Queensland…
The Daintree. Image by Pat O'Neill.
Queenslanders have an endless array of beautiful places to visit. From catching some waves along the Gold Coast to relaxing in the sun in Noosa or heading out to Fraser Island to spot local wildlife such as dingoes, there's plenty to see and do in the southern half of the state. If you're able to head further north, the Great Barrier Reef is just as impressive for locals as it is to foreigners. Spend a day snorkelling off the beach, or head out on a boat from Cairns if you can. A drive up to Cape Tribulation – where the rainforest meets the reef – is a once-in-a-lifetime experience. The Daintree is the world's most ancient rainforest, containing flora and fauna found nowhere else in the world, so a guided walk with a local in the area is a must
Top trips:
VISIT THE DAINTREE ON OUR BRAND NEW 5-DAY INTREPID RETREAT
5. If you're based in the Northern Territory…
Northern Territory locals have some of the most iconic Australian landmarks within their borders. Depending on where in the territory you're based, it might be quite a road trip to Uluru, but if you have the time, it's definitely worth it. If you're based in Darwin, you might like to head to Litchfield National Park for trail walking and waterfall swimming for a day. Or, for a multi-day trip, you can't go past Kakadu National Park. Spend your time getting back to nature, spotting crocs on a boat trip down the Alligator River, chasing as many waterfalls as you can or checking out the famous First Nations rock art at Nourlangie.
Top trips:
VISIT ULURU ON OUR 3-DAY ULURU ADVENTURE
6. If you're based in Western Australia…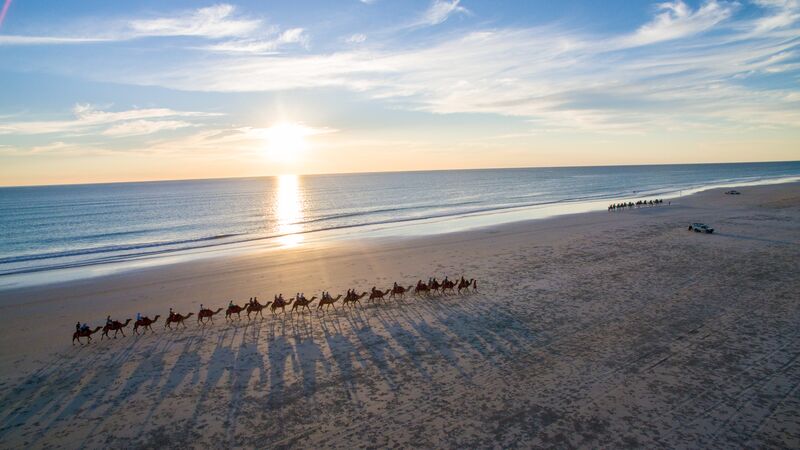 Cable Beach. Image via Shutterstock.
Considering Western Australia is almost as big as Queensland, New South Wales and Victoria combined, there is no reason why locals should need to cross state borders for a short break. For a tropical getaway, head to Broome and spend some time recharging on the white sands of Cable Beach. From here, you can head east to the Kimberley, a tranquil region renowned for its spectacular landscapes, First Nations culture and abundance of waterholes waiting to be explored. Spend nights glamping under the stars and days reconnecting with nature and never worrying about social distancing from crowds of people.
Top trips: 
VISIT THE KIMBERLEY ON OUR BRAND NEW 6-DAY WEST KIMBERLEY ADVENTURE
7. If you're based in South Australia…
Adelaide sometimes gets a bad rap from Aussies in other states, but local South Australians know their capital city is worth visiting and doubles as a great base for day trips to other regions. Kangaroo Island is a must-do for any Aussie. Don't miss the chance to support the bushfire stricken community as they rebuild, and see some pretty amazing native wildlife while you're at it. Otherwise, if you're a fan of wine (and let's face it, what self-respecting South Australian isn't!) you have the Barossa Valley, Adelaide Hills, McLaren Vale, Clare Valley and Coonawarra wine regions all within reach for tasty local produce, spectacular countryside views and, of course, delicious wine.
Top trips:
VISIT KANGAROO ISLAND ON OUR 2-DAY ADVENTURE
If you're an Aussie, looking to travel a little closer to home right now you should check out our exciting new range of local experiences, created by locals, for locals.
Not looking to travel in September? No worries, here's the rest of the year, and the rest of the world!
January
February
March
April
May
June
July
August
September
October 
November
December
or check out our full list of monthly destination guides.
UPDATED: This article was originally published in June 2018, updated in January 2022
Australia Tours by state
Recent Australia tour reviews
Australia FAQs
Australia tour departures by month
Read more about travel in Australia