Discover the spice-filled splendor of Indian and Sri Lankan food.
Inspired by dozens of ethnic subcultures, the flavors of Indian and Sri Lankan cuisine are as rich as the histories that have influenced them. From the dizzying streets of Delhi to the majestic palaces of Udaipur, and the lush countryside of Kandy to the sandy shores of Mirissa, our itineraries are packed with authentic experiences that will delight and surprise even the most seasoned tastebuds. Taste fresh aloo paratha, tamarind chutney and vegetable pickle, chaat from roadside snack vendors, home-cooked Rajasthan curry and real Sri Lankan tea picked straight from the plantation. You'll never look at curry in the same way again.
Our food trips in India and Sri Lanka
Take a food-filled journey through Sri Lanka, spending 12 days cooking and eating in...
Relish the sights and flavours of Delhi, Agra, Jaipur, Udaipur, Mumbai and Goa on this...
India & Sri Lanka food highlights
Dhal and roti
Nothing says 'comfort food' in South Asia more than dhal and roti. Made with lentils and herbs and spices such as curry leaves, cumin, ginger and turmeric, it makes a great dish for breakfast, lunch or dinner. Eat like a local and tear off pieces of the roti to use as a spoon.
Chai
You'll never forget the morning calls of chai wallahs as they boil up this sweet-smelling beverage of black tea, warming spices, milk and sugar. Food may vary a lot from region to region, but the ritual of making and drinking chai is something you'll find all over South Asia.
Thali
Struggling to choose just one curry? Fear not. A thali comprises several eye-popping, dishes served on a large plate. The dishes typically include grains, lentils, vegetables or meat curries, chutney, raita, pickles and pappadum – creating the perfect balance of sweet, salty, bitter, sour, astringent and spicy flavours.
Why choose Intrepid
Real, authentic experiences
We love the highlights, but for us the real magic is found off the tourist trails. Our trips combine iconic sites with hidden gems that you'll only discover with Intrepid. We're talking mornings exploring the Taj Mahal, followed by a Mughlai cooking class with a passionate home cook.
Local expertise
Whether you're perusing markets, hunting down the best street food bites or learning how to cook centuries-old family recipes at a homestay, there's no better way to get the inside scoop on a destination – and its culinary traditions – than with an expert local leader by your side.
Small groups
Big coaches and flag-toting tour guides don't cut it for us. With a maximum group size of 12, our groups blend in with the locals and have plenty of opportunities to interact with chefs, street food vendors and group leaders. It also means you can really connect with your fellow foodies.
Reviews
Stories from the kitchen
India and Sri Lanka recipes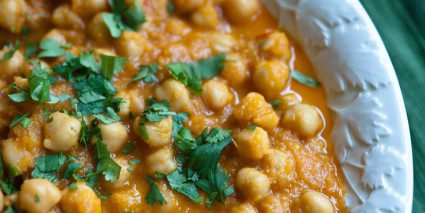 Mar 04, 2015
---
Chana Bhatura is one of northern India's favourite comfort foods. It's basically a...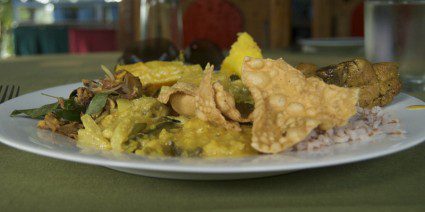 Nov 19, 2014
---
Rice and curry is the king of Sri Lankan cuisine. There's a slew of variations...