Pakistan
Searching for a proper adventure? Pack your bags. Pack your camera. Pakistan.
Imagine if you could click your fingers and forget everything you've heard about Pakistan. Well, this is your chance – just click your mouse and you'll be on your way to discovering a Pakistan that's not defined by the media. This is a land of soaring mountains, a land whose terrain is as enrapturing as its history. From the top of K2 to the Arabian Sea, Pakistan has felt the subtle touch of the world's greatest empires and the brute force of the world's most complex conflicts. And through it all, the Pakistani people remain humble, hopeful and unconditionally hospitable – come and see it for yourself.
Earn Qantas Points on trips over $1000*
Find out more
Articles on Pakistan
Mar 02, 2020
---
Just in time for International Women's Day, we're bringing you some brand new...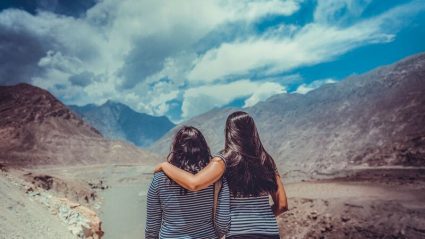 Mar 02, 2020
---
Your friends and family might think you're crazy for wanting to travel to Pakistan...
Pakistan travel highlights
Transport in Pakistan
Intrepid believes half the fun of experiencing a new country is getting there, and getting around once there! Where possible, Intrepid uses local transport options and traditional modes of transport - which usually carry less of an environmental impact, support small local operators and are heaps more fun.
Depending on which trip you're on while in Pakistan, you may find yourself travelling by:
Jeep
It takes a sturdy vehicle to tackle the more remote roads in the Pakistani mountains. Explore the region's national parks and high passes in a 4WD and see the places most travellers miss.
Rickshaw
Lahore's Ranjeela rickshaws are a fun, colourful way to experience the Old City with a local guide. See the ancient walls and all the city sights from your fabulous chariot.
Accommodation in Pakistan
Travelling with Intrepid is a little bit different. We endeavour to provide travellers with an authentic experience to remember, so we try to keep accommodation as unique and traditional as possible.
When travelling with us in Pakistan you may find yourself staying in a:
Homestay
Get acquainted with the Pakistani way of life while on a memorable homestay. Be exposed to new languages, cuisine and customs while making friends with your hosts and neighbours.
Pakistan holiday information
Geography and environment
Pakistan travel FAQs
Responsible Travel
Intrepid is committed to travelling in a way that is respectful of local people, their culture, local economies and the environment. It's important to remember that what may be acceptable behaviour, dress and language in your own country may not be appropriate in another. Please keep this in mind while travelling.
How we're giving back
In Pakistan, we stay in locally run accommodation including guesthouses, smaller-scale hotels and homestays in an effort to support the local economies. We also visit locally run restaurants and markets where travellers will have opportunities to support community businesses and purchase handicrafts created by local artisans. Our Responsible Travel Policy outlines our commitment to being the best travel company for the world.