In the last two decades, Pakistan's tourism industry was completely upended due to travel safety and security concerns. But this Intrepid leader says times are changing, particularly for female travellers, and now is the perfect time to visit.
Before 9/11, Pakistan was having a moment. Tourism in the region was on the rise, with travellers realising they could have a true 'off the beaten track' adventure in a country that offered a rich and complex history, jaw-dropping landscapes, and warm, welcoming people.
But after September 2001, travel to the region virtually stopped overnight. People were scared of terrorism, security issues and political unrest. Pakistan became part of the world where people – particularly women – didn't feel safe visiting.
Fortunately this is starting to change, thanks in part to women like Aneeqa Ali, an Intrepid tour leader and founder of travel company The Mad Hatters. Aneeqa launched The Mad Hatters in 2017 as a way to show travellers some of Pakistan's less-explored (and infinitely beautiful) locations.
Aneeqa, who'll be heading up our new 2023 Pakistan expeditions, focuses on female empowerment, engagement and connection to community on all of her tours. "If you look at Pakistan's tourism industry – at the tour guides, transport operators, and hotel owners – it's like a world of men," she says. "I've faced these challenges firsthand, and thought 'Why not be the change you want to see in the world?'. Starting up my own tour company could make it easier for other people – especially women – who want to see Pakistan too."
While influencer culture in recent years has made travel in Pakistan look pretty simple, that's not really the case. Visiting the region is not without its complexities.
"Pakistan is a black hole on the internet. Even the most adventurous travellers who have been all over the world can't find information online about how to travel within Pakistan," Aneeqa says. "So when they come here, particularly women, they want to sign up for an organised tour, and they want to be with a female tour guide, because of the news they've heard about Pakistan."
Aneeqa says that the majority of organised tours in Pakistan tend not to venture too far off the tourist trail, hitting up popular sites while steering clear of smaller towns. "One thing that's really missing is that connection with local communities, which is something I encourage on all of my tours," she says.
As a Pakistani woman with deep connections to local communities, Aneeqa is proud to offer travellers a more immersive experience that other tour groups just don't get. She uses the example of staying at traditional guesthouses and with families in a local homestay. "When we're staying with local people in their homes, we're doing the things that they do in their everyday lives. We can go into the kitchen and start cooking food with them," she says. "If you're staying in a hotel, you're cut off from that. You're not having that experience of how people in the community are living."
The thing that surprises travellers most about Pakistan, according to Aneeqa, is the scenery. "After Nepal, Pakistan has the highest number of mountains over 8000 metres," she says. "When you're travelling down the Karakoram Highway, you're surrounded by these towering peaks. People are just amazed by these incredible landscapes."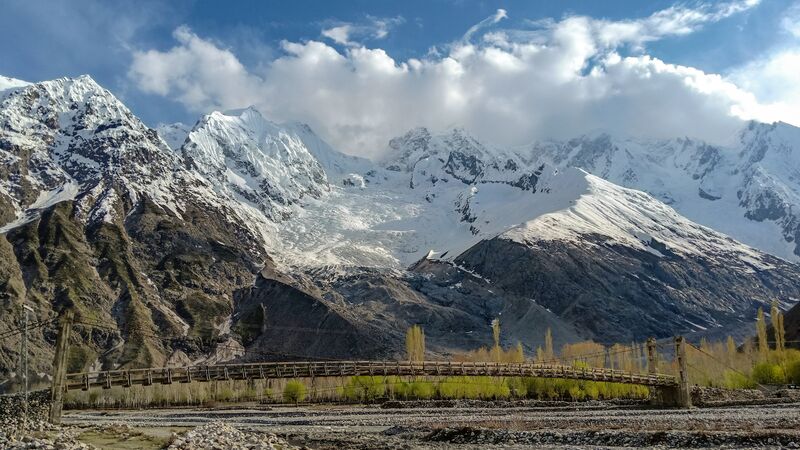 The second thing that stands out is the warm hospitality travellers receive. "I think that's the thing that keeps people coming back, again and again," says Aneeqa. "You could be walking down the street and suddenly you're invited into someone's home for a cup of tea or a meal. The people here are just so welcoming."
Aneeqa is excited about taking Intrepid travellers on this year's brand new expeditions through Pakistan, not only to show off her favourite parts of the country, but to support women in local communities. "Women don't have a lot of choices when it comes to earning an income," she says. "But on these trips, we visit local businesses where women make handicrafts from their homes, weave carpets, run cafes. And we'll always go to the places that are run by locals. I want to make sure that all the money that is spent on these tours goes to the people who need it."
Want to learn more about travelling to Pakistan? Check out our Pakistan trips.
Feeling inspired?