Wander where the wifi is weak and the scenery is spectacular…
It's not hard to see why Pakistan is a popular travel destination for many adventure seekers; there's the friendliness of the Pakistani people, the country's multitude of cultures and its obscene natural beauty. We could go on and on (and on some more) about why this country deserves to be at the top of your travel list but the one thing that stands out above the rest (literally) is…
*Drum roll*
…its incredible trekking routes.
Booming as a trekking destination for all ages and fitness levels, Pakistan isn't short on breathtaking landscapes from the contrasting colours and abstract lines of the Nangma Valley to the towering, snow-covered peaks of the Karakoram mountain ranges. In fact, some of the best treks in the world are in Pakistan.
So, whether you want to start your hiking journey in a place that's a little less crowded or you're an experienced trekker looking for your next challenge, the mountains in Pakistan are calling. Here are the five best treks to add to your bucket list.
1. Amin Brakk (the Great Tower)
Difficulty: Hard
Distance: 8km
Duration: 5 hours
One of the most prominent peaks in the Karakoram ranges, Amin Brakk (or Amin Braq) stands at a staggering 5,800 metres with a base camp nestled at the base of the towering rock face at an altitude of 4,500 metres above sea level.
While not all treks in Pakistan are for hardcore mountaineers, you'll want a decent level of fitness and experience for this one as the trek starts from your campsite in the Nangma Valley with a steep climb and ends on a sharp rocky trail at the base camp. But don't let that deter you.
This trekking route promises unbelievable views from the get-go thanks to its awe-inspiring features and guarantees you'll be returning to your accommodation for the night with a full camera roll and a renewed sense of wonder.
HIKE AMIN BRAKK AS PART OF OUR TREK PAKISTAN'S KARAKORAM MOUNTAINS TOUR
2.      Kanday to Mingulo Broq
Difficulty: Medium
Distance: 6km
Duration: 4 hours
The quaint town of Kanday is the perfect starting point for your Karakoram adventure with a trek to Mingulo Broq a must-do if you want to see as much of this region's outstanding natural beauty as possible. Thankfully, this route isn't a tough one (apart from the occasional steep parts) and you'll have plenty of energy to admire the forest scenery along the way.
This route will take you through some notable features, including the picturesque Hushe River, a narrow valley boarded by alpine flora and across a few bridges (one wooden bridge and two suspension bridges) to reach your Mingulo Broq campsite. But the otherworldly scenery doesn't stop once you've arrived.
You'll spend the night near the water – an idyllic spot surrounded by willow trees next to a rolling pasture where you'll likely get the chance to meet local shepherds. Pro tip: stay up late enough to watch the stars come out and dance across the night sky. From various constellations to the milky way, you'll spot 'em all in Pakistan.
GET LOST IN THE BEAUTY OF PAKISTAN'S KARAKORAM MOUNTAINS ON OUR TREKKING ADVENTURE
3.      Mingulo Broq to Nangma Valley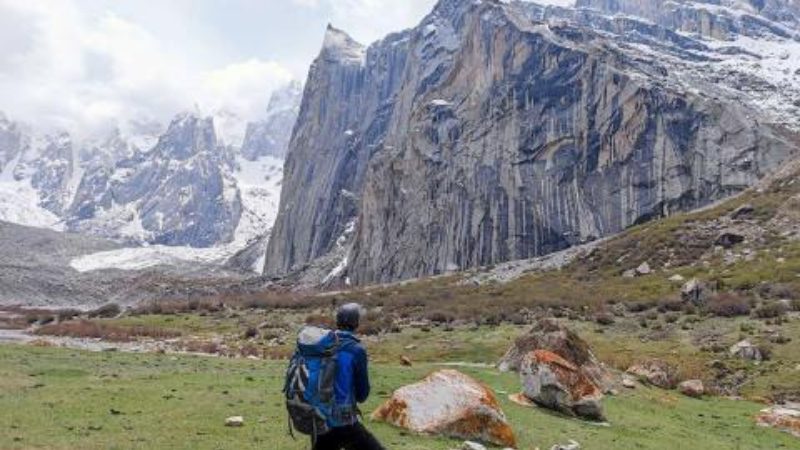 Difficulty: Easy-medium
Distance: 4km
Duration: 3 hours
Unlike the first trek on this list, not every route in the mountainous Karakoram region is tough. Plenty of magnificent scenery awaits you on a 3-hour journey from Mingulo Broq to Nangma Valley, where you'll pass through lush green fields and walk beside a glacial stream (and across another) for part of the way.
The good news is that this trek is relatively flat and only 4 kilometres long, so it's perfect if your legs need a 'rest' day. And once at your campsite in the Nangma Valley, there's enough time to marvel at your surroundings (read: gazing at the extraordinarily sharp peak of Shingu Charpa's north ridge).
For a bonus, try hiking in the spring and gaze in awe as the Nangma Valley comes to life with thousands of blooming flowers in every colour imaginable. It'll be hard to believe you're looking at a natural landscape and not at an impressionist painting but to set your sights on this phenomenon is a once-in-a-lifetime experience. Trust us.
HIKE YOUR WAY TO STUNNING VIEWS ON OUR TREKKING IN PAKISTAN SMALL GROUP TOUR
4.      Fairy Meadows & Nanga Parbat Base Camp trek
Difficulty: Medium
Distance: 10+km (all up)
Duration: 2 days (with a stay overnight in Fairy Meadows)
Fairy Meadows looks exactly the way it sounds – a lush, green oasis fit for a kingdom of magical creatures – so it's little wonder why this scenic spot made it onto the list of the best hiking trails in Pakistan. Declared a national park in 1995, this whimsical site boasts uninterrupted views of the impressive Nanga Parbat (the 9th highest mountain in the world) and acts as the gateway if you want to hike to the mountain's base camp.
But before you head off, it's worth checking out your reflection (and that of the massive mountain behind you) in the town's "Reflection Lake". While not big in size, the lake perfectly encapsulates the beauty of the surrounding region and you'll leave this natural wonder with a million photos on your iPhone's camera roll and Christina Aguilera's rendition of the iconic 1998 song 'Reflection' ringing in your ears.
Once you've had your fantastical fill, you can begin your journey to Nanga Parbat base camp (passing Beyal camp on your way) where a rocky landscape awaits. Yes, the trek from Fairy Meadows to the base camp is difficult, but it's well worth the aching limbs and sore feet to look upon the beauty of the route's glacial scenery.
5. Trail 3, Margalla Hills
Difficulty: Easy-medium
Distance: 2km
Duration: 45 minutes-1 hour
While the Karakoram mountains are known for their many trekking trails, your feet-first adventure can actually start in the central city of Islamabad. With the Himalayas as the backdrop, head off on an easy hike into the Margalla Hills National Park, away from the frenetic pace of Pakistan's capital city.
The hikes themselves may be easy, but the same can't be said for remembering the trail names – the park is full of trails unoriginally titled Trail 1, Trail 2 etc. But, if you can get past that, you'll soon leave behind the honking horns and speeding cars in favour of bird calls and crunching twigs on the park's most popular trail, Trail 3.
This trail is short but sweet steep so you'll need to properly warm up your calves before setting off, but the 30-45 minutes of elevation gain will be worth it for the magnificent views of the city at the trail's end. If you've got a taste for the trails and completing one isn't enough, you can always try more. All the trails within the park crisscross each other so head back down, pick another one and off you go.
Feeling inspired?