Going on a family holiday can be expensive, take a lot of organising and scouring the internet to make sure everyone's needs will be catered for.
You could be forgiven for allowing the thought, "why don't we just give it a miss this year?" to cross your mind. But, here at Intrepid, we think it's really important to take a family break, here's why…
1. Travelling as a family brings you together.
Befriending sea lions in the Galapagos or white-water rafting in the Pyrenees, these are the precious memories that you'll all laugh about around the dinner table for years to come. Kids grow up fast these days, getting more and more independent by the second, so making the most of these shared moments is vital.
SUBSCRIBE TO OUR NEWSLETTER FOR ALL THE LATEST FAMILY TRAVEL NEWS, OFFERS AND COMPETITIONS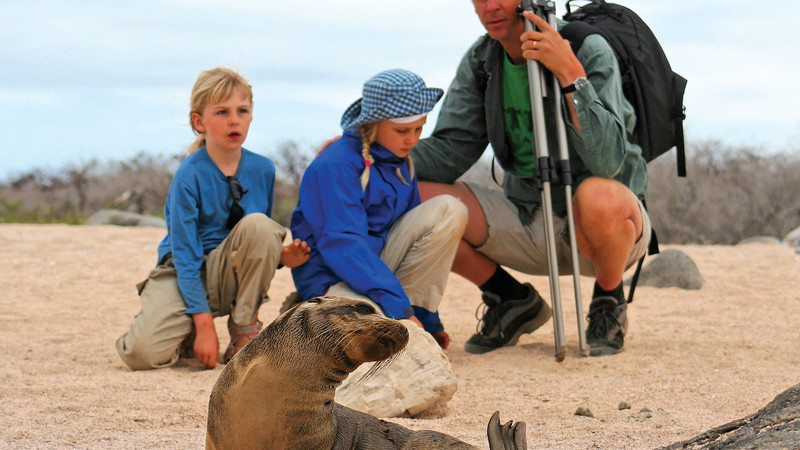 2. A break is good for the mind.
Taking a holiday from your usual family routine can save you all from a burnout. After your adventure, you'll return to work and school feeling refreshed, relaxed and ready to take on the next chapter. Sticking to the norm year after year becomes monotonous and can even have a negative impact on your state of mind. Time to mix things up!
ARE YOU A SINGLE PARENT? CHECK OUT OUR SOLO PARENT TRIPS
3. Adventure is good for the body.
We're not just talking about lazing on a beach for two weeks here. A family holiday is exactly what you make of it! In our day to day lives, we spend so much time sat still, this is the perfect opportunity to get active. Ride the rapids in Bali, zipline through the trees in Thailand, cycle around Croatia or snorkel along the Turkish coast.
READ MORE: 6 TECH-FREE FAMILY DESTINATIONS
4. Holidays are educational.
You're a stranger to this far-flung land, so go and explore. Meet the local people, tuck into regional delicacies, seek out traditions and learn something about the history of your destination. You could even give a new language a go! Sharing what you've learnt will increase your chances of remembering more too, as you each take in different aspects.
EAGER TO DISCOVER MORE ABOUT OUR EXCITING FAMILY BREAKS? GET IN TOUCH
5. Forget the fuss with Intrepid.
Family travel with Intrepid is easy. Leave the logistics to us and we'll arrange everything for you, from accommodation and activities to transport and transfers. Meaning all you're left to worry about is packing the right kit, making sure your pets are taken care of whilst you're away and having an incredible time together!
READ MORE: 6 PLACES IN CENTRAL AMERICA YOUR FAMILY WILL LOVE
Your hassle-free family adventure is only a few clicks away, find yours today.
Feature image C/O Shutterstock.
Feeling inspired?