While the national parks and woodland landscapes in the San Juan Islands are well worth a trip across the Salish Sea, so are the beaches. And this is why.
An afternoon spent wandering the islands is enough to know there's something extraordinary to look at wherever you go, whether that's the historic architecture that makes up the fishing villages or the quiet peacefulness of trekking through a national park. But you can't forget about the rugged and dramatic coastline that makes the islands one of the most special destinations in the United States.
From trying to spot a breaching whale to walking along the shoreline listening to the waves, the San Juan Island beaches are an excellent place to relax, recharge, and take in the beauty of mother nature. While the weather might not get all that warm during summer (and the beaches might not be all that sandy), we've picked out the best stretches of shore that are well worth a visit.
Lookin' like it's straight out of a Nicholas Sparks novel, South Beach is one of the more popular beaches to visit in the San Juan Islands due to its multi-colored surface.
Filled with pebbles that you're either going to want to pick up and skip and or take home as souvenirs of your perfect day at the beach, this stretch of coast offers the ideal place for a romantic picnic, some light exercise, fun beach parties, or a bit of epic soul searching as you stare out at the water.
Not only does it seemingly have more pebbles than the night sky has stars, but this strip of coast is also filled with hundreds of driftwood pieces that have washed up on the shore over time making for a truly unique beachside experience.
2. Eagle Cove, southwest end of San Juan Island
A favorite among locals, Eagle Cove is one of the few beaches on San Juan Island that has actual sand on it so dust off your towel and your castle-making tools for a guaranteed day of fun. Whether you want to explore the tidal pools that are visible at low tide, try your hand at skimboarding on the shoreline, or simply wiggle your toes in the golden sand, Eagle Cove has a little something for everyone.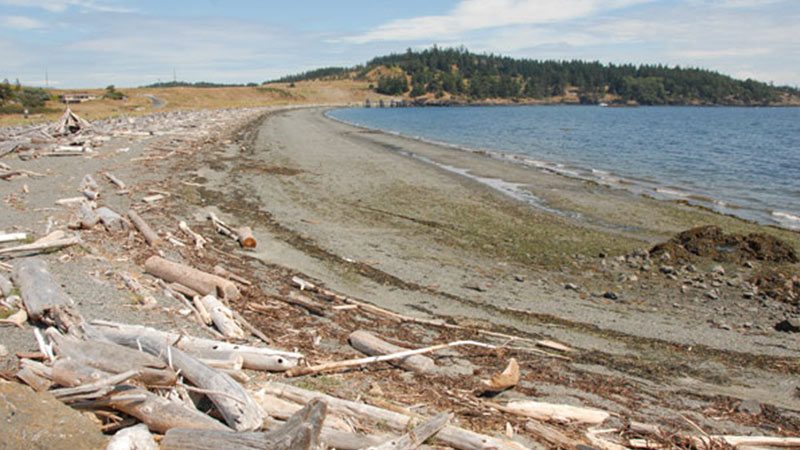 Jackson Beach offers the best of both worlds, endless stretches of golden sand and hundreds of driftwood pieces you'll be dying to start a bonfire with. Only a 5-minute drive (or 20-minute walk) from Friday Harbor, this is one of the best San Juan Island beaches to have fun on with BBQ grills, fire rings, and beach volleyball courts all available for use. If you're looking for something more adventurous, why not try out sea kayaking for a spectacular view of the islands from the water.
If you'd rather be alone with your thoughts or prefer a quieter beach to do your soul searching on, then the 4th of July Beach is for you. Less popular (and therefore, less crowded) than South Beach, this pebble-filled beach not only offers a great place to reflect on the adventures had during your vacation but also features a saltwater lagoon to play around in and a secluded picnic area if a low-key lunch is on the cards.
5. Granny's Cove
Located in the American Camp within the San Juan Islands National Historic Park (right of Cattle Point Road) lies Granny's Cove, a secluded and often overlooked beach that's guaranteed to give you the relaxing day you've been looking for. Not only can you spot the iconic bald eagle from the sandy spot, but you can also swim in its warm waters without the fear of getting too cold. Perfect for families and couples alike, Granny's Cove is one of the best San Juan Islands beaches this coastal destination has to offer.
SPEND A DAY AT THESE SAN JUAN ISLANDS BEACHES ON OUR SAN JUAN ISLANDS TOURS
Feeling inspired?