Traipsing through secret caverns in the beautiful coastal part of Cornwall is nothing short of a magical experience.
Everyone knows that Cornwall is one of the most travelled destinations in the UK because of its natural beauty. From wild and breathtaking coastlines to evergreen countrysides, Cornwall has one of the best landscapes going 'round. However, what people might not know is that Cornwall is also home to some of the most spectacular caves in all of England.
Hidden and often hard to get to, these caves are not only a fantastic example of Mother Nature's hard but breathtaking work, they also guarantee a fun-filled day spent exploring. Whether you're down for stepping into the enchanting Carnglaze Caverns or prefer the sound of marveling at the rainbow colours of the Holywell Sea Caves, adventuring through these hidden caves in Cornwall is bound to be the highlight of your trip.
1. Piper's Hole
If you're travelling to the north coast of Cornwall, then chances are you're either planning to visit Crantock beach or you'll accidentally stumble upon it. Not only is this beach downright beautiful with tumbling sand dunes and come-swim-in-me-water but its dramatic cliffs are also home to a collection of caves and other fascinating crevices. One of these caves is known as Piper's Hole.
The story of this cave, and what's inside it, is hauntingly enchanting. Nestled within the rock is the image of a woman's face. Forever shiny from the waves that lap against the stone, her lips portray a slight smile at the words carved beside her:
Mar not my face but let me be,
Secure in this lone cavern by the sea,
Let the wild waves around me roar,
Kissing my lips for evermore.
While there's no concrete evidence as to who may have carved the depiction or who the woman in the rock actually is, there has been speculation over the years. The most commonly told theory is that the carver was a man named Joseph Prater, an artist who lived on the clifftop above the beach in the late 1800s.
However, the woman's identity remains a mystery with two theories coming to light in recent years; the first being Joseph's sister, Jane, who died well before her time, and the second, a woman rumoured to have been Joseph's love, Ethel de Medina Greenstreet, who drowned at Crantock Beach in 1904.
We'll never know the actual story behind this mysterious carving and its place in Piper's Hole but it's as if it doesn't matter. Simply walking through the caves, touching the smooth wet stoneface, and listening to the sounds of waves as they crash against the cliffs is enough to let your imagination come up with its own theories of secret love affairs and unexplained tragedies.
If you couldn't already tell, this enchanted dell is one of our favourite caves in Cornwall and it's definitely worth a visit to see the carvings in person.
2. Merlin's Cave
Just as mysterious and magical as the first cave on this list, Merlin's Cave is another great spot to explore, not just physically but imaginatively too. Located in the region of Tintagel, a place that features in the folklore tales of King Arthur and his advisor, the legendary magician Merlin, lies caves that Merlin himself was said to frequent (hence the name).
Nestled in the rocks below Tintagel Castle, Merlin's Cave is unlike anything you've ever seen before. Created by the strength and might of the Atlantic Ocean over thousands of years, this magnificent 330-foot-long cave is not only naturally impressive, but it also plays upon its association to Arthurian legend thanks to the modern-day carving of Merlin at the cave's entrance.
Let your imagination run wild as you stroll through Merlin's Cave at low tide, picturing the powerful wizard cradling a baby Arthur in his arms or casting spells from the cave's shadowy depths.
Delightfully easy to get to with steps leading down the cliff-face, adventuring through Merlin's Cave promises to be a mystical afternoon well spent.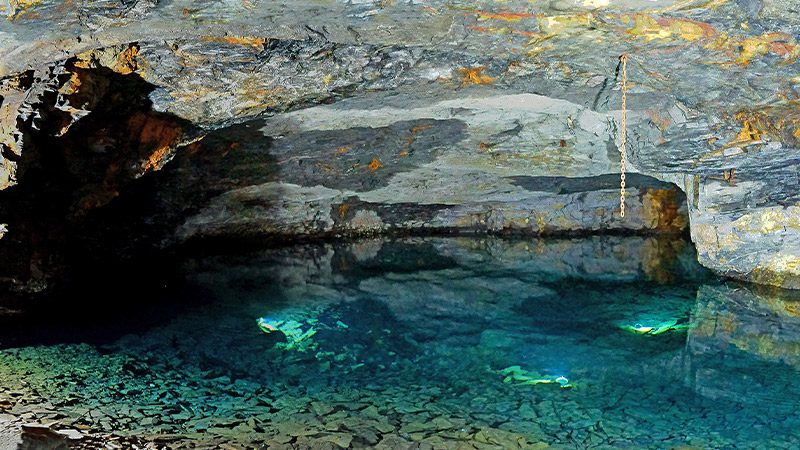 One of the more popular and well-known caves in Cornwall is Carnglaze Caverns, a collection of caves that were hollowed out by local slate miners hundreds of years ago as part of a slate quarry. Through their work, these minors created three cathedral-like caves that can be explored today, each one just as breathtaking as it is impressive.
Located in the forested woodland of Loveny Valley on the edge of Bodmin Moor, these caves will have you travelling 150m into the hillside and 60m underground for a magical sight you'll never forget. Make your way through the first easily accessible cave, stopping to look over a fascinating collection of minerals, before descending 60 steps to the fantastical, crystal clear blue underground lake.
One of the biggest drawcards and tourist attractions of the caves, the underground lake sparkles with a bluish, greenish colour that looks like it would be home to a mesmerising bunch of mermaids straight out of your favourite fairytale. While the lake might not actually be home to mythical sea creatures, the caverns do house five recorded species of bats so don't be alarmed if you something flitting over the caves' shadowy ceilings.
Whether you're interested in doing a guided tour or fancy walking the chambers by yourself, these caverns are suitable for the whole family to enjoy.
4. Holywell Sea Caves
We're not saying we've left the best cave till last but we're also not not saying that if you know what we mean. The Holywell Sea Cave (also known as St. Cuthbert's Cave) is remarkable not only for its supposed healing powers but also for its unique colour.
Found at the northeast end of Holywell Bay's beach in Kelsey Head, this wondrous sea cave is a fascinating grotto that features a natural spring, gently trickling its way down the multicoloured rock face. It is this mineral-laden water that is said to heal people with tales of the injured or sick coming to drink from the cave's depths.
While the mineral property in the water might not actually have the powers to heal, it does have the ability to change the rock's colour with bright pinks, greens, blues, yellows, and reds on display.
There is a geological reason as to why this cave is the way it is but there's also a magical one. The story tells of a medieval saint's skeletal bones rubbing up against the cave's walls, giving it the special healing powers legend swears it has. Regardless of whether you believe in its magic, the Holywell Sea Caves are special and a trip here is sure to leave you with the best of memories.
EXPLORE THESE MAGICAL CAVES IN CORNWALL ON OUR CORNWALL TOURS
Feeling inspired?