Forget deep valleys and towering mountains, Snowdonia's epic waterfalls are the real reasons why this region is so breathtaking.
Snowdonia isn't short on mesmerising things to look at, and while you might automatically think of its impressive mountain peaks and crystal clear llyns (lakes) when considering its outstanding natural beauty, this region's waterfalls are also deserving of your admiration.
Nestled in dramatic rock faces and hidden in deep ravines throughout Snowdonia, these enchanting bodies of water are not only magnificent to behold in any season, but they also provide the perfect place to reconnect with Mother Nature; to take a moment and breathe in the cool, fresh Welsh air.
Deserving of every bit of storage in your camera roll, these Snowdonia waterfalls are truly magical and, luckily for you, we know where the best ones are. Whether you're looking for a way to spend your downtime on our Wales: Snowdonia & Surrounds tour or you want to enjoy the great outdoors a bit more after your tour is over, these waterfalls are waiting to kickstart your adventure.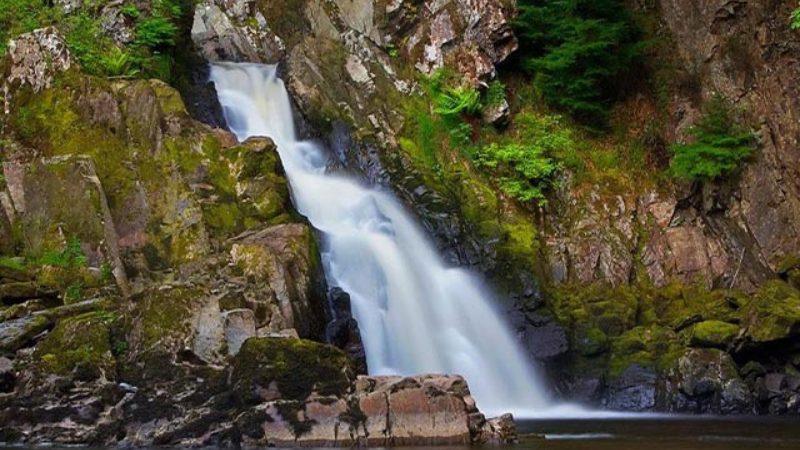 We're really not exaggerating when we say that Conwy Falls might just be one of the most spectacular things you'll ever see. Running through a deep gorge and out into the River Conwy, this magical waterfall is adorned by native woodland that wouldn't look out of place in your favourite fairytale and stands at an impressive 15 metres.
With multiple hiking trails leading up to the falls and a quaint, welcoming café on site to enjoy a hot beverage after your adventures through the Conwy Falls Forest Park, this waterfall should be high on your list.
Easily one of the most recognizable waterfalls in north Wales due to its constant features on postcards, canvas, and film, Swallow Falls can be accessed from two spots: from a vantage point on the southern bank of the Afon Llugwy and by foot from the northern bank.
Just one look is enough to see why travellers have been coming to this natural spot for hundreds of years. Beautifully cascading down the ancient rock face, this waterfall is made up of a series of smaller waterfalls for a dramatic effect that's every photographer's dream.
3. Aber Falls (Rhaeadr Fawr), Abergwyngregyn
Tumbling forcefully down the foothills of the Carneddau Mountains, Aber Falls is enough to take your breath away. Standing a towering 36 metres high, this spectacular body of water is guaranteed to have you feeling intense yet peaceful energy, especially since the waterfall is surrounded by rocky outcrops and lush foliage that's fit for the woodland adventure of your wildest imaginations.
Located in Snowdonia National Park, Dolgoch Falls is a series of cascading waterfalls you're not going to want to miss. Plunging into the crystal-clear depths of the pool below against the rocky sides of an equally mesmerising gorge, this jaw-dropping natural beauty is a must-visit for the whole family.
Whether you feel like setting up a picnic lunch on the banks of the Nant Dolgoch stream or dipping your toes into the water from one of the many moss-covered rocks dotted along the stream, Dolgoch Falls is an extraordinary place you won't forget in a hurry.
Feeling inspired?