What's the first place that comes to mind when someone mentions Spain? Perhaps it's Madrid, the vibrant, historical capital. Or maybe it's Barcelona, the cosmopolitan chic beach city.
There's also a high chance that you've thought of the pristine beaches and wild nightlife of Ibiza or Mallorca. Yet, it's unlikely your mind went to Valencia, Spain's third largest and most underrated city.
I don't use the word underrated lightly, but when I found Valencia to be missing entirely from a popular Spain guidebook I purchased a few years ago, I decided I had to go experience this elusive city for myself.
What I found was an authentically Spanish vibe, a city for students and families alike with distinct, intricate architecture. It has history and culture, charming cafes and sprawling parks, and bohemian boutique shops nestled amongst big-brand stores. And that's not even mentioning the food itself…
After spending two full months exploring almost every corner of this budget-friendly city, I've rounded up some of my favorite spots and experiences.
The must-sees:
Valencia's popular sights are popular for a reason; they make up the fabric of the city, showcasing the old, the new, and everything in between.
The City of Arts and Sciences (Ciudad de las Artes y las Ciencias)
This striking collection of buildings has become a true symbol of Valencia, stretching across two kilometers. The City of Arts and Sciences is home to six distinct buildings, including Europe's largest aquarium and an open-access garden meets nightclub – both of which are worth a visit.
In the evenings, this area is beautifully lit and is an excellent place for an evening stroll.
Turia Gardens (Jardines del Turia)
Once upon a time, Turia was actually a river that ran through the entire city of Valencia. However, when it flooded in the late 50s, Turia was transformed into one of the largest urban parks in Spain. At 9 kilometers, Turia is the perfect place for long walks or bike rides. What's more, there are always cool activities going on during the summer months. My friend and I attended tapas nights, concerts, and outdoor movie screenings when we spent summer in the city.
The Valencia Cathedral (La Catedral de Valencia)
Nestled between Plaza de la Virgen and Plaza de la Reina, the impressive Valencia Cathedral tells a fascinating tale of history between its walls. Once a Roman temple and later a mosque, the building is a mash up of three main architectural styles: baroque, Romanesque, and Gothic.
The interior boasts beautiful, detailed elements and a climbable bell tower with views of the entire city, making this one Valencia's most popular attractions.
The Central Market (Mercado Central)
Valencia's Central Market is every food lover's dream, with rows upon rows of fresh produce, fluffy pastries, artisanal products, and even some specialty souvenirs. By the time I left Valencia, I had amassed quite the impressive arsenal of Valencian and Spanish products. If you're curious about what Valencians eat or just want to get some delicious foodie souvenirs, the Central Market is a one-stop shop.
VISIT VALENCIA ON THIS 8-DAY 'HIGHLIGHTS OF SPAIN' TOUR
The insider's guide:
Many people who visit Valencia do the above-mentioned sites and stop there. But, given that I was in Valencia for two months, I was able to experience the quirkier side of Valencia, the one many tourists gloss over.
Street art
At first glance, you would never expect Valencia to have a robust street art scene. Although I spotted several pieces by just wandering through the city, I would have never fully appreciated the urban artsy side of the city if it weren't for the Urban Adventures Street Art in Old Valencia tour.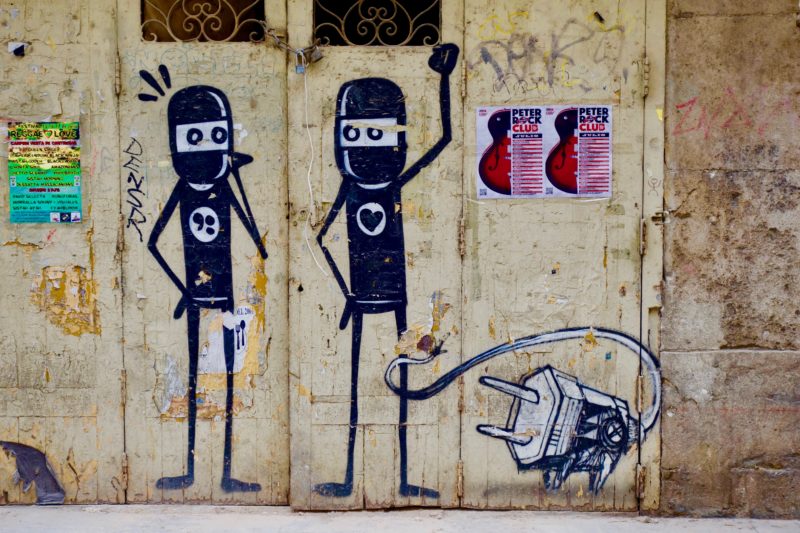 The tour guide, Lenny, is a street art enthusiast, and took me all over the city to showcase some of Valencia's best pieces, pointing out different styles and compilations by groups of artists.
If you prefer to find pieces on your own, the El Carmen neighborhood is an excellent place to start.
SUBSCRIBE TO INTREPID'S NEWSLETTER FOR TRAVEL INSPO, COMPETITIONS, GIVEAWAYS & MORE
L'Iber Museum of Toy Soldiers (L'Iber Museo de Los Soldaditos de Plomo)
While I'm not usually the first to go about recommending museums, the Museum of Toy Soldiers is a fascinating and eclectic place to visit; it houses the largest collection of toy soldiers in the world. The recreations of famous historical events bring a whole new meaning to making history come alive.
Fallas Museum (Museo Fallero de Valencia)
Besides paella, Valencia is well known for its Festival of Fire – Las Fallas in Spanish – that takes place every March to commemorate Saint Joseph.
Valencian neighborhoods are tasked with creating papier mâché structures (called ninots) according to a designated theme. These are all eventually burned during the festival – that is, except the ninot that is deemed the best, which gets sent to the Museo Fallero, housing the collection of the best ninots since the 1930s. It's a fun way to spend a few hours.
RELATED: 6 CITIES IN SPAIN TO VISIT BEFORE EVERYONE ELSE DOES
The best day trips from Valencia:
Alicante
Just two hours south of Valencia, Alicante is the ultimate summer beach destination. It's packed with people, contributing to a lively beach town ambiance no matter what time of the day or night. To truly enjoy Alicante, stay a night or two and bask in the sunshine and the seafood.
La Albufera
Fun fact: paella was actually born in the outskirts of Valencia, in a quaint small town called La Albufera. There's a handy half-day tour to Albufera from Valencia, where you can eat authentic paella from the source, do a boat ride through the national park, and walk around the small town.
Dénia
Unlike Alicante, Dénia is somewhat of a local secret. It's another beach town about an hour south of Valencia, but the ambiance is a stark contrast from that of Alicante. The majority of the people there are Spaniards, rather than out of town tourists. If you prefer more relaxed and local vibes, then Dénia is the beach getaway for you.
OBSESSED WITH SPAIN? YOU'LL LOVE THIS 15-DAY 'BEST OF SPAIN' TOUR
What to eat in Valencia:
One of the most fascinating things about Spanish cuisine is how it varies from one region to another. I've written extensively about Valencian cuisine and restaurants here, but here are a few notable must-try items.
Paella
If you don't have the opportunity to take a day trip to Albufera, be sure to at least try Paella Valenciana while you're in the city. Better yet, learn how to make your own at one of the city's cooking classes.
Valencians are enthusiastic fans of rice dishes, and you'll be surprised to find that there are at least three different types of paella alone! Check out a class or a meal at La Escuela de Arroces y Paella Valenciana.
Fresh seafood
Given Valencia's coastal location, it should come to no surprise that seafood here is both abundant and delicious. If you aren't a seafood lover, Valencia will certainly change your mind. Try Crudo Bar or La Pilareta for fresh and flavorful fare.
LOVE SPANISH FOOD? 
10 BEST RESTAURANTS IN BARCELONA
6 MUST-TRY DISHES IN MADRID
Orxata and fartónes
Orxata is perhaps Valencia's most distinct drink – a dairy-free concoction made of tigernuts, water, and sugar. It's incredibly refreshing and best enjoyed with a pile of fartónes – the light and fluffy sweet bread made for dipping into orxata.
The best place to get it? Casa de L'Orxata at Mercado de Colón.
—
While Valencia is often passed over in favor of its more popular Spanish counterparts, its young, relaxed vibe and local Spanish feel makes it the perfect addition to your Spain itinerary.
Tempted to visit this stunning, vibrant city (and country)? Check out Intrepid's range of small group adventures in Spain.
—
Hero image c/o iStock/LeoPatrizi. All other images c/o Sally Elbassir at passportandplates.com
Feeling inspired?