The rich history of Spanish cuisine dates back thousands of years. With each region of the country having its own 'claim to fame', Madrid offers visitors a taste of the best dishes Spain has to offer, all in one chaotic, quintessentially Spanish foodie playground. Madrid's food scene is in constant evolution, yet still rooted in tradition. While creativity abounds and twists on the old favorites are praised in some restaurants, others pride themselves on serving typical dishes the 'right' way – the same way their grandmothers have been serving them for generations.
What we're really trying to say is that from tasty tapas to superb seafood, Spain's beloved capital city is absolutely packed with flavor and character.
It's nearly impossible to taste everything Madrid has to offer in one trip, but luckily for you, we (my fiancé, who's a chef, and I) were able to narrow the foodie goodness down to six 'must-try' Spanish dishes for your next trip.
Croquetas
Full disclosure – we have a not-so-slight obsession with these delightful little balls of fried bechamel, so they had to come first on our list. We've tried hundreds of them from various corners of the globe, so when we say we had our favorite croquettes in Madrid, that means something. They are served as tapas and come in a variety of flavors, the most popular of which are: beef, ham, chicken and broccoli, and goats cheese.
Traveler's Tip: To try our favorite croquetas, head over to the Mercado de San Miguel.
RELATED: CHECK OUT THIS 9-DAY FOOD TRIP THROUGH NORTHERN SPAIN
Paella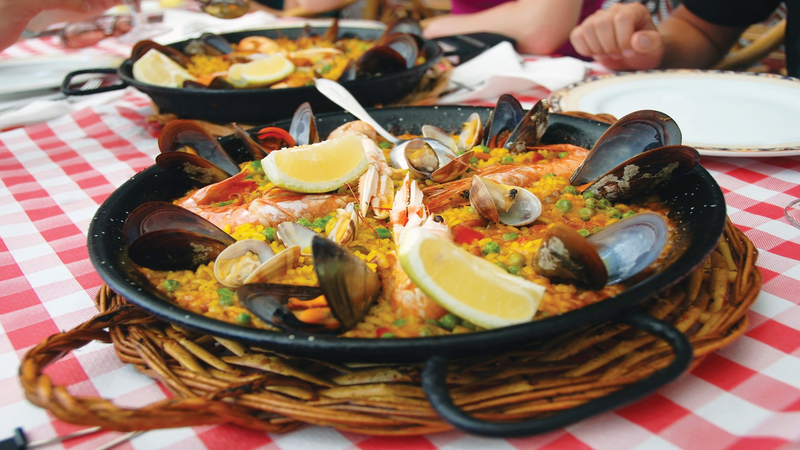 One of our favorite dishes in the entire world. If we could only eat one thing for the rest of our lives, it would be paella. Originating in Valencia, paella traditionally comes with chicken or rabbit, English peas, a variety of seafood (mostly shellfish) and the secret ingredient: saffron. All of this is cooked with rice and served in the same special 'paella pan' it was cooked in. There are a few varieties of paella – some with just shellfish, or no seafood at all, and others with 'black rice' cooked in squid ink (check your teeth after that one).
Traveler's Tip: Paella takes about 25-30 minutes to prepare, so if you order it at a restaurant, prepare for a bit of a wait. It's totally worth it, though, because maybe by the time you get it you'll be hungry enough to actually eat it all (it's a HUGE portion!)
Patatas Bravas
Potatoes really are a pillar of Spanish cuisine. Patatas Bravas are cooked "home fries" style: pan-fried in olive oil, then topped with a spicy 'brava' sauce of peppers and mayo. Most places have them on the menu, so take it upon yourself to find the best ones.
Traveler's Tip: The crispier the potatoes, the better. Ask your server to make yours 'extra crispy,' just in case.
Jamón ibérico
Madrid LOVES ham. It's world famous. There are entire cafes dedicated to ham (jamonerias) and museums of ham. We're pretty sure meat sweats originated here. In most cases, the pigs are free range, fed acorns and the meat is cured for 24-48 months, creating a distinct, complex marbling. When shopping or sampling, note that the ham is usually labeled with regard to the pig's diet and location. If you visit Madrid and don't taste this delicacy, you've committed the ultimate travel sin.
Traveler's Tip: Sample great quality jamón at Mercado de San Anton in the Chueca neighborhood.
RELATED: A GUIDE TO BARCELONA'S MUST-SEE FOOD MARKET
Huevos Rotos con Jamón
With a literal translation of "broken eggs with ham," this dish is fairly self-explanatory. Two fried eggs with delicious cured ham served over a bed of crisped potatoes. The first thing you're supposed to do is break the yolk to let it soak into the potatoes, and mix it all together. Depending on where you order them, they can either come as tapas or a main course. Although served at any time of day, this is definitely something we recreate regularly for breakfast.
Traveler's Tip: For delicious huevos rotos a bit off the beaten path, head over to Casa Lucio.

Tortilla de Patata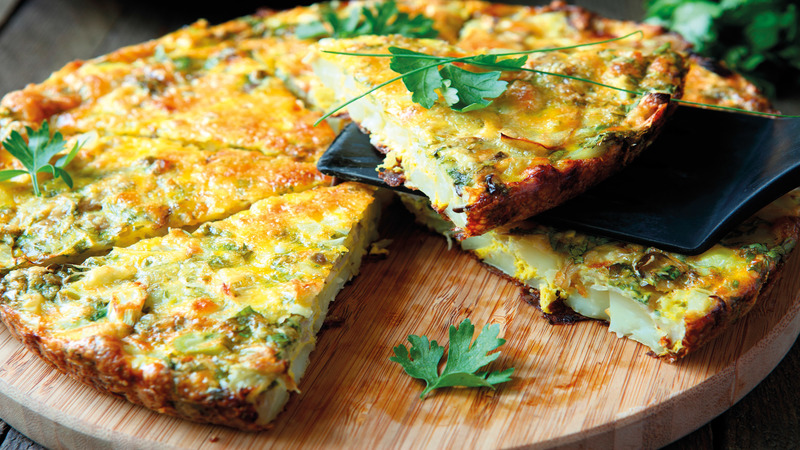 To round out the list, another Spanish staple – the tortilla de patata. Basically, Spain's version of an omelette. The most basic recipes are just eggs and potatoes, but variations include onions, cheese, mushrooms, spinach and chorizo. They are served hot or cold, and as a tapa (by the slice) or a whole 'pie'.
Traveler's Tip: Flash Flash Tortilleria serves more than 50 varieties of tortillas with ingredients ranging from truffles to 'The Hamburger' to, you guessed it, ham.
Bonus round: drinks
Spain wouldn't be Spain if you didn't pair your tapas with a small beer (caña) or glass of wine. While your go-to Spanish drink may be a pitcher of Sangria, Spanish wine is not to be overlooked. Spain has over a million acres dedicated to vineyards, yet it tends to fly under the radar compared to its other 'Old World' neighbors, Italy and France. Cava, Spain's famous sparkling wine, is every bit as good as champagne and a perfect pair for saltier seafood dishes. Some common whites include Albariño and Verdejo from Rías Baixas and Ruedo, while reds are ruled by Tempranillo from Rioja or Ribera del Duero.
Overall, Madrid is overflowing with restaurants, taverns and local tradition. With its colorful mosaic of neighborhoods, there is something for every palate in this gastronomical hub, and this list is the perfect jumping-off point for all your Spanish foodie adventures. You're welcome.
Desperate to eat your way through Madrid? This 15-day 'Best of Spain' trip is the perfect way to do so.

All images c/o Intrepid Travel
Feeling inspired?