Nobody rocks a foreign country like my mom.
I remember when she first visited me in Thailand. I was living in Bangkok as an English teacher, and my mom, having never been to Asia, flew all the way across the world by herself so she could see me.
When I picked her up we got into the elevator of my apartment building, which was a tight fit between us, my mom's insanely over-packed suitcases, and the three Thai people already in there. As we got in, she excitedly waved at the Thais and asked how they were doing, what their names were. They smiled politely back, then looked at each other and didn't say anything.
"Mom," I said quietly as we got off, "I don't think they socialize like that here."
"Oh," she said. "Got it."
—
The second time she visited was far different than the first. One miraculous thing about my mom – and it's probably true with yours, too – is that she always visits at the perfect time. We don't plan it that way; it just somehow happens.
This time I really needed her. I'd done something foolish and was paying the consequences. I'd told close friends about it, I'd even talked to a therapist, but it just wasn't enough.
Before I go on, it's worth mentioning that my mom and I had issues. Nothing crazy, I just had trouble accepting her for who she was. I was unfair to her – I wanted her to be someone different, to be a certain type of mom that, at the time, she just wasn't. That's not to say she was a bad mom – because she wasn't, at all – it was my neediness and immaturity that was the problem.
We'd decided to spend her visit on a trip to Vietnam. Neither of us had ever been, and we knew nothing about the country. We planned it the day before by jotting down some traveler's online itinerary and, the next day, bought our plane tickets for Ho Chi Minh City.
I was a little nervous about going with her, especially on a two-week trip. You see, I'd put up walls between us. Whenever she talked about something intimate, or wanted to ask me something personal, I'd shut her down and insist on our "barriers".
—
Our first night we ate out in Ho Chi Minh City. We got our food and I turned the conversation serious, I wanted to talk about the thing that was weighing on me.
"Mom, I need to get something off my chest, something that happened to me recently," I said. "I don't know if you'll be upset with me, but I need to talk about it."
When I told her the story she wasn't upset at all, nor surprised. Crazily, it was like she knew what I was going to say before I even said it. And when I did share it, she just listened and accepted it without batting an eyelash.
What's remarkable is that, without even trying, she handled it perfectly. It's not like she was relying and operating on tricks she'd learned in some self-help or "mothering" book; she was just being what she's naturally and perfectly coded to be: a mother.
—
That conversation took down a wall between us, one that I'd erected, and we spent the next two weeks in a blaze. Now we were just two friends on an adventure, no barriers, with a foreign, exotic, and endlessly beautiful country as our playground.
And we took that place by storm.
We left HCMC on a sleeper bus to Mui Ne, something neither of us had ever ridden before. We got on expecting reclining seats, and were humorously shocked to see a bus instead literally lined with beds. My mom couldn't get over it, and she laughed just about until the time she fell asleep, referring to it as "the Red Cross bus".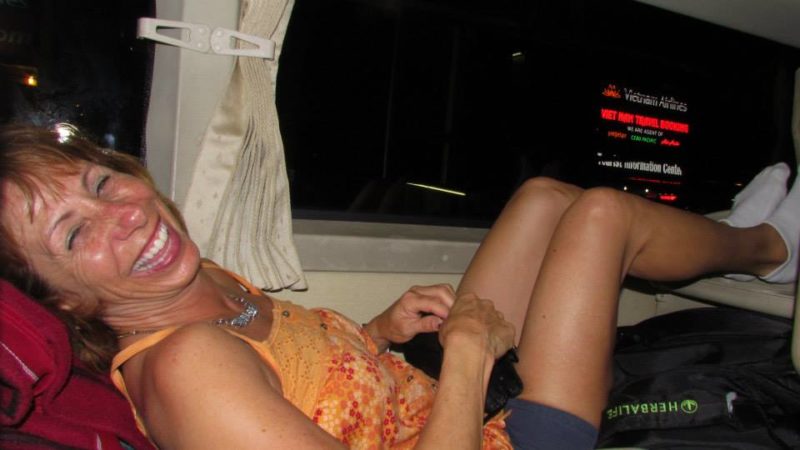 In Mui Ne, we rented a scooter and flew up the coast. Our trip ended that day when the road did, at a temple overlooking the sea, where a group of non-English-speaking women served us food and delighted us in hours worth of Charade-like attempts at communication. That night we shared one of the best dinners of our lives, at a table situated mere feet from the sea, where we ate scallops and oysters caught just up the road.
We next spent time in the artsy, funky town of Da Lat, where we spent a day motorbiking around the Vietnamese countryside. We made friends in every city we went. Our day at Ha Long Bay was shared with a Thai family that we're still in touch with now. My mom invited a recently-graduated Vietnamese man to spend the day with us in Hanoi so he could further practice his English. We ate frog legs with a solo-traveling Chinese woman after spending the day rowing boats through the steep and striking cliffs of Tam Coc.
Or there was my favorite, which I still bring up with people, when I came downstairs in our Hoi An guesthouse to see my mom leading the two young girls from the front desk in push-up exercises.
My mom, to this day, could tell you every single detail from that trip (except for the names of the cities, which she'd forgotten even while we were in them). Three years later, her computer background is a slide show of photos from Vietnam that she still shows off to her friends. The first night I met her boyfriend, who was later to become my stepdad, the three of us sat in my mom's living room while she excitedly recounted for him, day by day, the memories of our adventure.
In terms of our getting closer, Vietnam wasn't the catalyst, but it was certainly the facilitator. There's something about detaching from your roots, being far from your context and your reputation, that allows you to get real with someone, especially a parent. Conversations in a foreign country hit a depth that are much more difficult to reach when you're in a place that defines you, like home.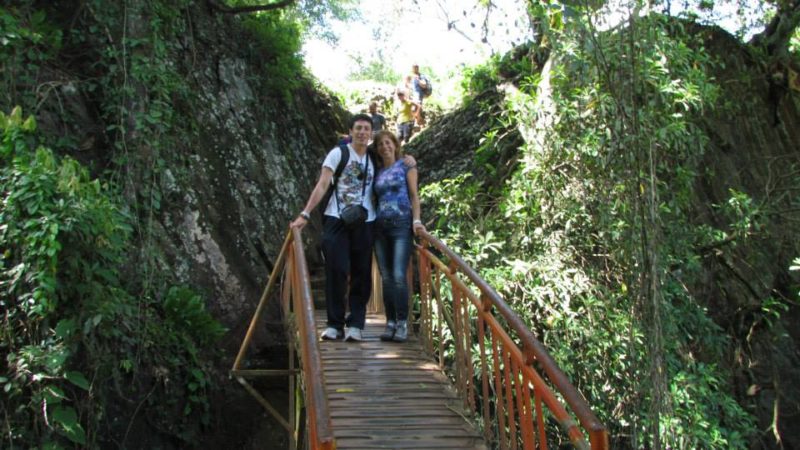 In a far and exotic land you you can construct your life and relationships as you see fit. You can build them from the ground up – and my mom and I built the foundation for a relationship that continues only to get deeper.
—
Just before the trip I'd picked up my first spiritual book. It's called, Who Ordered This Truckload of Dung?, and it was written by an Australian Buddhist monk named Ajarn Brahm.
Throughout the trip, my mom and I passed the book back and forth, sharing our favorite passages. We both agreed on one we liked best, one that centered on unconditional love.
When my mom left my Bangkok apartment on her last day, she laid a note on my desk. Of course it was warm and motherly, but it was the end that still gives me goosebumps. It was our favorite line from Brahm's book, something she wants me to always remember:
"Whatever you do in your life, no matter what, the door to my heart is always open."
—
Want your very own Vietnamese adventure? Check out our range of small group trips.

Feeling inspired?