Located on the south central coast of Vietnam, Nha Trang is a paradise of city and sea, the absolute best of both worlds.
Trendy high-rises dot the downtown. White-sand beaches line the coast and centuries-old temples and palaces perch on hilltops. It's hard not to fall in love with Nha Trang. Here are 10 reasons why you should seriously consider paying this Vietnamese gem a visit:
Sandy, palm-lined beaches stretch for miles
Who doesn't love a picturesque white sand beach? Throw in the stunning turquoise waters of the East Sea and a scenic display of lush offshore islands dotting the horizon and you're probably wondering if you even need to read the next nine reasons.
While Tran Phu Beach is the largest and most popular of Nha Trang's beaches, head for the beaches near Hon Chong Promontory for more of a local flavor or take a day trip to nearby Bai Dai Beach for an even more off-the-beaten-path experience.
SUBSCRIBE TO INTREPID'S NEWSLETTER FOR TRAVEL INSPO, COMPETITIONS, GIVEAWAYS & MORE
It's (almost) always sunny in Nha Trang
Nha Trang's tropical savannah climate means the sun's almost always shining, except for a few wet months between September and December when monsoon rains strike. Plan your visit to Nha Trang for January through August and you're golden. With temperatures in the 80's year-round and almost no wind, thanks to the mountains and islands that shelter Nha Trang Bay, Nha Trang is looking more and more like a beach-lover's dream destination. But, there's more…
A trendy, cosmopolitan vibe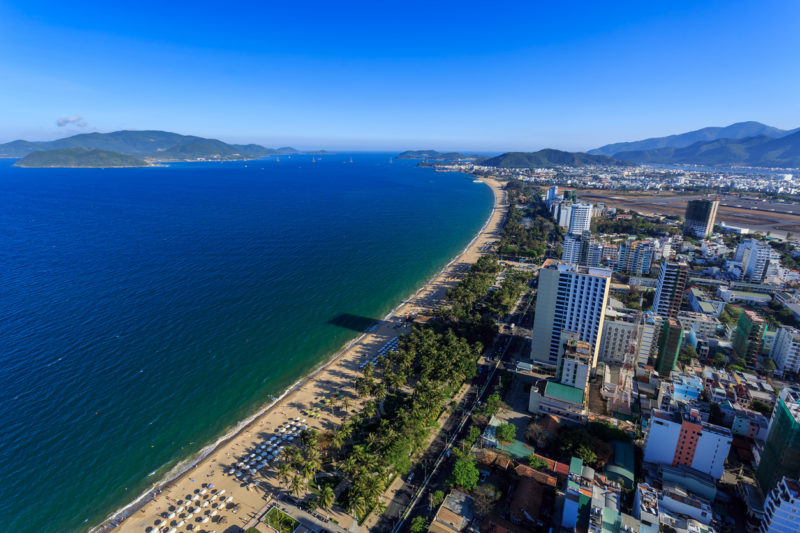 Unlike its seaside counterparts in Mui Ne and Phu Quoc, Nha Trang is uniquely cosmopolitan. Soaring high-rises, trendy restaurants, and chic boutiques fill the well-groomed beachside promenade on Tran Phu Street, while the vibrant nightlife scene picks up at sundown. Your options to dine and do are as endless as in any bustling city, with the added luxury of white sand beaches nearby. In short, Nha Trang is as cosmopolitan as you want it to be, a perfect combination of urban and coastal.
VISIT NHA TRANG ON THIS 15-DAY ADVENTURE THROUGH THE HIGHLIGHTS OF VIETNAM
The Nha Trang nightlife does not disappoint
When it comes to nightlife, Nha Trang does not disappoint. In fact, party town (or laid-back drinker) is written all over it. From rooftop lounges to nightclubs and beachfront dance floors, there are plenty of reasons to stay out late in Nha Trang.
Unlike the hindering curfews of the capital, Nha Trang stays open late. For a late night bite, visit Phu Dong Park for a full-fledged night food market.
Island hopping opportunities are endless
19 tropical islands sit just off of Nha Trang's coast. Snorkel over coral reef, cannonball off the catamaran into crystal clear seas, and accept cocktails from the floating bar. Nha Trang's vacation vibes follow you right out into the sea. You'll be hard pressed to find another spot in the world where island hopping is as accessible, affordable, and amazing as it is in Nha Trang.
Insider tip from Laura Farnell, Intrepid's Destination Manager for Vietnam:
If you visit Nha Trang with Intrepid (on our 'Best of Vietnam' or 'Classic Vietnam' tour) you'll get an included boat trip out to the islands of Nha Trang. Here you can visit the fishing villages, ride in a traditional basket boat and also go snorkeling. It's a highlight for many of our travelers!
Mud baths
This is perhaps the quintessential experience of a visit to Nha Trang. Mud baths and spas are everywhere. The experience can be quite strange for a newbie mud bather but the results are well worth the (sometimes cold) mud soak and painful power jet rinse that comes after. Your skin will never be softer, plus there are heated mineral pools awaiting you on the other side. There's a good chance you'll wonder why you've never tried mud bathing before.
RELATED: WHAT TO EXPECT ON AN OVERNIGHT TRAIN IN VIETNAM
The snorkeling and scuba diving is otherworldly
Surrounded by coral reef and a protected marine area, Nha Trang is the perfect launching point to some incredible dive sites. The 12,000-hectare Hon Mun Marine Protected Area also happens to be one of the best places in Vietnam to learn how to dive. Thinking of getting a PADI certification? You'll want to do it here. The more experienced divers should ask about Octopus Rock off of Hon Rom. There you can find caves and swim-through tunnels to explore.
The seafood is as fresh as it gets
Learn this word: Hai San. It is your beacon and pass-code to some of Nha Trang's best seafood cuisine, of which there is plenty. Fresh from the fishing boats, dig into delicacies like giant prawns, pan-fried squid, grilled red snapper, seafood hot pots, and crab dishes. The more adventurous eaters can go for the jellyfish plates, like bún cá sứa (rice vermicelli with jelly fish). Just remember to add the fish sauce, a staple with any dish for Nha Trang locals.
Finding souvenirs will be a breeze (and cheap)
Shopping in Nha Trang isn't the stressful and overcrowded experience it often can be in Ho Chi Minh City. Nha Trang's local street markets and beach-side boutiques move at a casual pace, allowing you to browse and make the perfect selections, be it handmade clothes, handicrafts made from raw sea materials, beautiful wood carvings, and artsy photo prints of Vietnam.
Be sure not to leave out a visit to the Nha Trang Market, a typical local market full of everything from fresh produce and seafood to souvenirs and trinkets.
RELATED: 5 TASTY DISHES YOU HAVE TO TRY IN VIETNAM
You'll never get bored
Beyond the mud baths, delectable seafood, beaches, and snorkeling, Nha Trang is a hub for sightseeing, both of the natural and ancient variety. We're talking waterfalls, 7th century Buddhist temples, and princely palaces on stately hilltops. The must-sees include the Cham Towers, the Bao Dai Villa, the Long Son Pagoda, the Thanh Citadel, and the Ba Ho Falls.
Taking notes? We're not kidding when we say you can not get bored in Nha Trang. There are too many sights, bites, and experiences to be had.
Tempted to visit this coastal paradise? Check out our range of small group adventures in Vietnam.
—
This story originally appeared on the Geckos Adventures blog.
(Image credits from top to bottom: Steven Meharry, iStock, iStock, iStock, iStock, Steven Meharry)
Feeling inspired?