After three nights in chaotic Ho Chi Minh City on a recent Intrepid tour of Vietnam, a couple of days in sleepy Hoi An came as a welcome reprieve. Traffic in the former trading port is still slightly mad, but along with a chorus of car horns and bike honks, the air is filled with the twittering of caged birds, the mooing of cows and the hum of crickets. Built around the Thu Bon River, Hoi An is a mix of Portuguese, Japanese and Chinese influences, which you'll see in the architecture, culture and food (oh, the food).
With a full day off to explore, my travel pals and I wanted to see as much of Hoi An as we could – the old stuff, the food stuff, and the wheel-y good stuff too. Here are our six top picks:
1. Head to the central market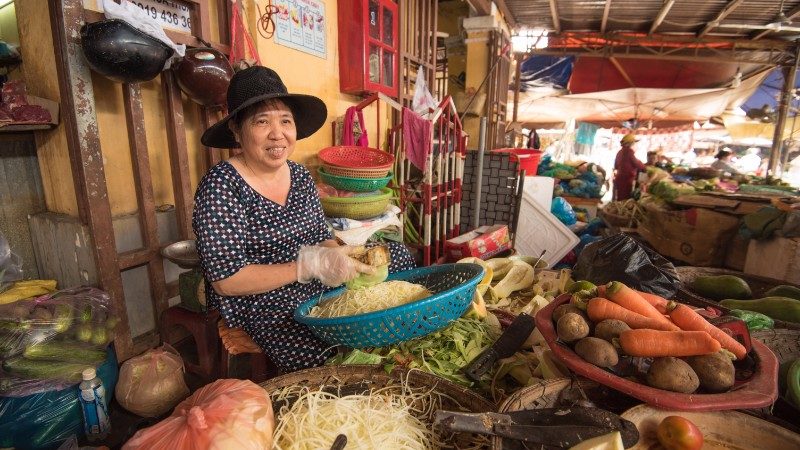 Get up early and grab breakfast in the central market – look for the busiest stall, pull up a chair, and tuck into a bowl of cao lau (a regional dish of slippery thick rice noodles, pork and greens). Then stretch your legs with a stroll around the market, past vendors selling mounds of fragrant spices, crisp vegetables and spiky tropical fruits, perhaps investing in a few bags of coffee, some coconut candy or a café sua da (Vietnamese iced coffee). Most of the good stuff is found inside the market ­– don't be put off by the vendors around the edges selling overpriced souvenirs.
2. Go walking
Get your bearings on a walking tour of the Old Town. It's very small – only a few streets – so can be explored really quickly. You'll need a ticket to enter the Old Town (120,000 dong / $7 AUD), but one ticket covers multiple entries; it also gives you access to a number of really interesting attractions. Check out the ornate, incense-filled Chinese Assembly halls and Hoi An's historic houses, particularly the Duc An and Tan Ky houses. Then wander over to the Japanese Covered Bridge, considered by many to be the symbol of Hoi An. Be sure to come back in the evening, when the streets are illuminated by colourful lanterns strewn between buildings. The Old Town is closed to motorbikes during certain times of the day (between 9am-11am, 2pm-4pm and 6.30pm-9pm), which makes it much more pleasant for walking, but watch out for speeding cyclists.
3. Sign up for a cooking class…
… and master the art of Vietnamese cuisine (no pressure!). There are a ton of great classes available. We did one in a tiny street behind our hotel on Tran Cao Van, and learnt how to make papaya salad, fresh spring rolls and ban xeo (Vietnamese pancakes) – and it was DELICIOUS! Wash it down with a cold Beer LaRue or a fresh-cut coconut.
4. Hire a bike
Most hotels have free bikes you can take, otherwise hire one – there are heaps of shops offering cheap bicycle rental all over the place (we paid 30,000 dong – roughly $2 AUD). Perhaps head to the beach at An Bang – about 5 kilometres out of town – or just pedal through the rice paddies, watching water buffalos, cows and farmers at work. The roads seem terrifying at first, but once you get used to the traffic and constant honking, it's an easy and fun way to get around (and it's far less congested than in Vietnam's larger cities). End your ride with a cruise through the Old Town to the night markets, enjoying a bia hoi (fresh beer) at one of the many riverfront bars.
5. Get some clothes made
Hoi An is famous for its tailors, with hundreds to choose from. Yaly Couture is one of the city's most prestigious bespoke tailors, where you can buy ready- and custom-made clothes; just take in a favourite outfit, pair of shoes, or picture for them to replicate. Yaly have over 300 tailors and designers working away behind the scenes in their three shops, and turnaround is usually within 24 hours. Blue Eye Tailor on Nguyen Thai Hoc is also worth visiting, while Shoes Shop 09 on Tran Hung Dao specialise in custom-made leather bags, belts and shoes.
6. Eat. Everything.
Food in Vietnam is DELICIOUS! Fragrant herbs, subtle (and not-so-subtle) spices, crisp vegetables, sizzling meat skewers, fresh rice noodles and Hoi An's famous White Rose, a delicate prawn-filled dumpling. Follow your nose and dive right in. Choose venues that are bustling with people (generally, the more locals in a joint, the better the food is), pull up a chair and enjoy. Many restaurants will start bringing out food in lieu of a menu – just go with it! If you've got dietary requirements, let the staff know before you sit down – 'toi la nguoi an chay' means 'I'm a vegetarian', 'toi khong an bot my' means 'I can't eat gluten'.
It's hard not to fall a little bit in love with Hoi An; the people are friendly, it's easy to get around, and it's so much more relaxed than its southern and northern counterparts.
Need some new custom-made threads or want to learn how to whip up a tasty Vietnamese soup? Do it all on an Intrepid small group adventure in Vietnam. 
All images C/O Patrick O'Neill.
Feeling inspired?