Mui Ne is everything you don't expect Vietnam to be – and that's what makes it so special.
It's the fact people don't often visit Mui Ne that initially attracted me to this destination in Southern Vietnam. When browsing online I saw its red sandy hills, and learned it was just a short journey (well, five-hour bus ride) from Ho Chi Minh City. And I was sold.
I discovered that too often visitors skip over this sandy paradise to experience a different kind of small town: Hoi An. Don't get me wrong – Hoi An is great, but after spending a few days exploring Mui Ne, it's safe to say I have a serious soft spot for it. Picture a fishing village with Sahara-like dunes, add a dash of the best seafood you'll ever taste, and you have some idea of the magic that's to come…
Introducing a paradise of otherworldly landscapes
The population of this town is a mere percentage point of Ho Chi Minh City's, at little over 300,000 residents. This brings a calm, laid-back vibe that enhances its paradise vibes.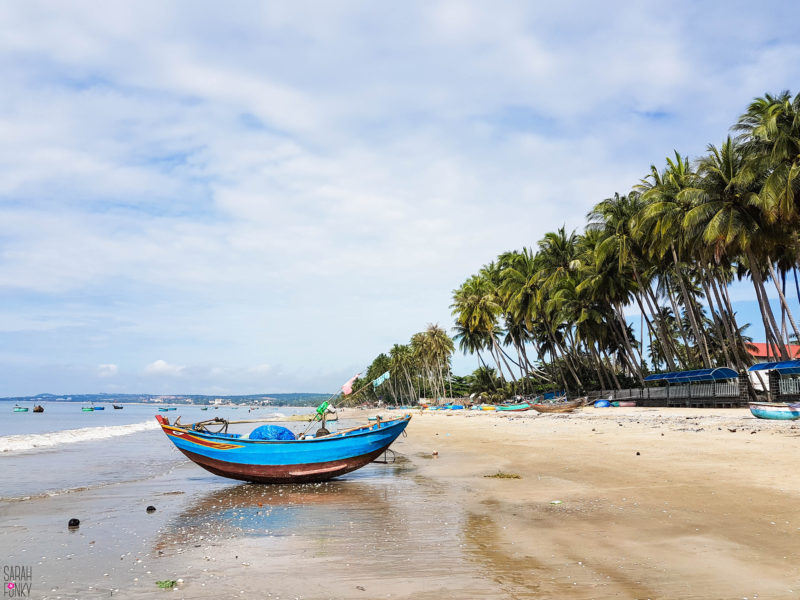 Mui Ne does not have just one area of dunes, but two, and they are completely different experiences. Ancient iron mines existing for hundreds of years formed these dunes.
On the white dunes, visitors can race along pristine ivory sand on ATVs, with a lake filled with lotus flowers between the slopes. Renting an ATV is certainly an experience for thrill-seekers, with dunes stretching up to 100 feet beckoning to be ridden up.
CHECK OUT INTREPID'S RANGE OF SMALL GROUP TOURS IN VIETNAM
In contrast to the thrilling white dunes, the red dunes are the perfect spot to watch the sunset with a loved one. These dunes are fiery and resemble the Sahara Desert. If you're looking for a bit of fun, rent a sled and cruise down their tame hills.
Hiking lovers will adore Mui Ne's unique Fairy Steam. This is a walking stream, which means it's a shallow river with water up to your ankles. Along the stream, vendors hidden in the lush forest sell fresh coconuts, fruit, and snacks. The Fairy Stream eventually leads to Red Canyon, a spectacular gorge of vibrant colors. Climb to the sandy top, have a picnic, and enjoy the view.
READ MORE: 8 BEACHES IN VIETNAM YOU SIMPLY HAVE TO VISIT
The best seafood In Vietnam
Though most people will highlight Mui Ne's unique landscapes, another star of the show is the fresh seafood. I'm not exaggerating when I say I had the best fish of my life here, and I've enjoyed seafood in over 40 countries!
In Mui Ne there are many restaurants lining Nguyễn Đình Chiểu road, the main street of the town. It can be overwhelming to choose a spot because they all look practically the same: plastic chairs and tables strewn under a tin roof. Their focus is on quality food, not a fancy environment.
In fact, if you go to a restaurant that has a nice atmosphere, you're more likely to have lesser quality food because they cater to tourists. It will also be overpriced. On my first night, I went to a nice-looking outdoor restaurant with live music and had a terrible meal. To ensure dinner at the best spot the next night, I asked two locals their favorite restaurant and both had the same answer: Tuan Thao 180.
READ MORE: AN ESSENTIAL GUIDE TO STREET FOOD IN VIETNAM
Upon arrival at Tuan Thao 180, a smiling pregnant woman instructed me to select a fish from a tank. There were about 20 tanks to choose from, each with different fish or shellfish caught moments before.
She recommended the red snapper with chili and garlic seasoning. How could I say no? It sounded incredibly tasty. However, the glimmering red fish was so beautiful, that I almost felt guilty allowing her to scoop it out of the water, and put it directly on the grill.
With the first bite, all guilt was gone. This was the best fish I'd ever tasted. The garlic and chili seasoning complimented the tender fish in ways I didn't know were possible. The flavor was better than anything I'd ever experienced at a Michelin-Star restaurant. In fact, it was so fantastic, that I went back for lunch the next day and ordered it again.
It wasn't only the red snapper that was packed with flavor, the grilled shrimp and scallops with garlic butter and chives were incredible as well. The bottom line is that when you visit Mui Ne, you need to have fresh seafood at a restaurant like this.
SUBSCRIBE TO INTREPID'S NEWSLETTER FOR TIPS, COMPETITIONS, GIVEAWAYS & MORE
A fishing village at heart
The fishermen of Mui Ne base their livelihood around the sea. Every morning you spot round, colorful boats that dot the horizon, reminding visitors of the world-class seafood they catch. These experts know the ocean like no one else.
Take a stroll along the beach during sunrise, and you'll witness the magic firsthand as fishermen drag their boats on shore filled with their daily catch. The seamen's wives are waiting for their arrival, and help sort the goods, selecting only the absolute best fish and shellfish to bring to market. Even children get in on the action, helping their parents sell the seafood. It's quite the family affair.
READ MORE: ANOTHER SEASIDE GEM TO VISIT IN VIETNAM – NHA TRANG
So, if you're visiting this Southeast Asian nation, don't miss your chance to go to Mui Ne. It's an easy add-on to your vacation that will enhance your trip tremendously.
Mui Ne is truly the hidden gem of Southern Vietnam.
Ready to visit this stunning spot? Pass by Mui Ne on Intrepid's 15-day Cycle Vietnam trip.
—
(Hero image c/o Intrepid Travel. All other images c/o sarahfunky.com)
Feeling inspired?