Iceland is both the "Land of the Midnight Sun" and the home of the Northern Lights, but what you might not realize is that you can't experience both of these phenomena in a single trip.
In fact, if you want to see the aurora borealis during a visit to Iceland, you'll have to deal with more "midnight" than "sun," since you'll almost certainly be there during winter.
The phrase "winter in Iceland" freaks some people out, given the country's name. That's understandable, given that daytime temperatures from December to March rarely rise above freezing, to say nothing of the few hours of light the country enjoys each day.
But don't freak out just yet—I know from personal experience that a winter trip to Iceland is every bit as fulfilling as it can be frigid. It can be downright magical, with pastel skies, sparkling beaches and an almost eerie lack of fellow humans.
Below, I'll outline the seven top reasons you should visit Iceland during the time of year the country best lives up to its name.
It's your best chance to see the Northern Lights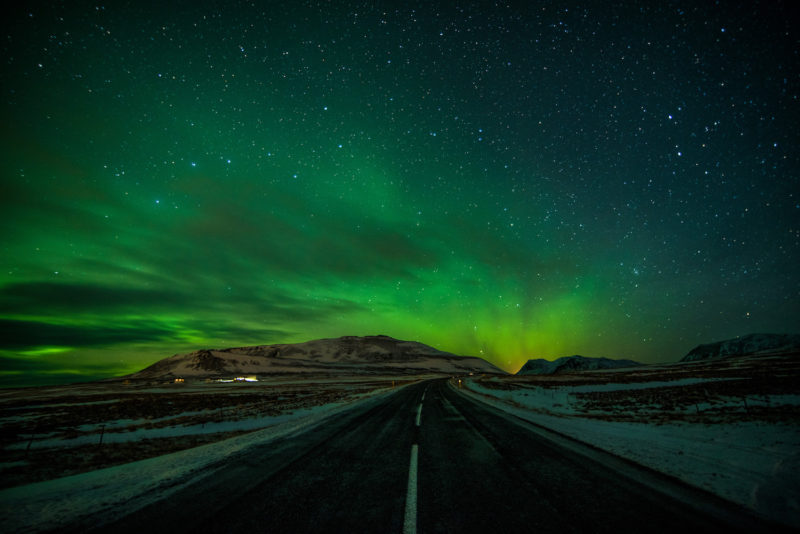 While it's technically possible to see the Northern Lights outside the winter season, the fact is that the key environmental condition you need to do so is a very dark sky, and that doesn't often happen in summer in Iceland. Conversely, well over half of each Icelandic winter day is pitch-black (more about that in a second), which means that every (clear) night presents a prime aurora-viewing opportunity.
(TIP: The aurora gets even more brilliant as the night goes on, so as tempted as you might be to fall asleep early after a long day of waterfall-gazing., shirk that compulsion, at least on clear nights. Also, if you're serious about aurora photography, a tripod is absolutely necessary, as is a read through these tips.)
CHECK OUT INTREPID'S 6-DAY 'NORTHERN LIGHTS ESCAPE' WITH DEPARTURES ALL THROUGH WINTER
Crowds? What crowds?
Thanks to more than a year of $99 one-way airfares from North America, the island's popularity has skyrocketed. And thanks to the vacation habits and school schedules of Americans and Canadians, these additional crowds mostly pile on during the summer months. Winter has always been the low season in Iceland, and that remains true today.
I remember going hours and sometimes more than a day without seeing another human being during my own winter trip to Iceland.
READ MORE: 6 HOT SPRINGS IN ICELAND MUCH BETTER THAN THE BLUE LAGOON
Days are short, but beautiful
The bad news? During some parts of winter in Iceland, days last only 4-5 hours, during which time the sun never fully rises. The flip-side of this, of course, is that the light you experience throughout "sunny" days often mimics a sunrise or sunset. This means hours on end of pink, purple and orange skies, which look particularly beautiful reflected in Iceland's frozen landscape.
Even cloudy winter days are beautiful, however. The dim light that comes through the clouds tends to color the entire landscape a chilly blue-green that might make you feel like you're wafting through a dream.
SUBSCRIBE TO INTREPID'S NEWSLETTER FOR MORE TRAVEL TIPS, COMPETITIONS, GIVEAWAYS & MORE
Frozen waterfalls await
You know that old adage, that "Iceland is green and Greenland is ice"? It's certainly false in winter, climate change notwithstanding—daytime January temperatures in Iceland usually hover around freezing, and nights are colder still.
The bright side of this is that you can trot out your warmest winter wardrobe (your selfies will scream "Iceland"!). The brighter side? Many of Iceland's waterfalls, from Seljalandfoss along the Southern coast to Barnafossar in the northwest, are either totally or partially frozen (another show-stopping selfie opportunity, if you ask me.)
READ MORE: 7 WATERFALLS YOU SHOULD VISIT IN ICELAND
A "diamond beach"
Most of the best Iceland tours include a stop at the Jökusárlón Glacier Lagoon, which is stunning at any time of the year. But in addition to the fact that winter presents the possibility of seeing the Northern Lights reflected in these icy waters, a black-sand beach covered in icebergs sits at the mouth of the lagoon, where it spills into the ocean.
During winter, there are many more of these icebergs than in summer, which helps the beach live up to its nickname, Diamond Beach. (Yes, selfies here are awesome as well!)
Prices are (slightly) lower
Iceland might've suffered an economic collapse within the past decade, but prices never really came down. To be sure, while you shouldn't expect prices in winter to be cheap or even really affordable on a day-to-day basis, you can expect a savings of at least 10-15% over the course of your trip.
Another reason you're likely to save money visiting Iceland in winter? The sun sets so early that you just might fall asleep before dinner (at least on nights with no chance of seeing the aurora), saving you the cost of one expensive meal a deal!
READ MORE: 6 TRAVEL EXPERIENCES EVERYONE SHOULD HAVE IN ICELAND
You'll gain some major traveler street cred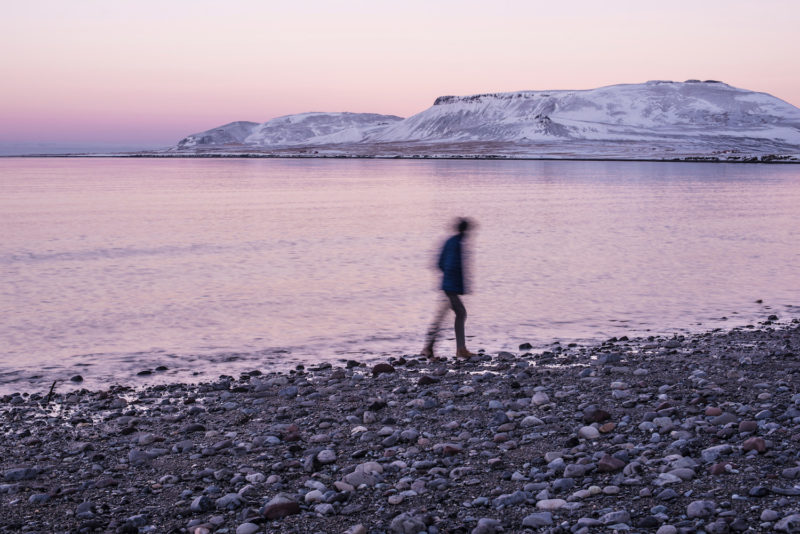 Even if you don't self-drive like I did, Iceland can be a bit of an imposing winter destination. Vicious winter storms can come ashore with little warning, and the country's alien landscapes can seem equal parts harsh and inhospitable. (Don't worry, they're neither.)
But the joys of Iceland in winter more than make up for the icy temperatures. And not everyone is brave enough to battle the cold, so the bragging rights that come with a wintry trip are pretty sweet.
But not as sweet as those endless, crowd-free vistas.
Not as sweet at the landscapes so picture perfect you could have dreamt them up.
Not as sweet as the most magical time of year in this awe-inspiring country.
Ready to embark on the adventure of a lifetime? Iceland awaits; check out out range of small group adventures. If Iceland doesn't tick the box for you read about our other winter destinations.
—
(All images c/o Robert Schrader.)
Feeling inspired?