If you're looking for more adventure than a beach chair and the buffet on your next trip, we've put together a list of our hottest destinations (and a couple cool ones… literally) for an alternative winter break.
Read on for some of our top suggestions for a vacation that ventures beyond the beach.
Here are our 5 best alternative winter destinations
1. Costa Rica
If you're looking for sun, look no further than Costa Rica. Mid-December kicks off the dry season in this Central American gem, so it's an ideal time to visit. Costa Rica is an ecotourism paradise: it's one of the most biologically diverse areas on earth and over a quarter of the country is protected land, so there's nearly endless national parks to explore.
Nature lovers can't miss Monteverde National Park where you can walk on suspension bridges through the lush cloud forest and keep an eye out for the elusive quetzal (and over 320 other bird species). Manuel Antonio National Park is also ideal for wildlife sightings, but look out for mischievous monkeys who might try to steal your cameras and hats.
Costa Rica is also a top-notch destination for active travellers. Trek through mountainous terrain, zip-line through the forests, rappel down cliffs and waterfalls, and kayak through canals in search of (you guessed it) more wildlife – toucans, sloths, jaguars and more. We like the Raft, Snorkel and Kayak in Costa Rica trip that takes you down the Pacuare River, to the less explored Caribbean coast and into Tortuguero National Park, where you might observe baby sea turtles hatching.
The landscapes change drastically as you travel across the country, but one thing that doesn't change is the friendly locals. With no army, one of the highest literacy rates in Central America and a motto that means "the pure life", it's no wonder Costa Rica is a happy and peaceful place. Pura vida, indeed.
HIT ALL THE HIGHLIGHTS ON OUR 15-DAY 'CLASSIC COSTA RICA' TRIP
2. Iceland
Embrace the cold on a winter trip to Iceland. Iceland has come into the spotlight in recent years as a popular tourist destination. Maybe it's because the Jokulsarlon glacier lagoon was featured in "Die Another Day" or because it's one of the best places to see the Northern Lights or because airlines have been offering unbeatable prices on flights. But regardless if you're a fan of 007 or if you're a fan of affordable flights, Iceland in the winter is a must-do.
Despite its name, Iceland doesn't actually get all that cold. With an average winter temperature of 23°F (-5°C), it's relatively mild for its latitude. And if you stick to the south coast – which is where the best waterfalls and beaches are – you're looking at a balmy 32°F (0°C). Our recommendation: take this Northern Lights Escape trip that tours the south coast highlights, including Vatnajokull (Europe's largest glacier), the famous Golden Circle and the towering basalt columns of Reynisdrangar. To top it off, winter is when you're most likely to see the dancing green glow of the Northern Lights, so cross your fingers for clear skies on your trip.
Often touted as the land of fire and ice, Iceland is home to landscapes that are truly awe-inspiring and otherworldly. As you travel past mossy lava fields, black sand beaches and vast, rolling hills, you might be left wondering if your (reasonably priced) flight took a turn and landed on Mars.
NOT CONVINCED YET? CHECK OUT OUR GUIDE TO ICELAND IN WINTER
3. Jamaica
Jamaica may not seem like an alternative destination, but we're putting it on the list because there's much more to this country than sitting on the beach listening to "No Woman, No Cry" on repeat. English is the official language here, but if you really want to immerse yourself, take a lesson in Jamaican Patois (also known as "patwa" or "Jamaican Creole"), the language that most people speak in everyday conversation. Put your Patois to good use on the Best of Jamaica trip which includes a traditional meal at a local home, a tour of an indigenous Rastafari village and all the island's highlights.
Of course, there's some well-known sites that are a little touristy but worth a trip. If you're in Negril, go to Seven Mile Beach and enjoy a bottle of Red Stripe at Rick's Café. In Ocho Rios, a hike up Dunn's River Falls is a fun way to spend an active afternoon. Jamaica is filled with opportunities to get active – hike Blue Mountain Peak, play a round at a pristine golf course, swim, snorkel and kayak reef-lined beaches, and dance to reggae and dancehall along the Hip Strip of Montego Bay or the streets of Kingston.
Aside from street-side dance parties, Kingston has so much to offer. When visiting the cultural capital, stop by the popular Bob Marley Museum, the National Gallery of Jamaica and the old Spanish Town. Classic Caribbean charm with a twist ensures any winter getaway to Jamaica will leave you feeling irie.
READ MORE: 10 OF THE COOLEST THINGS TO DO IN JAMAICA
4. Galapagos Islands
The Galapagos Islands are unlike anywhere else in the world. Their isolation means that they're home to a huge number of species, like marine iguanas and flightless cormorants, that you can't see anywhere else. Only 25,000 people live here, and tourism is highly regulated, so the islands truly belong to the animals.
There's great snorkeling everywhere, but if you're feeling daring, take a day trip from San Cristobal out to Kicker Rock to swim through an eroded volcanic cone. The narrow channel is the perfect habitat for marine life, so as you snorkel between the rocks, you'll see sea turtles, rays and Galapagos sharks swimming up from the deep. Visit from December to May when the water is warmest.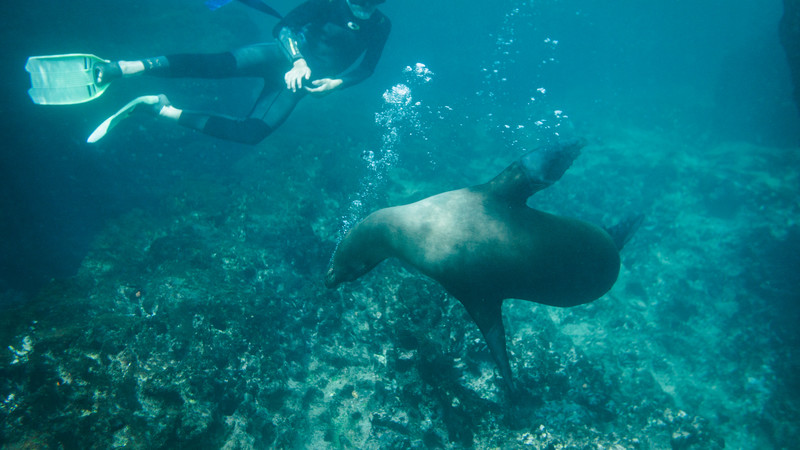 Santa Cruz Island is an unmissable stop on a trip to the Galapagos. Get up close and personal with giant tortoises at the Charles Darwin Research Station. This sanctuary is run by the Charles Darwin Foundation and provides scientific knowledge to visitors while ensuring the conservation of the islands. Tip: go in January to see the tortoise eggs hatching – you won't believe how small they are when they're born.
If you're a wildlife aficionado, the Galapagos Islands can't be beaten. Make sure to pack a camera to capture the bizarre wildlife – just remember not to live through a lens. Take some time off between snorkelling expeditions to appreciate how weird and wonderful the world is.
SAIL THE GALAPAGOS ON THIS 10-DAY ADVENTURE
5. Finland
Finland might not come to mind when picking a December destination, but it absolutely should. There are over 100 ski resorts, snow-blanketed fir forests create a winter wonderland wherever you go, and rumour has it, Santa's workshop is here. This country shines in the winter – and we mean that literally – the Northern Lights are visible in northern Finland (known as Finnish Lapland) for an average of 200 nights per year!
Lapland is also home to the Sami people, the only indigenous people in Northern Europe, who are known for their rich heritage, expertise in reindeer herding, and ability to live off the land. The new Finnish Lapland in Winter trip allows you to experience Sami culture first-hand and explore Finland by train, snowshoe and dog-sledge. Mush!
Finnish people are some of the happiest and healthiest people, so give the local customs a try. Ice swimming is a favourite Finnish winter activity, and it's exactly what it sounds like – immersing yourself in freezing cold water. This has health benefits like increasing your circulation (although maybe it's the dash to the nearby sauna that gets your heart pumping).
A journey to Finland wouldn't be complete without a stop in Helsinki, the hip, stylish capital city. Be sure to check out Senate Square, the sea fortress of Suomenlinna and the Design Museum while you're here. Helsinki also has a famously festive Christmas market where you can browse artisan goods and sip some glogi (a spiced, mulled wine) to keep your hands warm and your spirits bright.
Ready to take an alternative winter break? Check out Intrepid's tempting top trips.
—
(Image credits: Jamaica photo c/o iStock/wuviveka. All other images c/o Intrepid Travel.)
Feeling inspired?