For such a small country, Iceland has quite the reputation – thank its outstanding natural beauty (and, well, the abundance of cheap flights there).
And while it's true that the volcanic island has exploded onto the radars of many travelers in recent years, there's more than enough fjords, geysers, volcanoes and glaciers to go around. You really don't need to head far from the world's most northerly capital, Reykjavik, to feel at one with nature.
But what do you need to do? Because 'getting lost in Iceland's wonders' is a little vague, we've composed a list of six things that'd make any trip there go from ordinary to extraordinary. (Yep, the scenery is just that stunning that you can't help but get a little cheesy about it…)
Take a dip in a geothermal pool
You don't go to Iceland and not visit the Blue Lagoon. The geothermal spa is not cheap, nor is it a hidden gem, but it sure is iconic. It's also the perfect way to relax after a flight – located in a lava field on the Reykjanes Peninsula, it's just a 20-minute drive from Keflavik International Airport. Take a dip in the warm, soothing waters, and you'll see why people rave about it so much. We recommend booking in advance (bluelagoon.com) and visiting when you have some free time just before or after a small group adventure with Intrepid.
But it'd be remiss to imply that the Blue Lagoon is the only hot pool to visit here. In fact, they're dotted all over Iceland, and they're pretty epic. For instance, the Secret Lagoon, near Flúðir, is one of Iceland's oldest pools and is worth going to for the name alone. There's also Reykjadalur, which is one of the easiest hot springs to reach from Reykjavik (a 45-minute drive then short hike) and then there's Myvatn Nature Baths, a year-round spa that's less crowded than most and oh so scenic. (Hint: you can visit Myvatn's baths on this 10-day trip through some of the country's best landscapes.)
Related reading: 6 hot springs even better than the Blue Lagoon
Witness the magic of the Northern Lights
The first thing to state here is that seeing the Northern Lights is never a guarantee. The second to say is that it is a bonus to your visit that'll likely stay with you for life. After all, who doesn't want to look around at night and see ever-changing lights flickering magically amidst the country's glaciers, mountains and lava fields?
Aside from visiting with a local expert to maximize your chances of spotting the sensation, there are several ways to improve your likelihood of seeing the lights. The best time to see them is to visit Iceland from October in March, in general. That being said, I recently visited in mid April and was lucky enough to see them at 2am on a small country road – you just never know! Another way to increase your odds is to seek out clear skies, so check Iceland's national weather website, vedur.is, to be on the lookout for cloudless nights. Keeping away from street lights and urban areas will further increase your chances. (Need some inspo for small towns with unpolluted skies to visit? This list is for you.)
Spot the best lightshow on earth with this 6-day 'Northern Lights Escape'
Eat the freshest fish known to man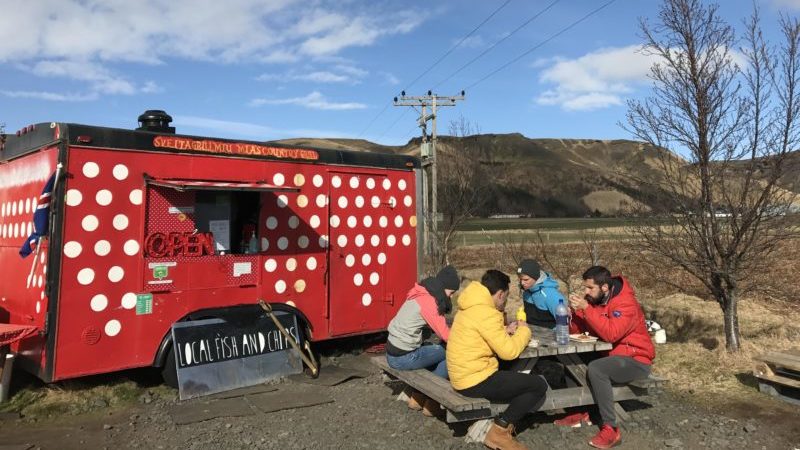 A lot of people arrive in Iceland with low expectations of the cuisine – blame traditional dishes like fermented shark and sheep's head for this reputation. But it's not all about quirky delicacies – the New Nordic cuisine and plentiful lamb and fish are sure to delight (even if the general food prices don't).
Like most countries surrounded by ocean, the seafood really is something to write home about. Numerous restaurants in Iceland specialize in it, with Reykjavik boasting far more than its fair share of gems (check out Fiskfelagid and Harry's, for starters). But my favorite culinary experience actually came about thanks to a small red food truck called Mia's Country Grill (pictured above). Located right by the majestic Skogafoss waterfall, the (very reasonable) fish and chips on offer provide never-seen-before levels of freshness.
Related reading: A photo essay of Iceland's diverse, spectacular landscapes
Play 'spot the waterfall' as you explore
Iceland has, quite literally, hundreds upon hundreds of waterfalls. Don't trust a casual observer – take it from Wikipedia's remark that Iceland is "unusually suited for waterfalls". You can be rest assured here that you don't have to drive far, or in a specific direction, to spot one. And away from the major ones – South Coast's Skogafoss and the Golden Circle's Gullfoss – there are tons of precious tiny ones dotted all over. The country's best are very much open to interpretation, but one I particularly like is Seljalandsfoss, which you can even walk behind in the summer.
SUBSCRIBE TO OUR NEWSLETTER FOR TRAVEL INSPO, GIVEAWAYS, COMPETITIONS & MORE
In Iceland, some of the most dramatic scenery is in the north. This is certainly the case when it comes to waterfalls, since the epic Dettifoss waterfall, Europe's most powerful, is located in the country's northeast. The waterfall is so powerful that vibrations can be felt in the nearby rocks – oh, and 96,500 gallons of water flow through it per second! (For more reasons why Northern Iceland is the next big thing, check out this article.)
Pressed for time but into waterfalls? This 5-day 'Iceland Express' trip is perfect for you!
Stroll around the quirky, charming capital
It's highly unlikely that you'll visit Iceland without spending at least a little time in the cute capital. Easy to navigate on foot, and with a surprisingly booming cafe culture, the city might not warrant more than a few days but it does have a lot going for it. To start, browse the colorful streets (noting the plentiful street art!) and quirky art galleries. Then head to my bakery of choice, Sandholt, for a quick pick-me-up.
Don't leave without visiting the one of the city's main landmarks, Hallgrímskirkja. This Lutheran parish church offers not just an attractive interior, but 360-degree views of the city from the top. Once you've taken all the snaps required for social media, brush up on your Icelandic history at the National Museum, visit famous hot dog stand Baejarins Beztu Pylsur, and have a drink or two at upscale bar, Loftið.
Related reading: 7 reasons you need to visit Reykjavik asap
Take in all the island's unique scenery
At risk of sounding like a tourism brochure, there really is something for every sort of outdoorsy person in Iceland. Words really don't do the landscapes justice but if icebergs, black sand beaches, geysers and glaciers appeal, the country will do too. For me, the most awe-inspiring scenery was found at Jökulsárlón, a glacier lagoon on the south coast that took the word 'dramatic' to new levels (visit with Intrepid and you'll see it by boat).
But the unique attractions don't stop there. Venture to Thingvellir National Park to see where the Eurasian and American tectonic plates are pulling apart from each other. Stop off nearly anywhere and pet the friendly, pony-sized Icelandic horses that are native to the country. Walk on Europe's biggest ice cap, Vatnajökull, which has glaciers literally flowing out from it. I could go on, but, honestly, it's hard to go wrong in this beautiful country. Pay it a visit, and you'll agree.
About time you traveled to this beautiful country? Check out our range of small group tours in Iceland.

(Image credits from top to bottom: iStock, Intrepid Travel, Rebecca Shapiro, iStock x2, Rebecca Shapiro)
Feeling inspired?