The problem (if it can be called a problem) with long-term travel through Europe is that after a few months the expansive views of seas of red rooftops and opulent medieval squares all start to morph together.
The architecture of Budapest is breathtaking. The winding alleys of Paris' Montmartre are magical. Florence's cathedral seems too perfect to be real. After months zig-zagging across Eastern and Western Europe, I sent a postcard to a friend remarking, "I have beautiful city overload. Each place is more gorgeous than the next and I think I'm jaded by it all."
That is until I stepped foot on the small island of Burano, when I had a little free time on Intrepid's Highlights of Italy trip. I had seen pictures of the village, originally settled by fishermen hundreds of years ago, but a snap on Instagram doesn't do the pastel-hued parcel of land justice. Strolling the small canals flanked by wooden houses painted in every shade of the rainbow, I caught myself thinking, "Pinch me. I must be dreaming."
Less than an hour away from Venice by boat, Burano is an ideal day trip for a burst of color in the sea of granite and stone marvels of Italy. A bonus is the ability to take leisurely walks through hidden residential streets where the only sounds are seagulls and laundry rustling in the wind. Like me, you might walk past children playing hide and seek among the lines of linens crisscrossing walkways.
Here's how to slow down and enjoy a day trip to Burano:
It doesn't matter if you're a morning person or not; set your alarm for dawn to catch the first vaporetto from Venice to Burano. You might bristle at the idea of getting up so early on vacation (I certainly did), but watching the morning sun cast a golden halo above Venice as the boat speeds through the Venetian Lagoon is worth the lack of sleep. Early risers also have the island to themselves for a few hours before tourists start drifting in en masse in the afternoon.
VISIT ITALY ON ONE OF INTREPID'S SMALL GROUP TOURS
Bring your camera
It's said fishermen started the tradition of painting houses bright colors to see the island through the thick fog common in mornings. Local historians argue it was a matter of practicality. The houses are stacked next to each other and color delineates one house from the next. Whatever the reason behind the custom, the result is a photographic wonderland.
Today, the technicolor dreamland is regulated by local government, and owners need to gain approval before repainting.
The petit canals and footbridges that join the island (more accurately an archipelago of four miniature islands) are an added scenic bonus. I stood mesmerized as small boats glided in and out of canals, and snapped photos of the houses reflected on still waters.
Burano also boasts its own leaning tower. While much smaller than the world-famous structure in Pisa, the landmark is visible from land and sea. The bell tower of the island's only church has been repaired, but slowly continues its slide sideways as the earth below Burano (just like Venice) gradually sinks.
SEE MORE: WHAT IT'S LIKE ON AN INTREPID TOUR OF ITALY, IN 21 PHOTOS
Consider a picnic
There are restaurants on the island, including several that specialize in seafood and Northern Italian delicacies. However, don't make the mistake I did of showing up on a Saturday afternoon expecting to sit down as soon as hunger set in. The well-known establishments, including Al Gatto Nero known for fresh seafood, and Da Romano, famous for its squid ink risotto, fill up weeks in advance. Make reservations if you're planning a visit.
Even if you can't score a seat at coveted eateries, you can still lunch like a local. Grab a sandwich or meats and cheeses from one of the local delis and sit in the small green park near the boat landing. Don't forget to try one of the crunchy biscuits (Bussola) found in bakeries across Burano. The lemon-scented snacks date back a few centuries when wives packed the hearty cookies for their husbands to eat while at sea.
SUBSCRIBE TO INTREPID'S NEWSLETTER FOR TRAVEL TIPS, COMPETITIONS, GIVEAWAYS & MORE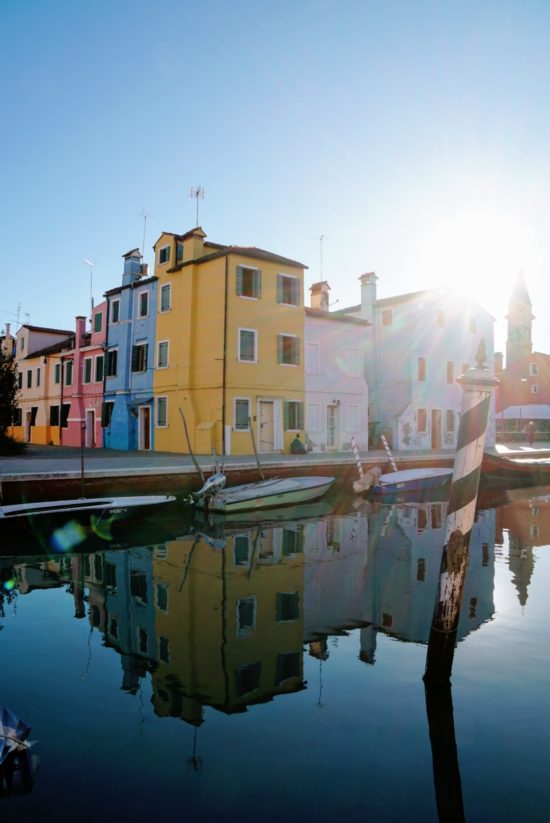 Linger in front of lace shops
The origin story of the island's lacemaking industry, not surprisingly, is also tied to the sea. When a siren tried to seduce an engaged fisherman with sweet song, he declined. As a show of respect, she created a foam in the water which transformed into a wedding veil for his betrothed. Envious of the veil, the women in the village tried to replicate it with delicate needlework. Kings and queens across Europe have worn the lace, and you can still watch locals create the intricate fabric by hand.
READ MORE: 6 CITIES IN ITALY TO VISIT BEFORE EVERYONE ELSE DOES
How to get there
Take the #12 vaporetto (water bus) departing from the Fondamente Nove pier in Venice for a 45-minute scenic ride. From late spring to fall the boats depart every half hour. If you have all day, buy a travel card instead of a single ticket and island hop. The #12 also stops at Murano, Mazzorbo, Torcello, and Treporti.
Ready to visit Italian gems like Burano? Check out Intrepid's range of small group adventures in Italy.
—
(Image credits from top to bottom: Intrepid Travel, Kristin Amico, Intrepid Travel x3, Kristin Amico.)
Feeling inspired?