When you think of Italy, famous cities like Rome, Venice and Florence definitely come to mind. And while these are home to wonderful landmarks such as the Trevi Fountain, St. Mark's Basilica and the Statue of David, they are also some of the biggest tourist traps in the country. Of course visiting them should be on your travel bucket list, but if you want to escape the crowds and discover a part of Italy that isn't often talked about, read on.
Here, we recommend six underrated cities that will help you get a sense of what the country and culture is truly about.
Bologna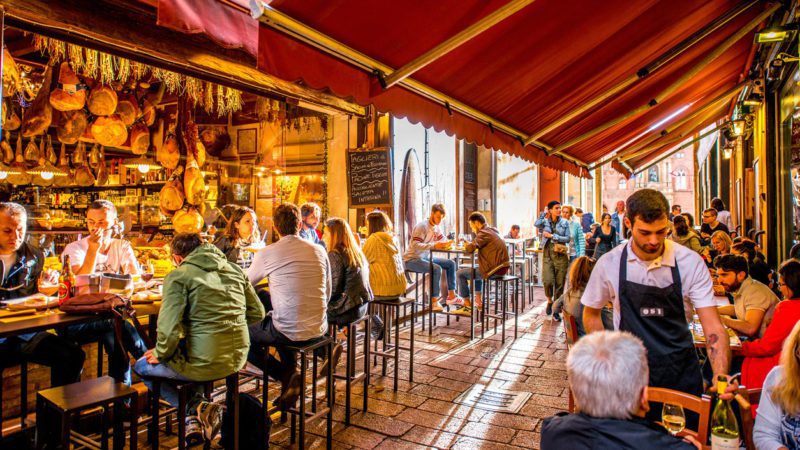 The city of Bologna, home to the world-renowned sausage known as Mortadella, is a bustling city for locals and a quiet one for tourists. It's a hard-working city, but hidden in-between alleys and side streets are trattorias that will please your foodie heart. Make sure to take a food tour at the Mercato Di Mezzo or the Quadrilatero, where you can delight yourself with Bologna's many delicacies.
After you've enjoyed the hearty eats, spend some time roaming around the city, simply looking up at the buildings around you. Bologna is an old but beautiful city, filled with juxtaposing architecture and graffiti. As you discover this modern but Gothic city, head over to the two main landmarks, the Abbazia di Santo and the Basilica di San Petronio, to get a taste of its abundant history.
RELATED: VISIT BOLOGNA ON THIS FOODIE TOUR OF ITALY (PASTA-MAKING CLASS INCLUDED!)
Siena
Visiting Siena is like going back in time to medieval Italy, where everything is still preserved to the time when it was first built. Peaceful yet vibrant, the streets of Siena have plenty to offer, including tiny authentic restaurants and stunning landmarks such as the Duomo and Chiesa di San Domenico. The most interesting landmark, however, is the Piazza del Campo – the central square where a traditional horse race called The Palio is held twice every summer.
Aside from exploring the narrow streets and landmarks of this World Heritage Site, you'll also want to relish in Siena's traditional dishes. This city and province is home to the very best wines the country has to offer: Chianti, Brunello and Montepulciano. We recommend pairing a few glasses of wine with two classically delicious dishes: Pappardelle pasta with rabbit sauce and Ribollita, a Tuscan vegetable soup.
SUBSCRIBE TO OUR NEWSLETTER FOR TRAVEL INSPO, GIVEAWAYS, COMPETITIONS & MORE
Bari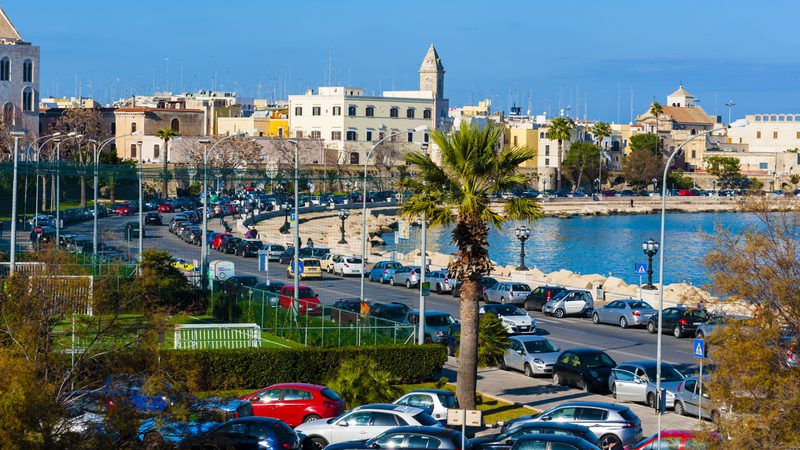 This small but historic port city on the Adriatic Sea simply cannot be missed. Just a ferry away from Greece, Bari is made up of narrow streets that make it a joy to get lost in. As you wander through the maze-like town, you'll come across Romanesque churches, elegant medieval piazzas and a Swabian castle known as the Castello Normanno-Svevo. The main city of Puglia, Bari is also home to one of Europe's most sacred destinations, the Basilica di San Nicola, which features the relics of St. Nicholas (aka Santa Claus).
As you roam around the town, you may even come across a tucked-away alley where Italians make fresh homemade pasta out on the street. Bari is known for classic Italian dishes enriched with meat, seafood and vegetables, such as minestrone soup and orecchiete (ear-shaped) pasta. You mustn't forget to end your stay in Bari with a taste of their local limoncello – a sweet and strong lemon-infused drink.
RELATED: VISIT BARI ON THIS 10-DAY TRIP THROUGH SOUTHERN ITALY
Parma
This small yet prosperous city is worth visiting if you want to see where Parmesan cheese and prosciutto are made – two of Italy's most famous (and delicious) exports. It's a quaint city with barely any cars, you'll need to walk or take a bike to get around, which tends to make the visit even more enjoyable. Visiting Parma is like visiting the birthplace of Italian products – aside from the world famous ham and cheese that gets produced here, Parma is also home to musical composers Verdi and Toscanini, and is just a day trip away from Sant'Agata Bolognese, the headquarters of Lamborghini.
As for sights and landmarks, Parma offers beautiful botanical gardens, castles and historic churches. You can also walk around the campus of University of Parma, one of the oldest universities in the world. Essentially this city is like one big museum. Gorgeous.
RELATED: 7 UNIQUE ITALIAN DISHES TO TRY, BY REGION
Campobasso
Not often seen on travel lists, Campobasso is a small city in the region of Molise, with a population of just 52,000 – but don't let that deter you from visiting this charming locale. Sitting right by the scenic mountains of Sannio and Matese, you can expect temperatures that range from cool in the winter to blazing hot in the summer.
This old-fashioned city offers the most authentic art, history and food you'll likely find in the entire country (!), as age-old traditions still carry on today. It's definitely worth visiting the Il Castello di Monforte and the Castello di Capua a Gambatesa, two castles that were built in the mid-15th century and are often rebuilt due to earthquakes hitting the area. Other attractions include tiny trattorias, historic churches and museums galore.
LOVE ITALIAN CUISINE? CHECK OUT THIS 8-DAY FOOD TRIP DEDICATED TO IT
Turin
This historically elegant city, once the capital of the country, is a great place to enjoy Italy's art and culture. With the number of art galleries, opera houses and theaters it has to offer, you'll likely never get bored. As you tour around the northern Italian gem, you'll notice grandeur in the architecture, as you spot the Palazzo Reale, the Palazzo Madama, and La Venaria, Italy's equivalent to Versailles.
Turin is also the birthplace of renowned food that's full of originality and flavor. The chocolate hazelnut spread known today as Nutella was created here, and it's no surprise, therefore, that the city is home to a full-on chocolate festival in its honor. Switching over to the savory side, Torino is also the place to enjoy homemade breadsticks (grissini) and pasta with local mushrooms and cheese. Of course, to top off your meals, you'll have to enjoy a sweet drink to end the night, an Italian tradition started in Turin.
Want to discover Italy's many hidden gem cities for yourself? Check out our small group tours.

Image Credits (top to bottom): iStock, Intrepid Travel, Shutterstock x3, Unsplash
Feeling inspired?