What's the weather like at the Bay of Fires? 
The Bay of Fires, located on the northeastern coast of Tasmania, enjoys a temperate oceanic climate with mild to warm summers and cold winters that see regular rainfall. This means that summers never exceed extremely hot temperatures and winters rarely ever reach freezing levels. The Bay of Fires region does experience heavy rainfall during the shoulder season of autumn - with around 105mm collected in March alone - and winter for a total amount of 923mm throughout the year. 
Sunshine hours are understandably at their highest during the summer months with December recording around 13.5 sunshine hours per day. At the other end of the spectrum, June sees the lowest sunshine hours with 7.5 hours per day. 
While the humidity levels are quite high at the Bay of Fires (levels don't drop much below 80% throughout the year), the temperature itself isn't hot enough to make this a big issue. In fact, chances are you won't even realise it's humid so you'll be able to carry out your travel itinerary quite comfortably regardless of how high the humidity level is for the day. 
Summer at the Bay of Fires 
During the months of December, January, and February, the weather is at its best with an average temperature of around 18°C, however, the temperature is likely to increase as summer goes on to sit at a top of 21°C. Along with the mildly warm days, the Bay of Fires region experiences copious amounts of sunshine for long periods of the day (sunshine hours are at their highest in November and December), ensuring you have plenty of time to appreciate the natural landscape. 
If you want to go swimming in the bay area, we recommend doing it in either January, February, or March when the sea temperature is at its highest (19.3°C, 19.3°C, and 19.5°C respectively). 
Winter at the Bay of Fires 
It never gets as cold as you might think at the Bay of Fires with average temperatures sitting around 12°C. While you can expect roughly 80mm of rain per winter month, these showers are often short, leaving you to get on with the day's activities without too much delay. Because temperatures never reach freezing levels in the region, it's unlikely you'll ever see snow or experience other extreme weather phenomena. 
When's the best time to visit the Bay of Fires? 
The spring and summer months are considered to be the best time to visit the Bay of Fires region with mild to warm temperatures that are perfect for exploring the breathtaking scenery and swimming in the bay's waters. However, with good weather comes larger crowds and increased prices so make sure you pre-book your accommodation and activities well in advance to avoid unavailability. 
While there's certainly nothing wrong with travelling to the Bay of Fires in winter, temperatures can be quite low and mornings are often frosty at 7°C so keep that in mind if you're planning any early morning wake-ups. Sunshine hours are shorter during winter as well, so you might not always have the best weather to enjoy your surroundings but the region isn't known for any severe weather conditions so your holiday should be relatively uninterrupted. 
Average temperatures at the Bay of Fires 
| | | |
| --- | --- | --- |
| MONTH | AVERAGE HIGH | AVERAGE LOW |
| March to May | 18°C | 12°C |
| June to August | 13°C | 8°C |
| September to November | 16°C | 11°C |
| December to February | 21°C | 15°C |
Read more about Tasmania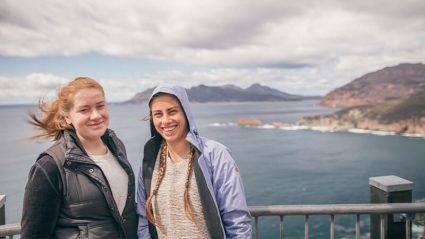 Dec 18, 2021
---
Discover the beauty of Freycinet National Park on these fantastic walking tracks.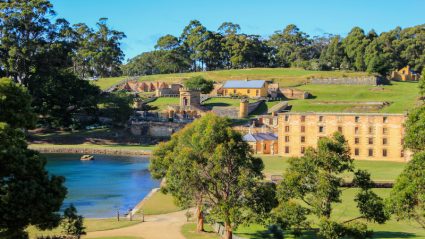 Jun 25, 2021
---
Get your culture on with these cool cultural activities in Australia and New...