From the wild, west Outback and dusty Red Centre, to the tip of the Top End and all the way down to Tasmania's south, Australia is home to some of the world's most unique landscapes. It's one thing to see them from the sky or to drive their magnificence on an epic, Aussie road trip, but nothing beats exploring these regions by foot.
Hiking in Australia is a visceral experience – it's all in the smell of eucalyptus, the touch of bottle brush, the sound of waves crashing on rugged, remote shorelines. It's working up a sweat climbing through gorges, only to wash it all away in a secret swimming hole. And the best part about hiking down under? There is a trail to suit all trekking levels.
So leave your heavy, hardcore hiking boots at home, all you need here is a comfy pair of walking shoes, plenty of water, a bucket-load of sunscreen and a sense of adventure.
1. Litchfield National Park, NT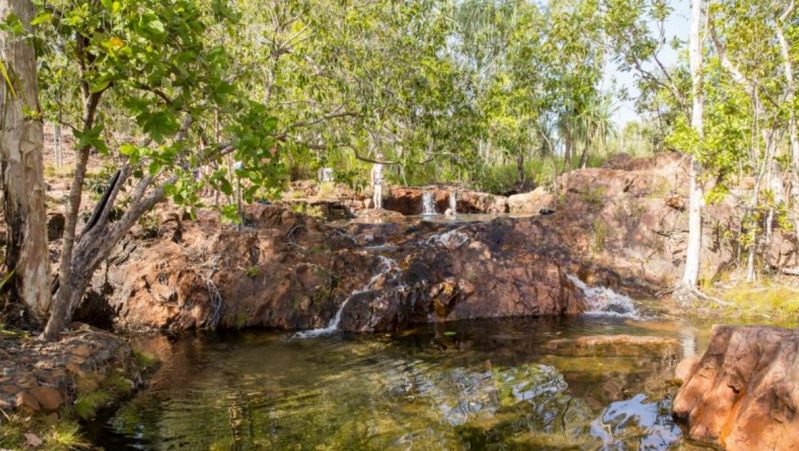 Difficulty: Easy to Moderate
Distance: 1 kilometre to 4 kilometres
Hiking time: 30 minutes to 2 hours
Litchfield is 100 per cent a must-see if you're in the Top End. You know all those tourism ads featuring happy people swimming in watering holes fed by cascading waterfalls? That's Litchfield National Park. One of the Northern Territory's most beautiful secrets, the hiking here is more of a relaxed walk through tropical rainforest groves to crystal-clear swimming pools. The 30-minute walk out to Florence Creek is the easiest option, otherwise pack a picnic lunch and head out to Upper Cascades for some serious waterfall time. Just a two-hour drive from Darwin, Litchfield is an easy-going day-tripper, just make sure you remember your waterproof sandals and read the signs: nothing would ruin a holiday more than a crocodile encounter.
TAKE A HIKE IN LITCHFIELD ON ANY OF THESE SMALL GROUP ADVENTURES
2. Karijini National Park, WA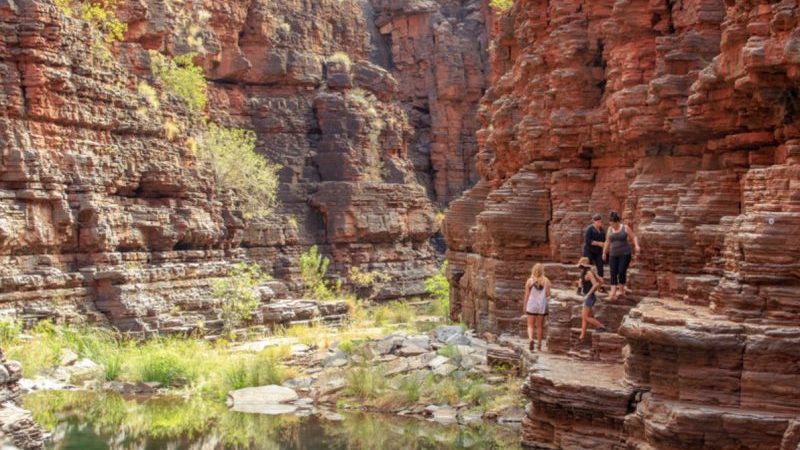 Difficulty: Easy to Moderate/Difficult
Distance: 1 kilometre to 9 kilometres
Hiking time: 1 to 5 hours
Arguably the outback gem of Western Australia, Karijini is next-level picturesque. Honestly, your eyes will hurt from all the beauty. Formed over 2.5 billion years ago (yep, millions of years!), Karijini is home to a multitude of red earth gorges, fresh water holes and some of the most unusual landforms on Earth. The hike out to Hancock Gorge is one of the most iconic, and it's fun too, which helps. It involves a little rock-scrambling and some swimming to get to the natural amphitheatre, where you're rewarded with an otherwordly swimming hole. Make sure you have a lot of water when hiking in Karijini and also BYO dry bag to protect your not-so-waterproof valuables.
SOAK UP THE BEAUTY OF KARAJINI ON ONE OF THESE ADVENTURES ALONG AUSTRALIA'S WEST COAST
3. Kings Canyon National Park, NT
Difficulty: Moderate
Distance: 6 kilometres
Hiking time: 3 to 4 hours
Don your best walking shoes, lather up in sunscreen and prepare your eyes for a magnificent vista because today you're hiking the Kings Canyon rim. One of the most famous walks at Watarrka National Park, the rim takes you through spectacular red earth, a natural amphitheatre, and Priscilla's Crack (made iconic by the film 'Priscilla: Queen of the Desert'). The walk initially has a fairly steep vertical (the equivalent of about 1000 steps) but after that it's smooth sailing walking.
CHANNEL YOUR INNER PRISCILLA ON ANY OF THESE OUTBACK ADVENTURES
4. Grampians National Park, VIC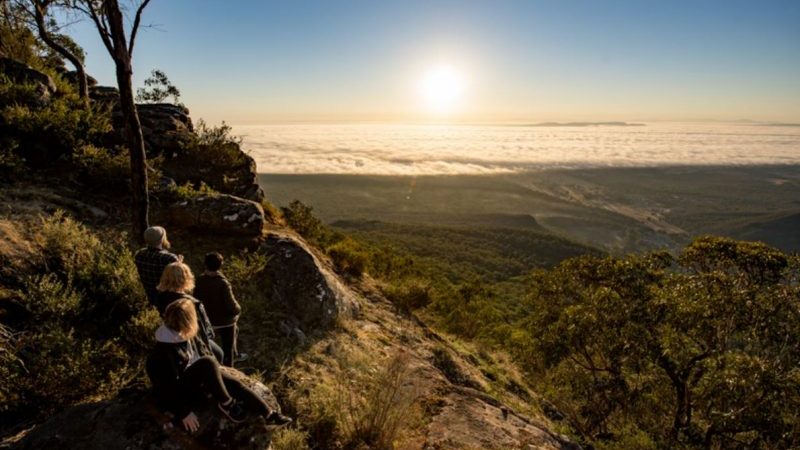 Difficulty: Easy to Moderate
Distance: 5 kilometres
Hiking time: 4 hours
There is a little something for every hiker at Victoria's Grampians National Park. Super rich in Indigenous history, it's well worth stopping in at the Brambuk Aboriginal Cultural Centre to learn a bit about the Dreaming before heading out into the bush. A must-hike is the Pinnacles Lookout for an incredible panoramic view across the landscape, and Mackenzies Falls are worth a peep. If you're a rock climber or boulderer, make sure to pack your climbing shoes because the Grampians are home to some of the best crags in Australia.
5. Western Macdonnell Ranges, NT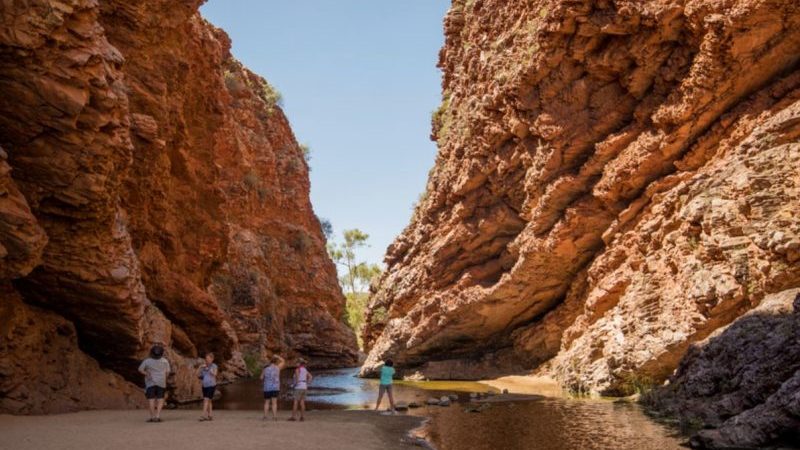 Difficulty: Easy
Distance: 1 kilometre to 5 kilometres
Hiking time: 1 to 4 hours
The West Macs, as locals call them, stretch for over 200 kilometres west of Alice Springs. Made famous by Western Arrernte artist Albert Namatjira, this region is all spectacular vistas, colourful walls and fresh waterholes. Ormiston Gorge is high on our list of West Macs' attractions, as is Ellery Creek Big Hole. Both sites are home to a range of short trail hikes, fit for every level of trekker. If you've got the time in your itinerary, definitely choose to spend a night under the stars in a proper Aussie bush camp here.
EXPLORE THE WESTERN MACS ON ONE OF THESE INTREPID ADVENTURES
6. Cape Le Grand National Park, WA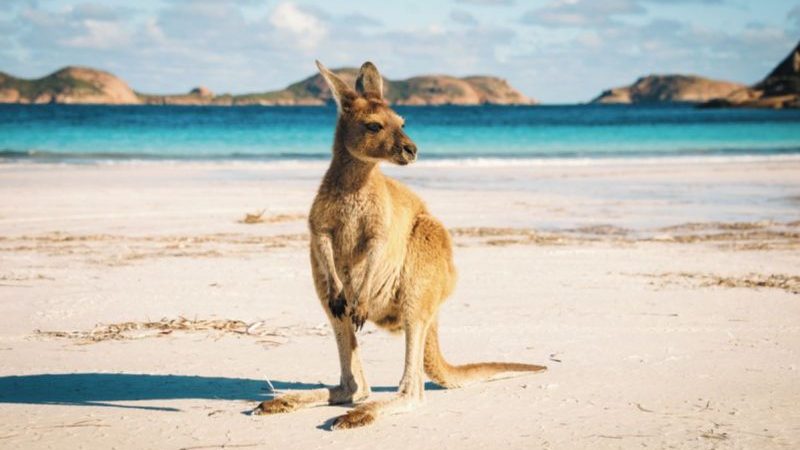 Difficulty: Moderate to Difficult
Distance: 3 kilometres
Hiking time: 1 to 3 hours
Western Australia's Cape Le Grand NP boasts the best of both worlds, with mountain dreams and white sand beach-fronts. A hike up to Frenchman's Peak, standing 262 metres, is a must-do for views all the way across the landscape to the Recherche Archipelago. It's a fairly arduous trek, mainly because you're climbing uphill but if you take the pace slow and really enjoy the magnificent views then it's easy done. If you're in Australia and looking for kangaroos, you're definitely going to want to head down to the beach at some point to watch the western grey 'roos sunbathe.
SPOT A 'ROO OR TWO ON ONE OF OUR WESTERN AUSTRALIA ADVENTURES NOW
7. Cradle Mountain, TAS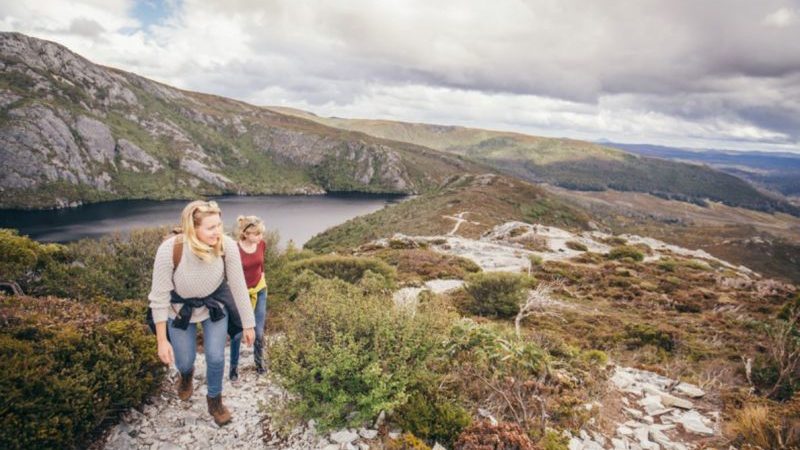 Difficulty: Easy to Difficult
Distance: 1 kilometre to 14.9 kilometres (entire Cradle Mountain trail)
Hiking time: TBD
Welcome to Tasmania, travellers, the southernmost Australian state. The Cradle Mountain trail was originally forged by trappers, hunters and loggers of old, and today is haven for hikers. There are many walking options here, and all of them serve up a good dose of Cradle Valley beauty. If you're after a view to gorgeous lakes and rugged mountaintops, Marion's Lookout is perfect for you, otherwise there is plentiful, easy ambling around the Dove Lake Circuit. Expect wilderness and lots of it.
MOSEY AROUND DOVE LAKE (OR TREK UP CRADLE MOUNTAIN) ON OUR 6-DAY TASTE OF TASMANIA ADVENTURE – DETAILS HERE
8. The Great Ocean Road, VIC
Difficulty: Easy
Distance: Up to you
Hiking time: Also up to you
This magnificent stretch of winding coastal road is Australia's answer to Route 66. Incredible to drive but also just as spectacular to wander, the Great Ocean Road region is the perfect place to stretch your legs. A super unique experience is to walk along the road itself, en route to the Gibson Steps (however, please watch out for cars). Prepare to witness towering cliffs, stroll pristine shorelines and maybe, just maybe, see a koala. Make sure to pack your swimmers/bathers/cozzie and go for a dip if the sun is out!
MEANDER ALONG THE GREAT OCEAN ROAD ON ONE OF THESE INTREPID ADVENTURES
Ready to explore Australia? You don't have to do it all on foot either – our Australia adventures include comfortable transport via air-conditioned minibus. View our complete range of tours here. 
Feeling inspired?