Because your boots are made for walking around this breathtaking region
The northeastern coast of Tasmania isn't a stranger when it comes to extraordinary landscapes and one of the easiest ways to explore all of its natural goodness is to lace up your hiking boots, fill up a reusable drink bottle, charge up the camera, and head out for an adventure on some of the best Bay of Fires walks.
From trekking through the bushy scenes of Mount William National Park to traversing the trails found in the Blue Tier National Reserve, these Bay of Fires walks deliver big time when it comes to impressive views and unforgettable memories. We can't guarantee all of these walks will be easy – some will definitely challenge your calf and thigh muscles – but the effort and energy you exert putting one foot in front of the other will undoubtedly be worth it.
Happy walking!
1. Bay of Fires Lodge Walk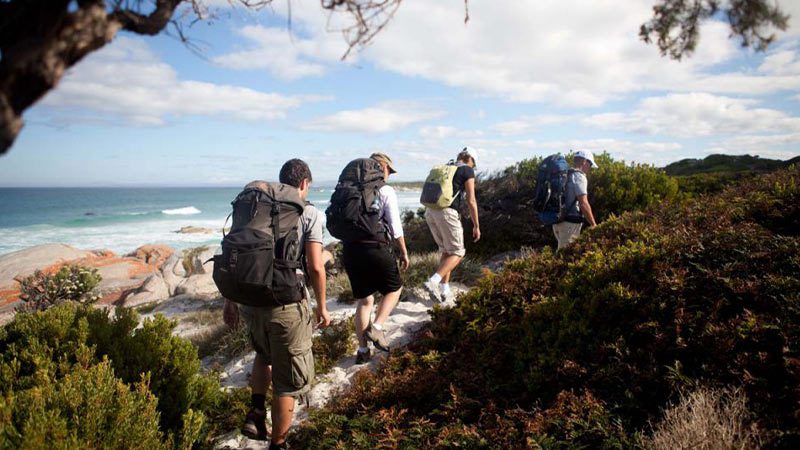 Difficulty: Easy-Medium
Distance: 9km
Duration: 4 hours
Heralded as one of the 'Great walks of Australia', the Bay of Fires Lodge Walk promises epic vista after epic vista as you traverse the breathtaking landscape and observe the fascinating wildlife of Tasmania's northeastern coast. From wandering along soft, sandy beaches to exploring hidden coves, this impressive 9km walk will take you past the area's famous orange-coloured, lichen-covered rocks and transport you to a natural world that's remained largely untouched for thousands of years.
Whether you like the idea of kayaking along the Ansons River or simply want to disconnect from the outside world in order to reconnect with the natural beauty all around you, this easy to mildly challenging walk will have you breathing fresher air and making unforgettable memories in no time.
RELATED: THE 7 BEST DAY WALKS IN FREYCINET NATIONAL PARK
Difficulty: Easy
Distance: 400-metre circuit
Duration: 10 minutes
Like something out of your favourite fairytale or Lord of the Rings novel, the Goblin Forest Walk may be one of the easiest walks to complete in the Blue Tier National Reserve but it's also easily one of the most captivating. Adding up to a short 400-metre circuit, this walk will not only give you a glimpse into the region's interesting ecology but also take you back to its mining past with informational displays set up along the trial.
While the Goblin Forest Walk won't take you that long to complete, you can still make a full day out of it with barbecue pits and picnic tables at the trailhead so you can have lunch among the trees. The trail is even wheelchair friendly making this Bay of Fires walk suitable for everyone.
Difficulty: Easy
Distance: 2.4km
Duration: 50 minutes
Look who's walkin'……on the Halls Falls Track! Located in the luscious Blue Tier National Reserve, this easy but beautiful walking track leads you straight to the main event – the powerful Halls Falls. Arguably the best spot to spend a couple of hours, Halls Falls is a cascading waterfall that flows into the Groom River, providing the perfect environment for cooling off in the height of summer.
4. Wukalina Summit Track, Mt William National Park
Difficulty: Moderately challenging
Distance: 3.5km
Duration: 1 hour (ish)
Whether you're hiking under the sun's warm rays in summer or enjoying the cooling wind that winter brings, there's never a bad time to walk the Wukalina Summit Track in Mount William National Park. If you read the word 'summit' and automatically think it's not for you then don't.
While this walk is considered to be moderately challenging, it's actually relatively easy for a summit walk with a fairly flat track that only becomes steep near the top, and even that's only for a short section.
Standing at a reserved 216 metres high, Wukalina (Mount William) offers up the most amazing 360 views of the national park, including the nearby Cape Naturaliste and George Rocks Nature Reserve. To (sum)it up nicely (do you see what we did there?), this walk promises a completely immersive experience in Mother Nature's best work.
RELATED: CONNECTING TO COUNTRY ON TASMANIA'S WUKALINA WALK
5. Moon Valley Rim Walk, Blue Tier National Reserve
Difficulty: Easy
Distance: 3.5km
Duration: 1 hour
There are few walks in the Bay of Fires area that offer as much history and unique scenery as the Moon Valley Rim Walk and that's thanks to the Blue Tier National Reserve's mining past. Follow the guided signposts and take a journey through the tea tree and beech groves to reach the summit of Mt Poimena (around 20 minutes into the walk).
Breathe in the smell of fresh, salty air as you look out over Tasmania's northeastern coast before making your way between granite boulders and valley terrain to the track's final landmark, the historic Gough Battery Tin Mine. Mixing the very best of nature and times gone by, this Bay of Fires walk is not to be missed.
RELATED: 6 INCREDIBLY BREATHTAKING CRADLE MOUNTAIN WALKS
6. Binalong Bay Loop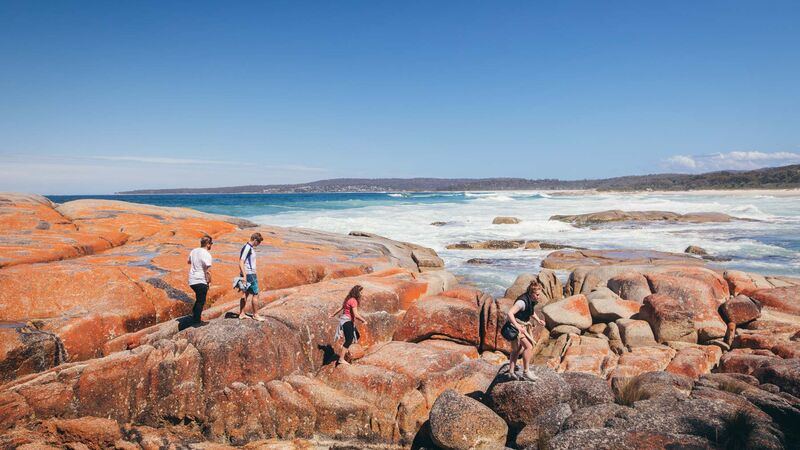 Difficulty: Hard
Distance: 13km
Duration: 4 hours
If 'challenge' is your middle name, then the Binalong Bay Loop is the Bay of Fires walk for you. Coming in at a leg-burning 13km, this spellbinding walk is perfect for those of us who like to switch off every once in a while and go for a little wander in the woods. But time-worn trees aren't the only things you'll see during your journey as the trail is also known to be good for birdwatching, as well as for catching glimpses of the bay's beautiful coastline.
7. Cosy Corner
Difficulty: Easy
Distance: 3.1km
Duration: 1 hour
We don't know if we'd categorise this next Bay of Fires walking trail as cosy but it definitely comes out on top when it comes to ease and beautiful scenery. With wildflowers and other native plants, as well as the Swincart Lagoon and several other beach spots lining part of the 3.1km track, Cosy Corner presents the perfect place to spend a summer's afternoon.
Accessible all year round and suitable for all skill levels, the trail comes to a head at an 80-metre stretch of pure white sandy beach which is encased on either side by the famed orange-coloured rocks that the Bay of Fires region is known for.
EMBARK ON ONE OF THESE BAY OF FIRES WALKS ON OUR BAY OF FIRES TOURS
Feeling inspired?