Reading Time:
5
minutes
It was Friedrich Nietzsche that said "all truly great ideas are conceived by walking", but Nietzsche had obviously never walked in Patagonia.
When you're hiking in this region – whether it's up and down mountains or carefully latching your crampons on to glaciers – there's not much room for great ideas, or really anything else at all. Most of the time, you're too focussed on where your feet need to go next, which boulder to scramble up or which glacial crevice to avoid; at other times, you'll just find yourself dumbfounded, unable to reach any grand conclusion beyond the word "whoa". The presence of such inescapable beauty, you'll find that thinking ranks low.
Patagonia is the southern part of South America. It covers a generally unpopulated region of both Argentina and Chile, running along the lower spine of the mighty Andes mountains ranges. Our Intrepid Patagonia Wilderness trip takes us on a whirlwind tour of natural highlights, providing us with comfortable accommodation, connecting journeys and a great campsite along the way. Man has built very little here: most of the region is defined by the ancient glaciers that cut the landscape over many millennia.
The terrain is vast and the nature is imposing. Patagonia is a place you go to feel small. This is a taste of what we did:
Perito Moreno Glacier
I'd never thought much about glaciers before this trip; now, the memory of Perito Moreno takes up my screen saver, a lot of my stories, and often my thoughts. Think of it like this: an ice field is the palm of the hand and a glacier is its fingers extending down a valley. The 70 metre-high wall of ice is like the world's slowest river, inching forward at a rate that's inconceivable to the eyes, except when the pressure causes huge ice sheets to calve off the glacier's snout into the cold water below. We can hear this process before we see it as the glacier creaks, groans and snaps on our drive into the Los Glaciares National Park.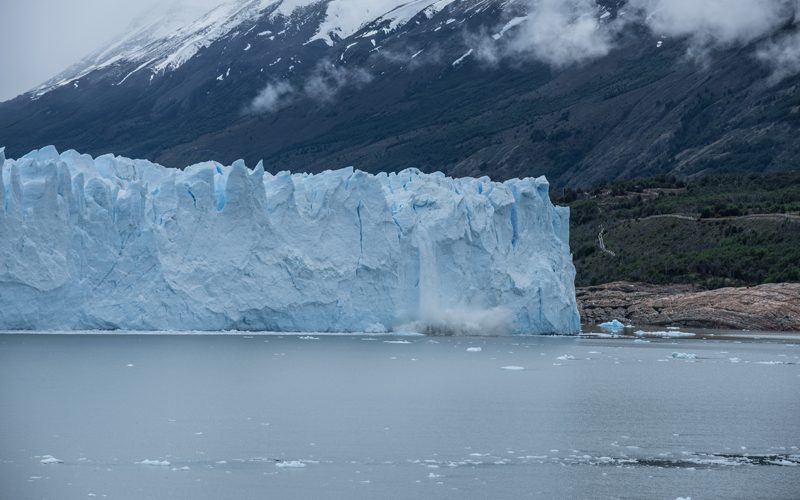 The first sight of the glacier makes my breath catch in my throat, and we approach it with reverence, like it's some sort of god. An optional extra lets us trek on the glacier, and this unexpectedly becomes the highlight of the trip. From a distance, the glacier is huge, but when you're a tiny dot in the middle of it, you pretty much lose the notion that anything else exists or has existed. Anywhere. Ever. It's almost funny.
El Chalten
There's absolutely nothing modest about the scenery in the tiny hiking village of El Chalten. It's called the trekking capital of the world as it sits at the very base of the famed Fitz Roy massif in Argentina, which is the mountain group you'll recognise from the Patagonia clothing logo. Grand peaks tower above you and the best views of these are often found at the far end of 20 kilometre return day hikes. They're pretty much all uphill. Invest in hiking poles and remember that hiking is walking; just keep walking. You'll be rewarded with views so good you couldn't even make them up, and then you can justify eating as much carbonada – beef and peach stew – as you damn well please to refuel.
Torres Del Paine
Camping is the absolute best way to nature. After a streamlined border crossing into Chile thanks to our great guide Denis, we arrive at our set up campsite in the Torres Del Paine National Park and enjoy one of many excellent dinners prepared by our local chefs. Our park guide Anita briefs us on our hikes, with the 'big one' being the nine hour return trek to the base of the granite towers that are the park's namesake.
Again, the base of the towers are at the top of a pretty formidable mountain. That's the thing about Patagonia – to experience it properly, you have to work for it. Those little pockets of perfection are hidden away in the hardest to reach places. (Know what makes it better though? The bottles of Malbec waiting for us at our campsite when we return from our walk.) There's so much to see in this park, and we manage to cover off a substantial amount in our three days here. No wifi means we feel even more distant from the planet. It suits the otherworldliness of what surrounds us.
Ushuaia
We arrive at the charming coastal town of Ushuaia at the end of a 13-hour day of travel on busses and ferries. The landscape is captivating and our legs need the break, so the long journey is welcomed. Ushuaia spills up the surrounding mountainsides with its colourful shacks and lively streets, all framed by the very bottom spine of the Andes. Ushuaia is where the mountain range finishes on land and dips into the ocean. It's also the southernmost city in the world, and the last stop to Antarctica. This alone gives the city a booming economy as thousands of intrepid travellers make their way through the town every week to catch ships to the icy continent.
There's plenty to do here, though: a boat tour through the Beagle Channel takes us to fur seal colonies and the world's most remote lighthouse; there's an optional add-on to travel to an island full of penguins; and the seafood – especially the crab – is a party for your mouth. It's our last port of call before we fly back to Buenos Aires and say goodbye to our new friends.
The trip is finished. It's time to go. On my trip home my brain is brimming with memories. Patagonia is firmly on my mind. I fill pages with notes and thoughts: something about walking in that eternal landscape seemed to change my internal one. As I revisit the things we did ­– some of which I didn't know were possible, and much of which I thought myself incapable – the words start coming out thick and fast. Maybe Nietzsche was on to something after all.
Want to follow Taryn's footsteps? Check out our Patagonia Wilderness adventure 
Feeling inspired?