China had been on my bucket list for years and finally it was time.
I signed up for Intrepid's China Experience tour and it was all I could have hoped for. Here are some of the highlights of that spectacular three-week journey from Beijing to Hong Kong:
The hutongs of Beijing
Wandering these narrow alleys and lanes I feel as if I've been swept back to an earlier time. The hutongs, simple dwellings built around courtyards, date back to the 1300s and spread out from the Forbidden City. Most have been razed to make way for modern development, but wandering through those that remain I'm filled with the sense of an ancient close-knit way of life.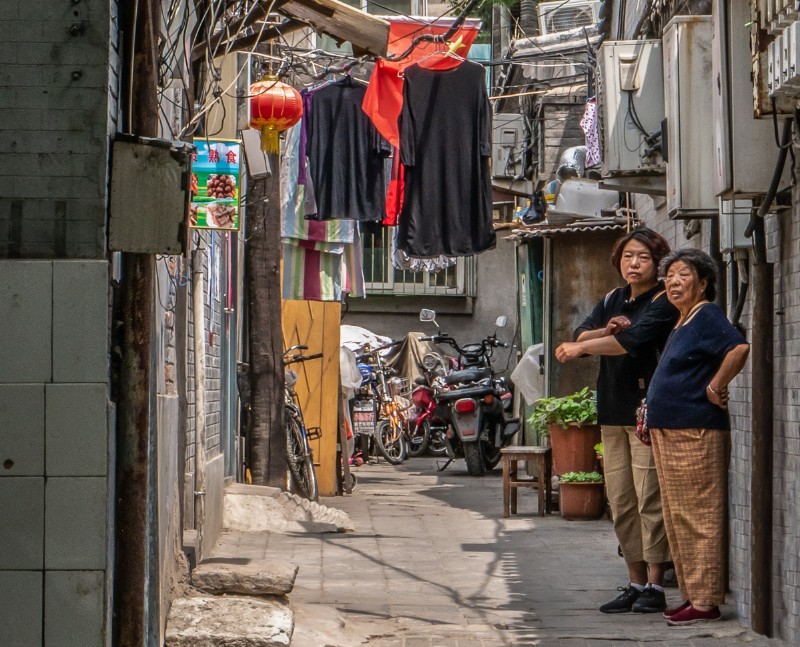 Our local leader Peter tells us that most young people move out to homes with modern bathrooms, but nothing can replace the authenticity and character of the hutongs that have survived for centuries.
READ MORE: WHAT IT'S REALLY LIKE VISITING CHINA ON A SMALL GROUP TOUR
The food
We have so many great banquets I lose count. The opening dinner is in a family restaurant hidden in the hutongs that we would never have found on our own. And then there's the hot pot meal in Chengdu where we cook our meal at the table. And the street food – often for breakfast on the run, or in "Snack Streets" for dinner.
Just about every meal is amazing, and even though most days we walk miles exploring I still gain a couple of pounds because the food is so good.
LOVE CHINESE FOOD? CHECK OUT INTREPID'S CHINA REAL FOOD ADVENTURE
The mountain and the monasteries
We hike up through lush green forest past monkeys, alongside creeks, and over ancient stone bridges to a small timeless monastery. It's like entering another world, the world of the Buddhist monk hidden in the woods on the side of the sacred mountain.
Emei Shan, with its glorious golden statue at the summit, and the historic Bauguo Monastery at the base, is a place of ageless spirituality and gentle peace; a different side of China.
READ MORE: WHY EMEI SHAN NEEDS TO BE ON YOUR CHINA BUCKET LIST
The trains
Six of us, and our luggage, are squished into a tiny 6-berth "cabin" on an overnight train. Somehow we manage. More than manage. It's a chance to get to know each other better.
The second train is also overnight and most of the next day. We chat, we share photos, we read, we write, we rest, and we stare out the window at the countryside flowing by. It never gets old.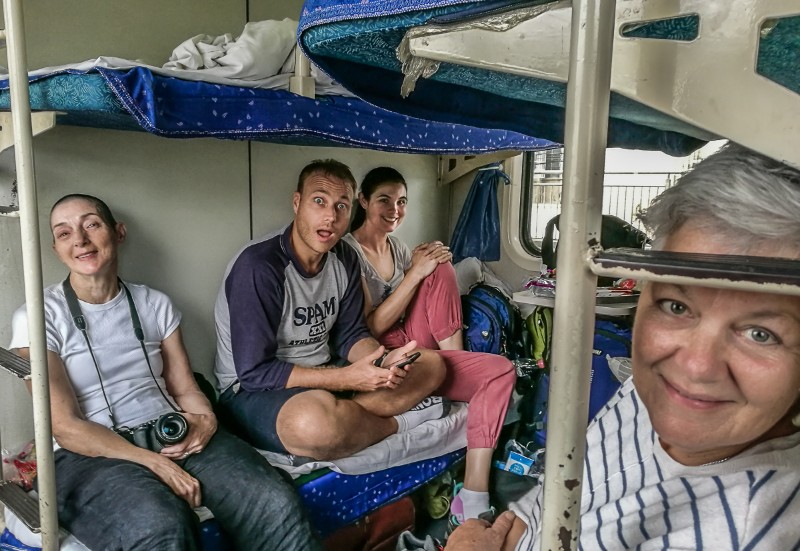 There's a third overnight train, roomier than the others. By then we are pros. Squat toilets on a rocking train? Bring it on! Oh and the food in the dining car is great!
CHECK OUT INTREPID'S EPIC SMALL GROUP TOURS IN CHINA
The performances
In Xi'an some of us go to the Chinese Opera. There's a signboard on the side telling the story in Chinese and English. A lot is lost in translation but it's enough to get the gist of it. The entire performance is spectacular. I think it's the best thing I've ever seen, until I go the Three Kingdoms Live Action Show on the banks of the Yangtze. A cast of hundreds including 30 horses and skilled horsemen, all of it reflected in water.
It's truly breathtaking. The scale of it alone leaves me gasping. The entire presentation is so creative, professional, seamless, and exciting that I am spellbound.
SUBSCRIBE TO INTREPID'S NEWSLETTER FOR TRAVEL DEALS, GIVEAWAYS, TIPS AND STORIES
The peoples' parks
I find them first in Jingshan Park in Beijing, and again in Yangshuo People's Park – groups of people playing and singing traditional Chinese opera. The musicians and singers are full of joy, playing simply for their own pleasure. Their enthusiasm is contagious and I stop to listen, enchanted. In every city we go to there are people in the parks playing cards, dancing, doing tai chi or aerobics.
I feel as if I've found real China, something untouched by modern development, or tourism. Ordinary people living their lives, gathering with their friends.
READ MORE: THE HIGHS AND LOWS OF TRAVELLING CHINA WITHOUT MY HUSBAND
The warriors
Most everyone has heard of the Terracotta Warriors, and seen pictures of them, but nothing can prepare you for the real thing. I walk into the main enclosure and my jaw drops. The only word I can think of is wow! In the main enclosure alone there are an estimated 8000 warriors, most still buried.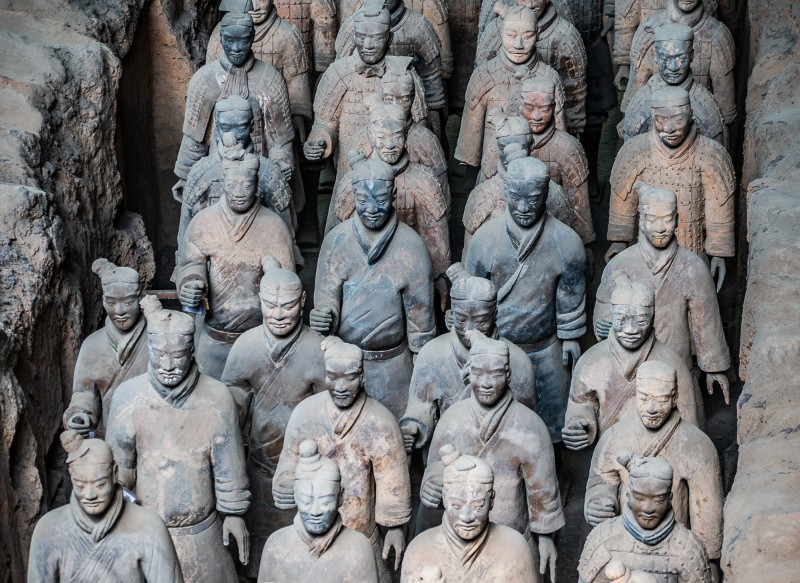 The hundreds that have been unearthed, each hand made and unique, stand in silent witness to the reign and mortality of the First Emperor of unified China. The scale of his mausoleum is almost incomprehensible, something I come to understand only by seeing it in person.
READ MORE: HOW XI'AN BECAME AN UNEXPECTED HIGHLIGHT OF MY CHINA TOUR
The pandas
The cuteness factor cannot be denied. There they are, no more than a few feet away munching away on sticks of bamboo or sleeping in the trees. Pandas are like sloths and koalas. They don't do much but eat and sleep. One of them can't even be bothered to sit up to eat but stuffs the bamboo into his mouth while lying on his back.
At the Chengdu Research Base of Giant Panda Breeding the pandas are in large free-range enclosures and we spend a couple of hours there. I never thought I'd get so close to one panda, let alone a dozen or more!
READ MORE: CHINA'S TOP ATTRACTIONS WORTH GOING OUT OF YOUR WAY FOR
The rural regions
The Yangshuo landscape is insistent in its power and beauty. We go down to the river, we cycle through the rice fields, we explore the town, and always the landscape, the karst mountains, are looming and present, at times so close you feel you could reach out and touch them, at times marching off, layer upon layer into the distance. The splendour of it is riveting.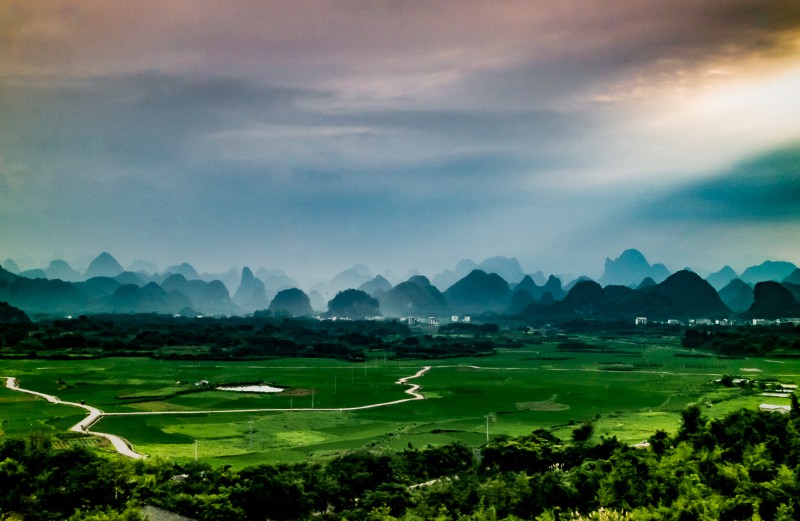 It's the landscape found in every quintessential Chinese painting, and on the 20-yuen note, and it feels as if I've landed in the most beautiful place on earth.
READ MORE: WHY YOU SHOULD VISIT YANGSHUO (AND WHAT TO DO THERE)
—
I didn't really know what to expect, and honestly I didn't do much pre-trip research about China. I just knew I wanted to go there and trusted that Intrepid would know the best places to take us. And they did.
It was a long journey covering a huge distance, but packed with so many adventures and experiences that I feel as if I caressed China from top to bottom. As I took in the people, the places, the culture, a quick look here, a glimpse there, drinking it all in, China caressed me back.
Ready to take in incredible China for yourself? Check out Intrepid's small group tours there.
—
(All images taken by Alison on Intrepid's China Experience trip. For more of her wonderful words and photos check out alisonanddon.com.)
Feeling inspired?