The landscape
Afterwards I realise that I really had no idea what it would be like. I'd seen pictures, of course, but nothing can prepare you for the real thing.
Yangshuo, 2000 kilometres south of Beijing, sits on the banks of the Li River and finally we are here, surrounded by that classic scene of China that has been celebrated in so many paintings, and on the 20 Yuan note: the karst hills that rise up from the valley like gigantic green hobgoblins, thousands of them marching layer upon layer off into the infinite distance.
It is among the most unspoiled scenery in all of China. And it is fantastic! It is so exciting to be in the countryside after exploring the country's incredible cities.
READ MORE: 10 UNMISSABLE CITIES IN CHINA FOR ADVENTURERS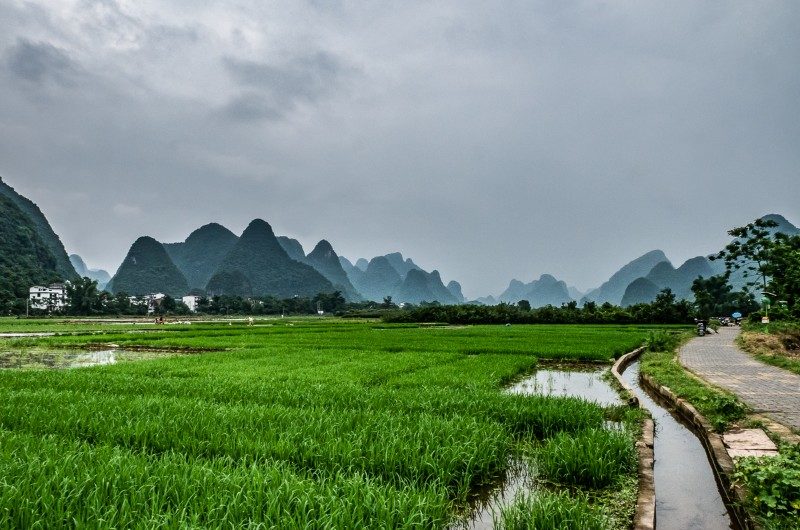 Having rented bikes, with the continuous spectacular backdrop of those emerald limestone hills, we ride on narrow pathways winding through the valley – past rice fields of shrieking springtime green, past farmers planting rice or steering buffalo ahead of timeless wooden ploughs, past small vegetable gardens, irrigation canals, and ponds of soft pink water lilies.
We pass a small farmhouse with chickens pecking in the grass, a man on a motorcycle guiding a young buffalo ahead of him, others on motor cycles delivering the heavy baskets of nursling rice plants, and empty rice paddies filled with water ready for planting. The water reflects the entire scene giving us twice the beauty.
VISIT BEAUTIFUL YANGSHUO ON AN INTREPID TRIP TO CHINA
Leaving the rice paddies we come to the river. There are women doing laundry on the bank, bamboo rafts drifting silently downstream, and a flock of ducks and a herd of buffalo swimming in the river. It is quintessential rural China.
The rain comes. Bucketing down! By now we are past the rice fields. We race for shelter along the quiet back streets of the Yangshuo countryside eventually arriving at a restaurant. We have a gigantic banquet lunch then clamber into a van that takes us back to our hotel. It's one of the best times in China, and a refreshing change from our exploration of the great cities to the north on Intrepid's China Experience tour.
After a quick change of clothes we head off to a tea plantation. I wouldn't have missed it for all the tea in China! Once again we are surrounded by beauty, the emerald green rolling hills of tea giving way to blue mountains in the far distance.
SUBSCRIBE TO INTREPID'S NEWSLETTER FOR DEALS, GIVEAWAYS, TRAVEL TIPS AND STORIES
We're loaned coolie hats and baskets and after a quick lesson we're off to pick tea leaves – only the tiniest tips! Here's something I didn't know: Green tea, white tea (lightly fermented), oolong tea (50% fermented) and black tea (fully fermented) all come from the same plant. After picking the tea we sit down for a tasting, sampling the different variations.
READ MORE: 6 SURREAL LANDSCAPES YOU SHOULD EXPLORE IN CHINA
A long time ago, a photographer managed to climb to the top of one of the karst hills. His reward was an unparalleled view of the Li River snaking through the mountains. His photograph won awards and became famous. Many flocked to the place to experience the same view, so the people who were the stewards of that land built stairs to the top: 456 of them.
This climb is our last stop of the day. And even though it's a hazy day, with low hanging clouds, it's still worth it.
The town of Yangshuo
Yangshuo town's most famous street, West Street, is where east meets west. It's an ancient cobbled pedestrian walkway now bordered by bars, cafes, and restaurants that spill out onto the street. Here there are English language schools, a plethora of shops selling Chinese handicrafts, local snacks, and nightlife. And yes, a McDonald's and a KFC. Nearby is Antenna Hill, which you can climb (another 250 steps) for a great view of the town surrounded by the looming karst hills that make the place so famous.
READ MORE: WHAT IT'S REALLY LIKE VISITING CHINA WITH INTREPID TRAVEL
West Street has a lot to offer but in our free time I prefer exploring the less polished parts of town: the side streets and narrow alleys where I get a glimpse of the ordinary life of Yangshuo.
On my way to Antenna Hill I walk into the People's Park. What a find this is! The park is busy with people playing and singing traditional Chinese opera, and others playing cards. One group of men play the stringed erhu and another plays drums. There is a "stage" area in front of them and people take turns to sing. Two women are especially brazen and confident. And funny! I sit on the curb and watch for a long time, thoroughly entertained.
READ MORE: THE HIGHS AND LOWS OF TRAVELLING CHINA WITHOUT MY HUSBAND
In another part of the park there are many groups of people gambling with cards. The cards are unlike any I've seen before – long and narrow and covered in large Chinese characters. I've walked into something that is physically close to West Street and at the same time could not be further from it.
It's another slice of quintessential China.
The performance
And then there is the Impressions Sanjie Li show. It is one of the most spectacular performances I've ever seen. In the darkness, with the mountains lit up as a backdrop, the scenes unfold before us on the Li River. In scene after scene the cast of over 600 wearing the traditional clothing of the region glide on bamboo rafts.
It is a celebration of the local ethnic cultures of the Yangshuo area, an ever-changing kaleidoscope of lights, music, dancing, and singing. I've never seen anything like it, and I'm completely spellbound.
LET CHINA CAPTIVATE YOU ON A SMALL GROUP TOUR WITH INTREPID TRAVEL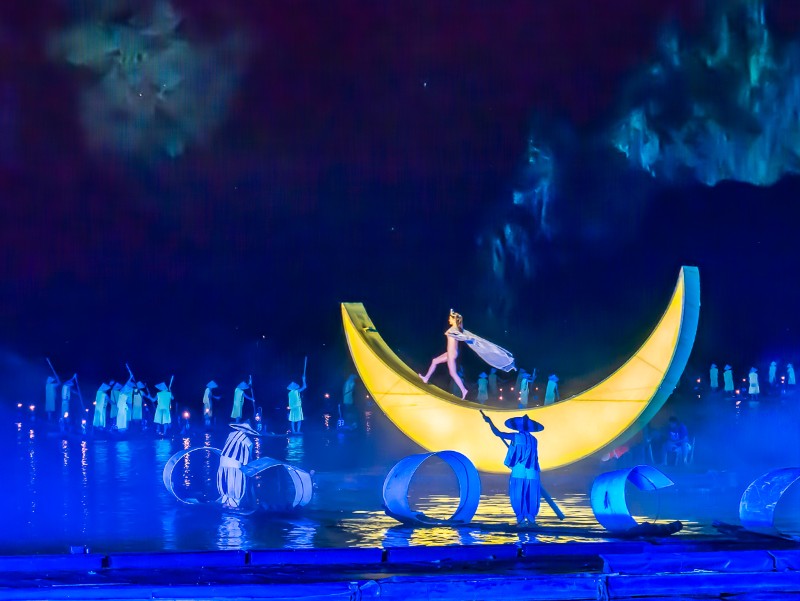 Ultimately, Yangshuo should be on everyone's bucket list. The town offers a taste of life in the smaller towns of China, while the surrounding landscape is largely unspoiled and among the most spectacular in the world.
Go hiking, go biking, take a river cruise, take a Chinese painting class, go to the nearby village of Fuli to see traditional fans being made, explore the park and the back streets for a glimpse of local life, then chill out in West Street for great food and nightlife.
For me, Yangshuo was one of the best times of the whole tour.
Ready to explore the beauty of China for yourself? Check out Intrepid's range of small group tours there.
—
(All images courtesy of Alison Armstrong, who took them on Intrepid Travel's China Experience trip. For more of Alison's words and photos, check out her blog.)
Feeling inspired?