It's stating the obvious to call the Great Wall of China an icon – we all know it's surreal in its scale, wondrous in its beauty.
But the country's other scenic gems are so plentiful that, quite simply, we thought them deserving of a list. So let us take you on a (virtual) journey to explore the weird and wonderful landscapes that China – the fourth largest country in the world, and surely one of the most diverse – has to offer.
Prepare yourself: rainbow mountains, stunning rice terraces, stone forests and more are coming right up…
Emei Shan
Despite its title as one of Four Sacred Buddhist Mountains of China, Emei Shan is often skipped by travelers jumping from Beijing's Great Wall to Xi'an's Terracotta Army to Shanghai's big city offerings. This is all the better for you, because it's one of the holiest places in China, and the landscape is truly stunning.
Home to hundreds of temples and monasteries that mark Buddhism's arrival into China long ago, the area is both a center of pilgrimage and home to hikes aplenty. The Golden Summit is the conclusion of many of these, with up-in-the-cloud views that makes the steep, monkey-filled journey 100% worthwhile. Even cooler, Intrepid's trip there give you the unique experience of sleeping in an actual monastery.
Stone Forest
Deep in Yunnan province (hint: in China's southwest) lies a forest unlike any other. Covering an area of nearly 200 miles, the forest is made up of stone and, honestly, it's both very cool and kinda eerie. Though, to be specific, it's not just one forest but several ones – big and small – which feature the stalagmite-like pillars in all their otherworldly glory.
Over many millennia, water and wind erosion and seismic activity carved these limestone formations, and today, it's very easy to get lost in the labyrinths they form. Bonus: two of the stone forests are part of the South China Karst, an area so impressive it's (unsurprisingly) a UNESCO World Heritage Site.
VISIT THE STONE FOREST ON THIS 12-DAY HANOI TO HONG KONG TRIP
Zhangjiajie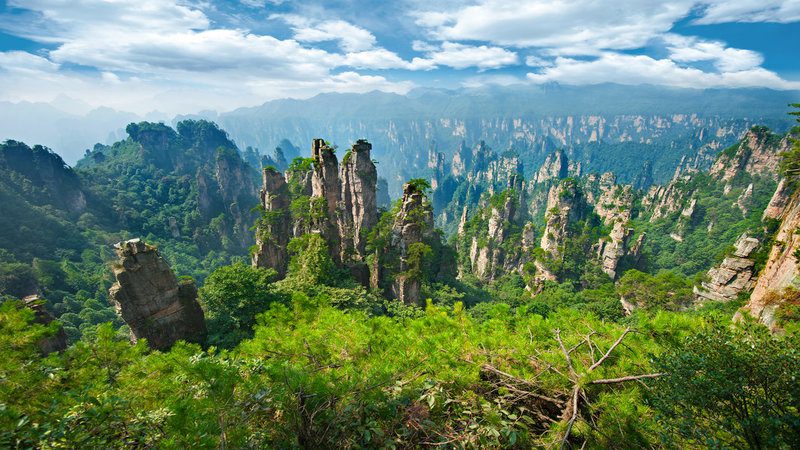 If you know anything about Zhangjiajie, it's that it was made famous by 2009 flick, Avatar. Located in Hunan Province, the forest is not just China's first national forest park, but also played a fairly big part in the hit film itself – the park's 3,544 ft Sky Column being the inspiration for the film's Hallelujah Mountains. As pictures attest, this forest is one surreal place.
Much of it is composed of 'floating peaks' i.e. quartzite-sandstone formations that appear to float in a sea of clouds. Found nowhere else in the world, they're the definition of spectacular, but there's also diverse flora and fauna, forests and streams, and even endangered species to be found – the Chinese giant salamander and Chinese water deer, for starters.
SUBSCRIBE TO INTREPID'S NEWSLETTER FOR TRAVEL INSPO, COMPETITIONS, GIVEAWAYS & MORE
Zhangye National Geopark
Zhangye National Geopark seems almost as if it were created with Instagram in mind (it wasn't…the site is way too historic for that). The technicolor mountains in China's north really are a sight to behold, and one that's thanks to layers of different colored sandstone getting pressed together and sculpted by wind and rain over millions of years. Think of it like a layer cake, but on an epic scale.
And since the region was listed as a UNESCO World Heritage site in 2010, it's become a little easier to visit, with boardwalks and roads being built to help explorers. It's still not easy to get to, but the insane site is well worth it.
VISIT ZHANGYE ON THIS MAGICAL 15-DAY SILK ROAD TRIP
Longji Rice Terraces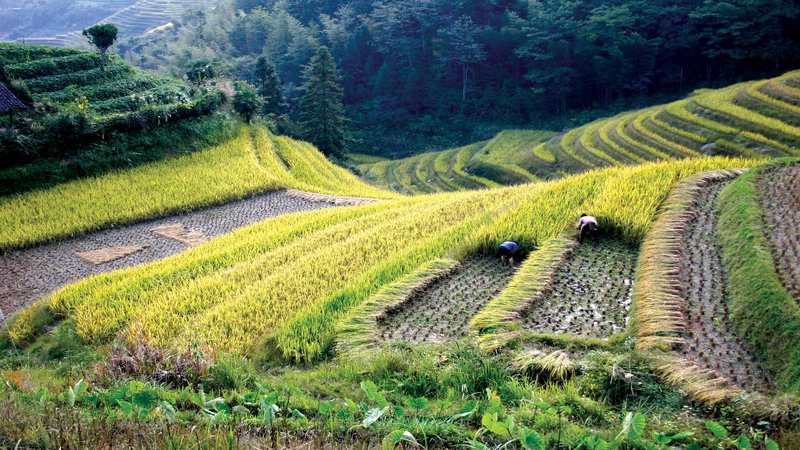 A slightly less 'crazy' attraction, but by no means a less beautiful one. The Longji region, in China's south, has some of the most picturesque rice terraces around, and as well as some of China's most charming, traditional villages (hint: both of which you can visit on Intrepid's 12-day tour of the region).
Longji Valley itself is full of terraces for growing rice, in addition to bamboo trees and chestnut forests aplenty. The scenery is best enjoyed on a (rather hilly) hike through them. You might even pass some waterfalls if you get your route right…
Yangshuo
Another Southern Chinese gem. Though it has become a little more well-known in recent years, Yangshuo remains one heck of a picture-perfect little town on the Li River. This is mostly thanks to the ridiculously pretty landscape that's filled with more of those immense limestone karsts we talked about earlier, as well as rice paddies aplenty.
But it's not simply a place for chilling and gazing at the valley – hike up to Moon Hill for views that are worth the breathlessness, embark on a laid-back cruise down the river, or even hit up the cooking school for a tasty insight into the region's culinary genius.
Can't get enough of China's dazzling scenery? Check out our small group tours throughout the country.
Image Credits: All c/o Intrepid Travel
Feeling inspired?