It is no easy thing to get to the top of Emei Mountain, one of four sacred Buddhist mountains in China.
It is day 9 of Intrepid's China Experience tour and we start the day early with a short walk, a long bus ride, another short walk, a long wait in a line, a short cable car ride, and finally a 20-minute walk up the stairs to the top of the mountain. And we're still not quite at the summit.
Before us are yet more steps, flanked by white stone elephants, and at the very top an enormous statue of the bodhisattva Samantabhadra. The sight is at once unexpected, breathtaking, and exquisitely beautiful. Samantabhadra, sitting on four elephants shines in all his multi-headed golden glory.
I continue up the stairs past the racks for devotional candles and the sand boxes for incense, past the faithful praying and planting incense, past tourists, worshippers, and pilgrims, past monks ascending on their knees, to the very top to stand staring up at the formidable gilded statue. Then I go into the monastery prayer hall.
The power of the place is unexpected. I kneel on one of the cushions and suddenly I am in tears. I am overcome by the energy of devotion left by thousands of people over hundreds of years. It's as if I remember some other lifetime, and that I am safe, and that all is well, and relief flows in on tears. I am undone. I want to stay longer and meditate but there is much to accomplish this day and time is limited.
I explore the top of the mountain, walking quite a long way on a path towards a lone pagoda on the edge of a far-off cliff. In my imagination it is the home of a hermit ascetic. I want to go and find out, but alas it is time to return to the group. We have a trek to do!
READ MORE: 6 SURREAL, BEAUTIFUL PLACES TO EXPLORE IN CHINA
We are not trekking in unadulterated wilderness. Emei Shan has been held as sacred for thousands of years and there are many monasteries scattered throughout the forest on the sides of the mountain.
We are headed to an overnight stay in one of them. The trails are paved, but the forest that surrounds them is as it has always been: lush, and green, and the home of great tribes of macaques. We hike with our trip leader Peter, and a local guide, Nathan, who Peter calls the Monkey Police. Later we find out why.
The trek takes us through a rich green wonderland, past a colourful monastery, past a serene lake, past small pagodas and arched stone bridges over creeks and rivers, past a small waterfall, and then a bigger one, and past ancient statues carved into the cliff face. It takes us along a narrow path overhanging a river where single file is required, and onto stepping stones to cross the river.
Finally, we are at the last stage: 1200 stairs up. At the top is the monastery where we will stay the night.
LOOKING FOR AN ADVENTURE LIKE THIS? TRY INTREPID'S CHINA EXPERIENCE TRIP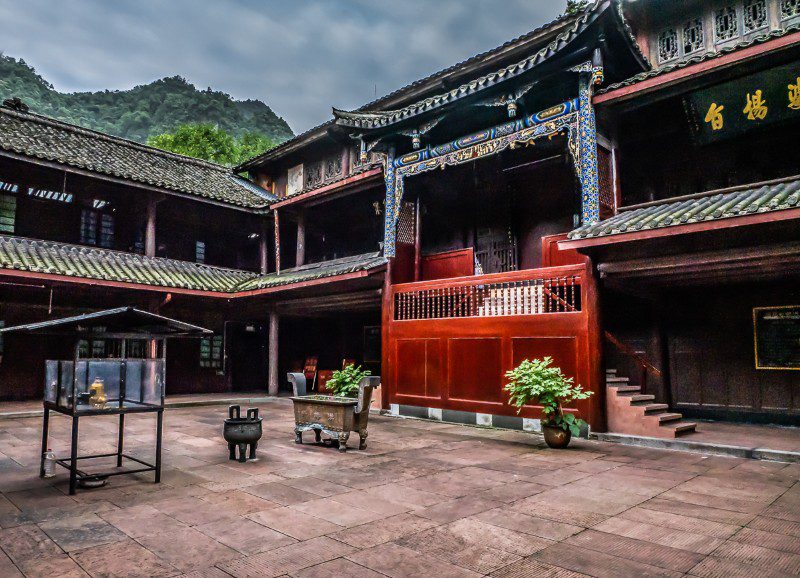 We enter the monastery courtyard. The buildings, made of wood with tiled roofs in traditional Chinese style, have a timeless sense of belonging. Carved decorative patterns, freshly painted, lend a splash of colour. I notice some tall concertina doors and peer in through one of the cracks. It is the meditation hall, full of golden gorgeousness. I want to go in, but it is locked.
SUBSCRIBE TO INTREPID'S NEWSLETTER FOR TRAVEL STORIES, COMPETITIONS, GIVEAWAYS & MORE
Our rooms are sparse and simple: a bed, a dresser, a chair, a clothes rack, all made of wood and with the soft patina of age. After settling in we go back down 250 of those 1200 steps to a small café hanging off the side of the mountain where we have dinner.
The monastery is home to only 11 or 12 monks. I only ever, briefly, see one of them. It's as if they are ghosts, but I hear them chanting early next morning. When I get up I'm thrilled to discover the meditation hall is now open: a huge golden Buddha, and eight golden bodhisattvas along each side greet me. I am overjoyed by their beauty.
READ MORE: THE HIGHS AND LOWS OF TRAVELLING CHINA WITHOUT MY HUSBAND
Coming down the mountain is much faster, of course. Until we run into the macaques. Yeah, now things get a bit scary. First there's one watching us and coming closer, then two, then three, then more. They are lining up to see what they can get. Peter is yelling at us: Keep moving! Stay together! Nathan is banging bamboo sticks together but with little effect. At Peter's urging he finally flings two loud firecrackers at them – bang! bang! – and they scatter. Now we know why we have Nathan with us.
The rest is easy. We make our way down to Baoguo Monastery at the base of the mountain.
Baoguo is one of the most famous monasteries in China. Our rooms here are also simple though more luxurious than at the smaller monastery. Lunch in the dining room is a modest vegetarian meal of soup, rice, and cooked vegetables. We wash our own dishes.
CHECK OUT INTREPID'S WIDE RANGE OF SMALL GROUP TOURS IN CHINA
Our afternoon is spent at the Lingxiu Hot Spring, a cascade of pools from hot to warm to cool, the perfect place to recover from our hike.
In the evening the others go for a massage but I am drawn to spend time at the monastery. Walking through the complex I hear music and chanting and follow it. I come upon a scene of beauty. The wide doors of the room are open giving me a clear view inside. There are more golden statues; actually the entire room seems golden.
There are eight monks wearing golden robes sitting on either side of a table. Each monk has a small instrument, which he is playing as he chants. Off to the side is a woman dressed in ordinary street clothes.
Without thinking I step in and join her. One of the monks looks at me. I push my camera aside. This is no place for photographs. I bow my head and again the tears come, the same as at the top of the mountain. I sit and meditate feeling blessed by this experience, and caressed by the soul. It is a perfect ending to two very special days at Emei Shan.
Ready to visit incredible Emei Shan? Check out Intrepid's China Experience trip.
—
(All images c/o Alison Armstrong and taken on Intrepid's China Experience trip. For more of Alison's beautiful words and photos, check out her blog at alisonanddon.com)
Feeling inspired?