As you stroll the narrow streets of historic Plovdiv, music echoes along the cobblestones. You might hear an orchestra performing in a park mingled with guitar chords coming from the scenic amphitheater. Folk musicians and dancers busk in leafy plazas, adding to the sense of excitement. You get the feeling, almost immediately, that Plovdiv is putting on a party. And in many ways, Europe's oldest continuously inhabited city is throwing a grand soiree and inviting all of us to join.
My husband and I found the allure irresistible. Although initially drawn to bite-sized Bulgaria for expansive natural pursuits – hiking Rila Mountains' famed seven lakes and swimming the Black Sea's restorative waters – we couldn't pass up a good party. It seemed everyone we met was talking about this southern city nestled near the Rhodope Mountains, long-heralded as a gateway between East and West.
It became apparent, that if we missed Plovdiv, we would be missing something special.
As the buzz continues to grow, recognition flows and investment increases. Plovdiv was recently named 2016 Balkan Leader of Tourism as well as European Capital of Culture for 2019. Discount airlines like Ryanair have added routes increasing accessibility from Europe. (In three and half hours, you can fly nonstop from London to Plovdiv for less than $100 each way.)
For visitors, this translates into an optimistic mood and unparalleled opportunity to experience a place and people in the midst of cultural renaissance – and to join one of Eastern Europe's best parties.
The past has never been livelier
Plovdiv is a city in ruins, literally. Since Thracian tribes settled here around 5000 BC, mighty empires from Romans to Ottomans have left their mark and monuments. Current restoration efforts polish the historic grandeur and give visitors more opportunity for immersion.
We were stunned to see the remnants of a 1923 construction project that unearthed a subterranean surprise at rest beneath the modern city. The Ancient Stadium of Philippopolis is believed to have been nearly 800 feet long and to hold 30,000 spectators. Today, visitors can check out a small section from a new viewing platform and peek into the empire's staggering glory with a recently-unveiled 3D film.
Boasting more wow-factor is one of the world's best preserved Roman amphitheaters. This hilltop beauty comes to life with an eclectic roster of live performances. In a two-night-spree, we rocked to Jethro Tull's Ian Anderson one evening, then got goosebumps during Plovdiv Opera Company's staging of Carmen the next. Visit the ticket kiosk along the main pedestrian street, Tsar Boris III, to score seats.
SUBSCRIBE TO INTREPID'S NEWSLETTER FOR TRAVEL INSPO, GIVEAWAYS & MORE
Bustle doesn't mean hustle
Plovdiv's current buzz level is a sweet spot. There's a bounty of culture, yet the pace remains deliciously slow compared to other European hotspots. A temperate climate and mountainous landscape add to the tranquil vibe; and as a bonus, pedestrian-only zones and ample green space make the city idea for exploring on foot.
One of the best opportunities for slow immersion comes from Free Plovdiv Tours. The daily walking tours led by university students provide an informal cultural introduction. Ask to see the statue of Milo, a beloved local character forever immortalized in bronze. It's tradition to whisper in Milo's ear for a wish to come true – plus it's a fun photo opp!
An afternoon should be spent exploring the 19th century Bulgarian Revival-style mansions of Old Town, today housing galleries and museums. Of particular note is the Regional Ethnographic Museum, currently celebrating its centennial. Warning: take care on the cobblestone, ankle twists are common.
VISIT PLOVDIV ON THIS 8-DAY TRIP THROUGH EASTERN EUROPE
Foodie culture is flourishing
Like never before, Plovdiv is showcasing its unique heritage and flavors. Chefs eager to shake the image of bland Balkan cuisine give new life to Bulgarian classics and celebrate the fusion of Greek, Turkish, and Russian influence.
It's worth the wait for a table at local favorite Pavaj, where prices are affordable and portions are huge. Try classic dishes with a twist like a spicy tarator (cucumber and yogurt soup) and the national dish, shopska salad.
Menus often include English translation, however some signs do not. For instance, the sign for Pavaj reads Паваж. We circled around the packed patio three times before realizing this was indeed our destination. Download a Cyrillic alphabet key to aide navigation.
Like any great university town, Plovdiv is a gold mine for diners on a budget. Join the queue for late night bites at everyone's favorite kebab stand, Alex's. Not only is the food tasty, the scene is delicious for people watching.
RELATED BLOG: EASTERN EUROPE IN ONE WEEK: THE ULTIMATE GUIDE
Time is ripe for grapes and hops
The world is finally discovering what Bulgaria has long known. Thracian Valley, one of the world's oldest grape cultivating regions, produces outstanding wines. From Plovdiv, visitors can go on day trips to nearby wineries to sample the spectrum from deep, moody Mavrud to light, airy Dimyat. (For more about Bulgarian wine, read "Is Bulgaria the new Bordeaux?")
Two enotecas, Vinoculture and Vinopolis, invite visitors to explore Bulgaria's wine without leaving the city. For beer lovers, a pilgrimage to funky Cat & Mouse (Котка и Мишка) Craft Beer Bar is mandatory. Over 100 beers from Bulgaria to Russia are on offer and most pack a high volume punch.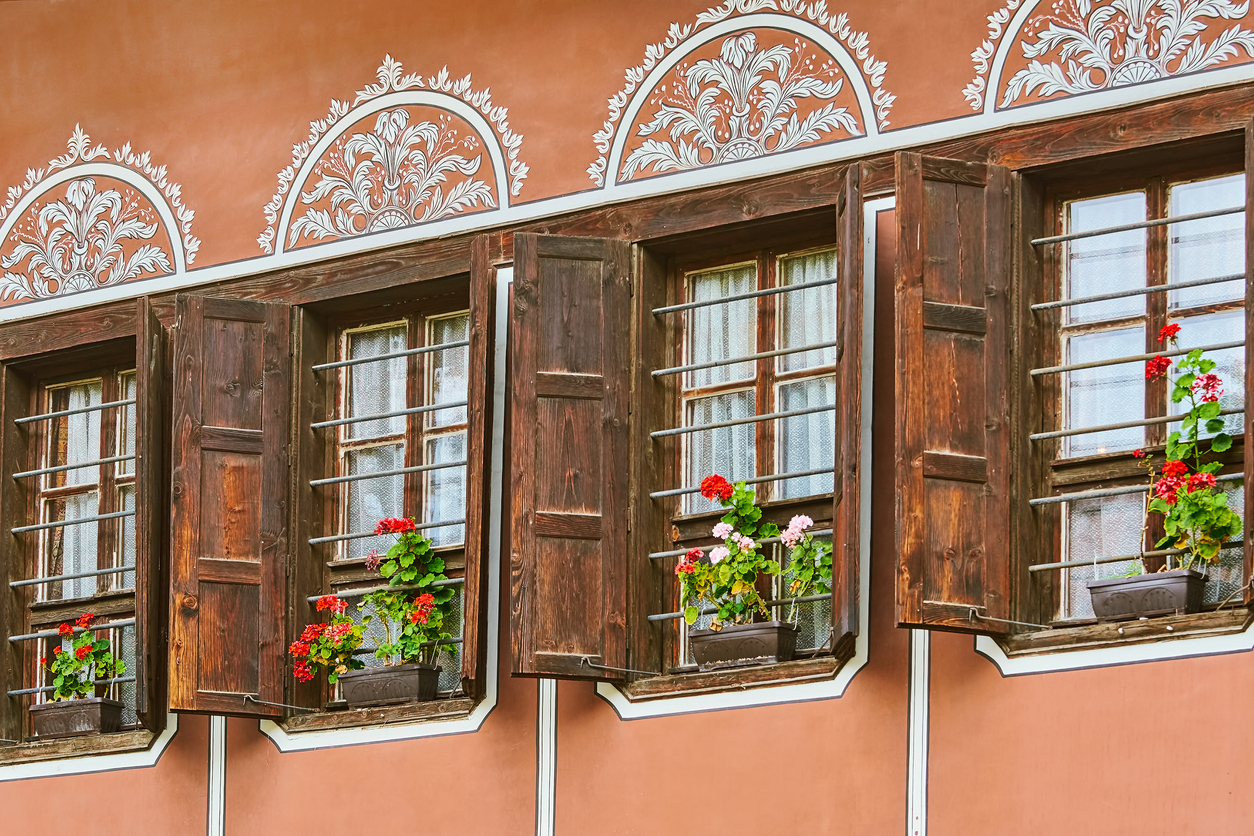 RELATED BLOG: 8 PLACES YOU DIDN'T KNOW YOU NEED TO SEE IN EASTERN EUROPE
Kapana is cooler
Creativity reigns supreme in one of Plovdiv's oldest neighborhoods. Kapana, aka "The Trap", is so named because of a dense tangle of alleys once home to metal and leather craftsman. Today, artists and entrepreneurs are breathing new life into the district as eclectic shops and galleries open at record pace.
Adding to the neighborhood's texture is a focus on vibrant street art and murals. Even the local hardware store is covered with eye-popping design. Hip locals and visitors-in-the-know spill into the street filling outdoor cafes and becoming part of the artistic backdrop. The neighborhood makes for a prime spot to take in Plovdiv's evolution and fully enjoy the party.
Fancy visiting the up-and-coming, beautiful destination of Bulgaria? Check out our range of small group adventures.

(Image credits from top to bottom: iStock, Intrepid Travel x2, Pavaj FB page, iStock)
Feeling inspired?