Tucked away down a narrow laneway, just a few minutes from Cusco's main square, is one of the most important cafés in Peru. It doesn't have Michelin stars, an extensive wine list, or a celebrity owner. But it's got some of the happiest staff in the country. 
Why are the staff so happy? Because they've been given an opportunity to work that they had struggled to find elsewhere. The staff at Manos Unidas Café all have an intellectual disability.
Unemployment for adults with disabilities in Cusco is high – around 98%. Many haven't received a proper education, and certainly not any sort of vocational training. Even those with skills are generally overlooked, and if they are employed, workplaces in the city rarely have fully accessible facilities. And in some parts of Peru, people living with disabilities are completely isolated from society – they are seen as suffering some sort of divine punishment.
Enter Manos Unidas Café. Co-founder Celeste Marion has been in the education sector since 1999, primarily working with kids who have special needs. Seeing how these kids were treated by their peers – discriminated against, seen as less capable, even being thought of as burdens – she realised that change was desperately needed. She could be a voice for those who weren't being heard.
After receiving funding from The Intrepid Foundation, Intrepid's not-for-profit arm, Manos Unidas opened its doors as both a café and a job training site for youth with special needs. In a work environment that's safe and inclusive, trainees are given the opportunity to learn hospitality skills, like taking orders, making coffee, and helping in the kitchen.
FIND OUT MORE ABOUT THE INTREPID FOUNDATION HERE 
For many Intrepid travellers, a visit to the café is a highlight of their Peruvian adventures. The food itself always gets the thumbs up from hungry visitors – taking elements of Peruvian cuisine and giving them a more modern twist, like alpaca burgers, anticucho (skewers), and guacamole and flatbreads. But it's the experience of being in the café – in such a warm, inviting space – that leaves such a lasting memory.
'The energy you get from the staff is what stands out,' say Liam Neal, who visited the café after trekking Peru's relatively unknown Choquequirao Trail. 'It's not like walking into some of the other restaurants around here, where you're seated and then ignored. There's no stuffiness either. Everyone here is so open and friendly.'
EXPLORE OUR FULL RANGE OF SMALL GROUP ADVENTURES IN PERU HERE
Liam recalls the empathy and professionalism of café manager, Julio Hernandez. Just after they had arrived at the café, a waiter was taking their food order but was struggling to jot it down due to having a shaky hand. Julio leaned over behind him, very naturally, to help him keep steady. 'The way Julio mentors and nurtures the staff was such a beautiful thing to see. He really understands them and their abilities so well.'
Julio's vision for the café isn't for it to be seen as a charitable venture. He's driven to make sure it competes with some of Cusco's high quality restaurants, and that it's seen as a standalone establishment. The service is warm, the staff are friendly, and the food is delicious.
Manos Unidas is so much more than a café. It's a place where the community can come together, to rethink their misconceptions, and for people living with disabilities to be valued – and to be paid for their skills. But ultimately, it's a place where the focus is on people's abilities.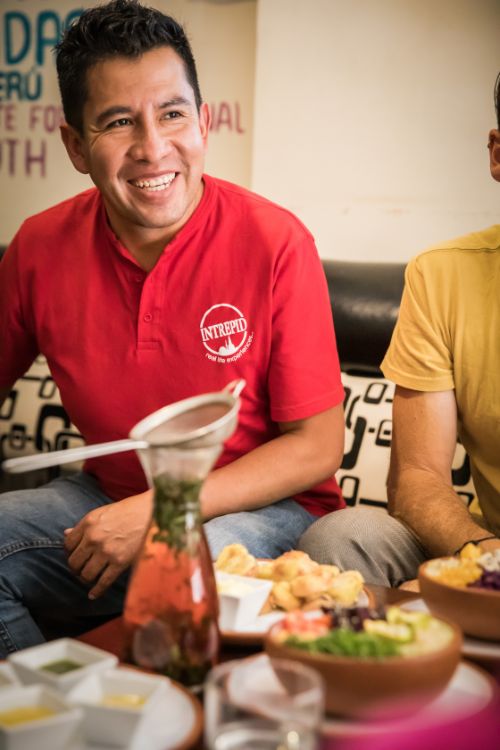 'Manos Unidas is an incredible public platform where we can demonstrate just how we can change perceptions and improve the lives of people with disabilities in Peru,' Celeste says.
It's working too. Along with welcoming guests from a number of Intrepid's Peru small group adventures, nearby hotels, restaurants and cafes are employing Manos Unidas trainees.
By the end of the afternoon, after Liam and his group had had their fill of corn-infused iced tea, rainbow-coloured salads and alpaca burgers, all the staff in the café came out to say goodbye.
'It felt like we were all best friends!' Liam says. 'Everyone wanted to high five, give us hugs, have their photos taken with us. It was such a special way to end the day.'
Find out more about the work The Intrepid Foundation is doing with Manos Unidas here – or pop in for lunch on one of these Intrepid small group adventures in Peru. 
Feature image by Ryan Bolton. All other images by Liam Neal. 

Feeling inspired?