Marooned from mainland Ecuador, the Galapagos Islands are a wildlife paradise that's been allowed to blossom with minimal interference from mankind.
Now home to throngs of spiky marine iguanas, giant turtles and blue-footed boobies, the islands are a haven for these creatures as well as visiting nature buffs. After all, where else can you laze beach side with a seal or kayak alongside inquisitive penguins? Our Galapagos Islands cruises mean you can see all this archipelago has to offer from the comfort of our well-appointed boats, with all the added benefits that come from unique wildlife sightings every day.
Cyber Sale: Up to 20% off* 2024 trips
Take your pick from over 800 adventures on sale. Get in quick to lock in your travel plans for less. Ends 4th December.
Terms & Conditions
Number of islands
Wildlife species
Best time to travel
Our Galapagos Islands Cruises
Highlights of the Galapagos Islands
Why choose Intrepid
Experienced crew
With years of experience cruising in the Galapagos, our knowledgeable guides and crew are best placed to show you this incredible region.
Best of land and sea
Our cruising vacations combine the perfect blend of sailing and land expeditions, so you can see wildlife on and off the boat.
Safety first
Safety is our number one priority, which is why all our boats are top-of-the-line and equipped with full safety features.
Full inclusions
We've taken care of the details so you can focus on spotting wildlife. All our cruises include all meals onboard, tea and coffee, water, beach towels and snorkeling equipment.
Local matters
Our staff live and work in the area, which means revenue from all our trips benefit the local economy.
Sustainable travel
We strive to use travel as a force for good. That's why we choose to give back to the communities we visit, carbon offset all our trips and take our social and environmental responsibilities seriously. We've been officially certified as the world's largest travel B Corp, which means when you choose Intrepid Travel, you can rest assured you're travelling to improve the planet.
Our boats
Grand Queen Beatriz
The Grand Queen Beatriz offers some of the largest (and most stylish) cabins of any boat in the Galapagos. Mingle with your fellow travel companions across three decks of bars, dining rooms and lounges, relax on the sundeck (complete with jacuzzi spa), or watch the islands pass by from your own private balcony.
Grand Daphne
Grand Daphne is a brand new ship that hit the water in 2021, making it one of the newest boats on the market. With indoor and outdoor dining areas and bars, plus a sundeck with lounges, there are plenty of places to relax and enjoy time with your fellow travellers. All meals are included in the Grand Daphne. The lower deck cabins have portholes, while the main deck and upper deck cabins have large windows.
Please note, all images are artist impressions.
Meet our leader: Oswaldo Noboa
Oswaldo Noboa is the ultimate ambassador for the Galapagos Islands. A passionate and learned naturalist, he spends his days showing Intrepid groups the wonders of the archipelago he calls home. From the giant tortoises to the hammerhead sharks, the lava fields to the ascending volcanoes, Oswaldo loves it all. This is his story. 
Reviews
FAQs
Tips and advice
Nov 07, 2017
---
About 97% of the Galapagos Islands are protected by national park, and within this...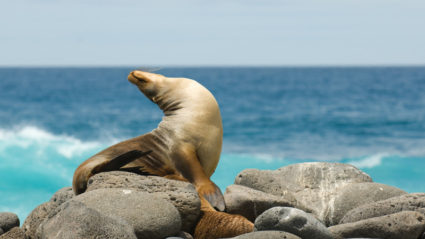 Sep 12, 2017
---
To make the most of your time in this amazing archipelago, you need to be prepared.
Read more about the Galapagos Islands
Combine your cruise with a Latin American adventure
Cruising around the Galapagos Islands is an adventure in itself, but there's also a whole South American continent alongside it to explore. If you're there for the wildlife, combine your voyage with a trek through the Amazon Jungle, an adventure in the Patagonian wilderness, or a hike to Machu Picchu on the Inca Trail.