Travel should offer new experiences, especially when food is involved. For the millions that follow a vegan diet, this means packing an appetite. Not crackers and protein bars.
There is no doubt that global veganism is on the rise. In the U.S. alone, it has grown 600% in the past 3 years. And it seems to be showing no signs of stopping. Luckily for vegan travellers, the growth of vegan-friendly eats around the world seems to be showing no signs of stopping either (aka less crackers to pack, more delicious choices).
But try as they might, some countries are just simply better able to accommodate and at times, fully cater to the vegan diet. And the best part? They are some of the world's most renowned culinary destinations.
So without further ado – and in honour of Intrepid's NEW range of Vegan Food Adventures – here are the 5 best destinations to travel to for vegan foodies:
India
With the highest population of vegetarians in the world, it's no surprise India is an obvious choice for meat-free travellers. But what about all those creamy curries and milky chai teas, you ask? While ghee (butter), cream and paneer is often used generously in Indian cuisine, vegan alternatives of these popular menu items are easily accommodated (with some patient communication or help of a local translator or local leader, of course). Plus, there is a wide range of delicious made-to-order vegan dishes too – from lentil dhal to masala dosa to aloo puri. No matter what you choose, you'll be enjoying the best and naturally plant-based component of Indian food: its spices!
Tips for vegans in India:
Dishes that are cooked in ghee can often be replaced with vegetable oil
Ask for plain bread (some breads are made with yogurt)
Substitute meat and cheeses, like paneer, with tofu
Visit with Intrepid: India Vegan Food Adventure
Thailand
If you were to close your eyes and point to any dish on a menu in Thailand, there's a good chance it wouldn't be vegan. But hear us out. Though food is often cooked in a meat broth or fish sauce, dishes are also easily made vegan in Thailand. Veganism is nothing new there – in fact, Buddhists have been eating vegan in Thailand for hundreds of years. So saying you're "jay", will flag your vegan dietary requirements with the restaurant (of course, it's always a good idea to do your due diligence). So go ahead and order some delicious vegetable pad thai, tom yum mushroom soup and tofu curry. Your taste buds will thank you.
Tips for vegans in Thailand:
Meat-free in Thailand generally still means fish sauce, eggs and meat stock. Avoid this by saying you're "gin jay" (vegan).
Chiang Mai and Bangkok are known for their vegan eats, so are good choices to visit
Look out for Buddhist vegan restaurants, which are often found near temples, naturally
Visit with Intrepid: Thailand Vegan Food Adventure
Italy
We know what you're thinking. Italy? Are you sure? Turns out, Italy has been listed as one of the top countries for vegans, mainly because asking to simply "hold the cheese" means many of its famous pastas, pizzas and salads are vegan-friendly. And beyond that, delicious eats such as bruschetta, eggplant pucce (Italian sandwiches) and many fruit gelatos are already vegan. Whatever you decide to order, communicating your vegan needs to locals is pretty easy – even if it pains them a little to see you eat a caprese salad without the mozzarella. Enjoying vegan food in one of the world's most revered culinary scenes? To that we say "buon appetito".
Tips for vegans in Italy:
Ask for dry pasta, as fresh pasta is often made with eggs
Double check sauces aren't made with anchovies
Most dishes are made with olive oil, but if it's butter-based, ask for olive oil instead
Visit with Intrepid: Italy Vegan Food Adventure
Israel and the Palestinian territories

Wondering what country is often considered to be a global centre of veganism? You're looking at it. Israel has become a haven for vegan foodie travellers, especially considering a lot of what you may already eat daily if you're vegan – such as hummus, lentils and pita – are at the core of Israeli cuisine. And it's the vibrant city of Tel Aviv that has taken vegan dining even one step further. Listed on CNN's Best Cities in the World for Vegans, Tel Aviv boasts the country's top vegan-friendly restaurants, partly due to its prime location for fresh fruits and vegetables, closeness to gastronomic influences and young, socially-conscious population. Don't leave this part of the world without visiting Bethlehem's Manger Square, either. The falafel is truly the best in the world.
Tips for vegans in Israel and the Palestinian territories:
If you're on a budget, take advantage of tasty street stalls selling falafels
Use tahini for flavouring in dishes, as it's lactose-free
Head to markets for fresh fruits and vegetables as a snack
Visit with Intrepid: Israel and the Palestinian Territories Real Food Adventure
Taiwan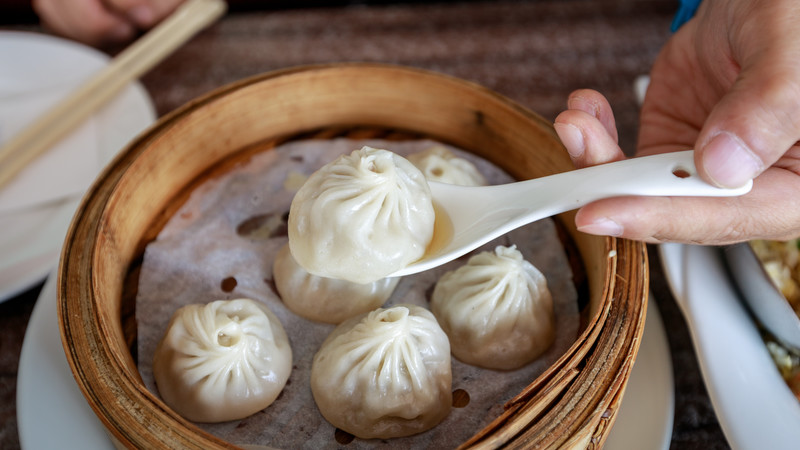 As a predominantly Buddhist country, the popularity of vegetarianism and veganism is high in Taiwan – in fact, about 13% of the country does not eat meat. Taipei, in particular, hosts a range of vegetarian and vegan eats, leading to its status as one of PETA's top vegan-friendly cities in Asia. Throughout Taiwan, vegan travellers can enjoy an array of Taiwanese dishes cooked without any animal products, such as red bean and taro buns and vegetable dumplings. As well, there are tons of restaurants that do vegan versions of Asian favourites, such as hot pot, sushi and ramen. Feeling hungry yet?
Tips for vegans in Taiwan:
Try a traditional Taiwan buffet, especially one that caters to vegetarian eats
Though it's good to ask to be safe, most dumplings are made without eggs (aka any of them without meat are vegan and delicious)
Head to street stalls for delicious vegan snacks, like sweet potatoes, sesame buns and sweet bean over ice
Visit with Intrepid: Taiwan Real Food Adventure
—
Ready to embark on the foodie trip of a lifetime? Check out Intrepid's NEW range of Vegan Food Adventures.
—
(Image credits: hero image c/o Dean Tyacke. All other images c/o Intrepid Travel.)
Feeling inspired?