While some people are of the opinion that a bed is just a place to sleep at night, we can't help but disagree.
And if you're the type of traveller that loves seeking out interesting accommodation – from the slightly quirky to the downright unforgettable – our brand new Intrepid Premium trips might just be for you.
The accommodation on this new range of trips has all been hand-picked by experts in the destinations, as a way to give travellers a deeper appreciation of the local culture, history and architecture. Where possible they're owned by locals and are environmentally conscious (think solar-powered energy or catching their own rainwater). And all of them are damn cool!
With an average rating of 4 stars, it's preeetty fancy compared to the rest of our Intrepid styles. But we think you deserve to treat yourself given everything going on in the world…
So, without further ado, here are some of the most exciting places you can stay on our Premium trips.
1. A converted Madrasah in Uzbekistan
Glittering turquoise tiling and a dramatically lit façade are just a few of the reasons why the Orient Star in Khiva, Uzbekistan is one of the most stunning places you'll ever rest your head. The largest madrasah in Central Asia has been converted into a premium hotel, with renovated rooms that were once the student quarters when this was a functioning Islamic school. Madrasahs historically taught calculation, grammar, poetry, history, literary subjects and arithmetic in addition to the Qur'an and sacred law. While the setting allows you to soak up the religion and culture of the region, the rooms have been upgraded to include modern conveniences such as WiFi, air conditioning and a flatscreen television.
Stay there on Premium Uzbekistan
READ MORE: THE TOP 5 PLACES TO VISIT IN UZBEKISTAN
2. A gorilla lodge, Uganda
The Nkuringo Bwindi Gorilla Lodge is set high up on the Nteko Ridge, meaning you have incredible views of the Bwindi Impenetrable Forest, which is famous for being the home of half of the world's 800 mountain gorilla population. The lodge is solar powered, carbon neutral and the owners work closely with the local communities to provide optional guided walking safaris to guests. The eco-friendly cottages are built with locally sourced materials, and Ugandan fabrics and carvings decorate the walls, giving you a taste of the local culture. Each room has a fireplace and a terrace overlooking the forest canopy. In an effort to reduce and discourage single-use plastic, all water in the lodge is provided in jars and travellers are encouraged to refill their own water bottles each day before heading out.
Stay there on Premium Uganda & Rwanda
READ MORE: EVERYTHING YOU NEED TO KNOW ABOUT TREKKING WITH MOUNTAIN GORILLAS
3. A cave hotel in Turkey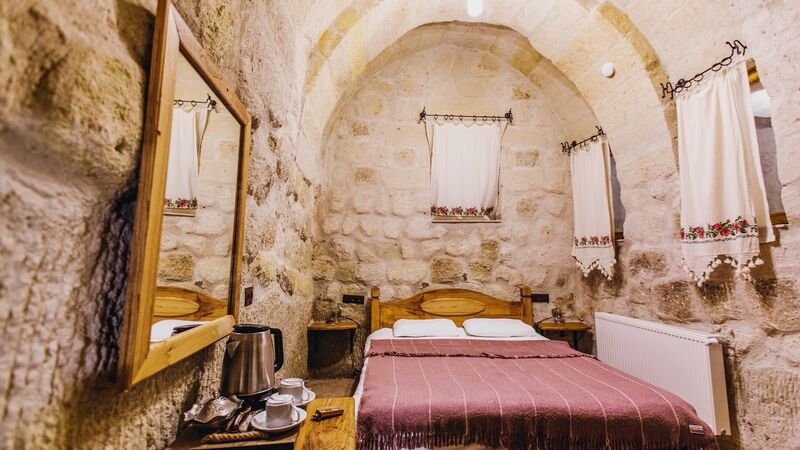 Cappadocia in Turkey is known for its stunning fairy-chimneys that are popularly viewed from the sky in hot air balloons, but if you go the other direction and head underground, you'll find the Splendid Cave Hotel. Built into the stunning natural volcanic rock, this cave hotel offers you the sort of utterly unique stay that you'll remember forever. The hotel features a bar, restaurant, garden and terrace and somehow the televisions in your room manage to get satellite channels and WiFi! If you're an early riser, you'll have the chance to enjoy a front-row seat when the hot air balloons sail over the hotel and away down into Pigeon Valley.
Stay there on Premium Turkey in Depth
4. A wetlands resort in Borneo
If you make your way down the Lower Kinabatangan River in Borneo, tucked away in the freshwater swamps and mangroves, you'll find accommodation that is a nature lover's paradise. It's a resort (but not like any you know), located within internationally important wetlands, where a number of rare, endangered and threatened species live, such as the Sumatran Rhinoceros, Proboscis Monkey, Borneo Pygmy Elephant, Oriental Darter and Rhinoceros Hornbill. On Intrepid's premium trips, we splash out and stay in the deluxe chalets, which include hot showers, LED televisions and even WiFi, all powered by solar energy. As well as falling asleep to the sounds of the wetland at night, you'll have exclusive morning, afternoon and nighttime safaris, both on foot and by boat included in your stay.
Stay there on Premium Borneo in Depth
5. A sustainable jungle lodge in Peru
The Posada Amazonas jungle lodge (pictured at top) gives travellers the opportunity to immerse themselves in the natural and cultural wonders of the Tambopata jungle, within the Amazon Rainforest in Peru. The lodge is located inside the private reserve of the Ese Eja Native Community of Infierno and many Ese Eja community members work there. Each year, most of the money made by the lodge is shared amongst the community's households, making it a true community-based tourism venture.
READ MORE: WHAT YOU NEED TO KNOW BEFORE VISITING THE AMAZON
The Ese Eja community are passionate about preserving their rainforest home, so teach travellers how to co-exist peacefully amidst the flora and fauna of the region. The comfortable rooms all have an open wall to the rainforest meaning you get to drift off to sleep to the sounds of the jungle – but don't worry, there are mosquito nets and even WiFi, so you're definitely not going to be roughing it despite the remote location.
6. A Ming-era heritage house in China
Staying at Weiyan house is like stepping back in time, except with modern comforts. This house was the childhood residence of Zhu Zhishan, one of the great poets and intellects of the Ming dynasty some 600 years ago. The renovations stayed true to Huizhou architectural style and traditional Chinese garden design and the house and gardens are surrounded by a maple forest and nearby river, which makes for spectacular scenery. The elegantly restored rooms include WiFi, heating and air conditioning while the property has indoor hot springs, outdoor swimming pools and restaurants.
Do you want to spend the night in a unique accommodation like the above? Book your place on one of our brand-new Intrepid Premium trips departing from 2022 and you can. Find out more here.
Feeling inspired?