A trip through Uzbekistan is a truly intrepid adventure. As a country that has only recently relaxed their visa stance and opened up the borders, it still feels largely undiscovered by international tourists. Which is all well and good, until you want to plan a trip and have no idea where to go.
I certainly felt this way before my recent 9-day Uzbekistan Adventure with Intrepid Travel. When I told friends and family about my travel plans, they would give me a strange look and follow up with a bunch of questions about where on earth Uzbekistan was and what I would see there. To be honest, I didn't really have any answers and had just left my trust in Intrepid that I would be seeing the best bits. Sure, I'd read the itinerary and was particularly excited about a few of the experiences – like spending the night sleeping in a yurt and staying with a local family at a village homestay – but Uzbekistan's top attractions and places to go? I wasn't sure.
It turns out my faith in Intrepid wasn't misguided. In the nine days I was in Uzbekistan, we definitely ticked off all the highlights, with plenty of authentic, local experiences thrown in for good measure. Here's where we went:
1. Bukhara
Bukhara is a former capital city of Uzbekistan, a UNESCO heritage-listed site and an ancient Silk Road trade location, making it a  pretty remarkable place. Having been invaded by both Genghis Khan in the 13th century and again by the Soviets in the 20th century, many of the impressive buildings have survived a lot. Highlights include the spectacular Ark Fortress that dates back to the 5th century, Ulugbek Madrasah (named after the famous ruler and astronomer), and the iconic Kalon Mosque and Minaret. Right near our traditional courtyard hotel, Hotel Emir, was the Lyabi-Hauz plaza, a picturesque pool that is over 400 years old and creates a central meeting point for many of the small shops and hotels in the area.
2. The Kyzylkum Desert
A visit to the Kyzylkum Desert, with an overnight stay in a yurt, was one of the experiences I was most excited about. Given how much of my life at home is spent in the middle of a busy city, it was great to sit on top of a sand dune and watch one of the best sunsets I have ever seen, in complete silence. With no phone reception or Wi-Fi at the yurt camp, it was certainly easier to switch off, unwind and enjoy the view, along with some traditional food and music. Once it was dark, the Milky Way was completely visible in all its glory, thanks to the lack of light pollution. We were well and truly off-the-beaten track.
SEE THIS BEAUTIFUL COUNTRY FOR YOURSELF ON OUR 9-DAY UZBEKISTAN ADVENTURE
3. The Nuratau Mountains
We visited a small village in the Nuratau Mountains called Hayat, where we stayed at the guesthouse of a local man, Narzullo and his family. Here, we learned to make bread using a local recipe in a traditional tandir oven, before taking a guided hike through the mountainous biosphere area. Our afternoon finished with a walk through the village to meet some of the locals (all of whom were somehow related to Narzullo it seemed!).
When dinnertime rolled round, we returned to the cosy dining room to taste local dishes like mosh kichiri, which was like an Uzbek version of risotto, made of rice, beans, legumes, vegetables and beef, as well as generous servings of tandir bread, salads and, of course, local vodka!
SUBSCRIBE TO INTREPID'S NEWSLETTER FOR TRAVEL STORIES, COMPETITIONS & MORE
4. Samarkand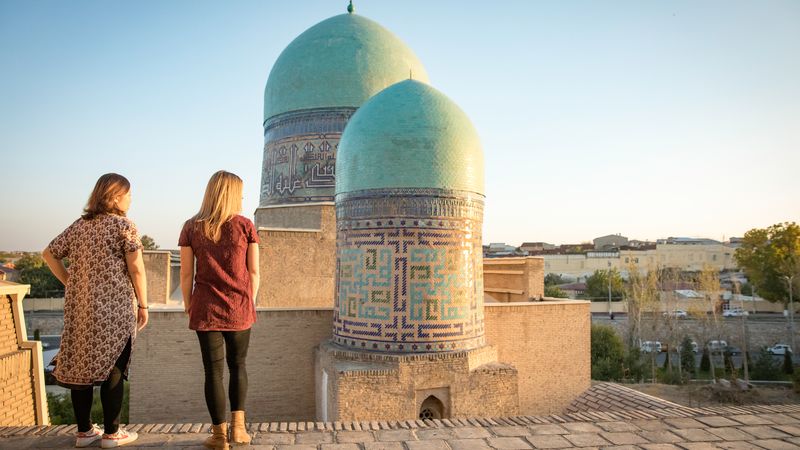 Samarkand is the city in Uzbekistan that will woo you with the biggest 'tourist' sites to see. Registan Square, Gur-e-Amir, Bibi-Khanym Mosque, Shah-i-Zinda – the list of impressive mosaic-covered monuments is long.
Registan Square is perhaps the most iconic site in the country, a legacy of Timur's dynasty, the famous king who made Samarkand his capital city. This giant square with impressive aqua-domed buildings was built over a number of centuries, with the first and oldest madrasah (a building traditionally used for Islamic education) on the western side of the square being completed in 1420. This is known as the Ulugbek Madrasah and was named after the famous theologist of the same name.
EXPLORE OUR RANGE OF UZBEKISTAN SMALL GROUP ADVENTURES
5. Tashkent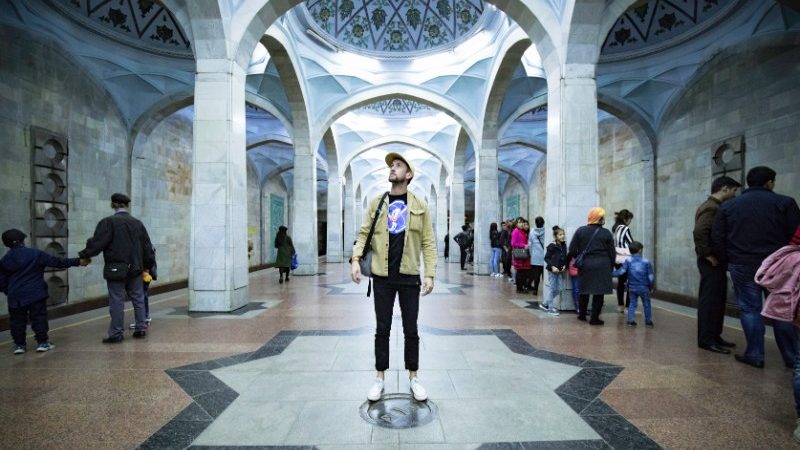 The capital city of Uzbekistan since 1930, Tashkent was perhaps the most unexpected (and pleasant) surprise of my entire trip. I was anticipating a gloomy, austere city but it was busy and bustling, full of beautiful architecture, manicured parklands, modern restaurants, markets and friendly people. We spent half a day exploring the Chorsu Bazaar, tasting local sweets and nuts in the market place, admiring the piles of colourful vegetables and watching the bakers pull loaf after loaf of fresh bread from their tandir ovens. We also ate lunch outside in the smoky food market, where many local delicacies like kebabs, soups and pilaf were cooked to order in front of us.
Other highlights were a trip around the beautiful metro stations and a stop at the Kukeldash Madrasa, a stunning building that houses some of the world's oldest versions of the Qur'an.
Do you want to see all the highlights of this Central Asian gem? Book your place on our 9-day Uzbekistan Adventure.
All images by Liam Neal.
Feeling inspired?