Last month, my parents flew to Australia (from England) to pay me a visit. I've lived in Melbourne for five years and this was to be their second visit. When you're from England, which they are, it's not often you get to go exploring in Australia. So they were both pretty excited to get out there and have a good look at things.
Most of our explorations consisted of weekends driving around Victoria but we managed to sneak a weekend in Tasmania too. And before all that, during the folks' first week here, I took a few days 'off the tools' and we made tracks for Australia's beating heart – The Red Centre.
Mum has wanted to go to Uluru for a while, as have I, so it seemed like a good opportunity to just get out there. Dad didn't want to go though. Dad wanted to go the Whitsundays. He said: "Why bother going all that way to look at a big rock?" To which I replied, "Oh dad!" 
In hindsight, I think dad was apprehensive for a couple of reasons. First up, he's always loved sailing, so the thought of spending a few days on a boat in the Whitsundays obviously had a lot of appeal – especially vs. spending a few days in the desert. Then there's the fact that, like a lot of people, I don't think he really knew what he'd be in store for at Uluru.
Finally, the Uluru trip we were considering wasn't exactly a holiday. It involved early starts, hikes, 40-degree days, camping and generally 'getting amongst it' (that's Australian slang for 'doing things'). Dad's not in bad shape, but he is 70. If I was 70 I'd rather sit on a boat too. I wouldn't have even gone to Australia to visit me. I would've gone to the beach or had a lay down.
Why Uluru?
Since living in Australia, I've gradually grown more and more intrigued by Aboriginal culture. It's incredible how these people sustainably lived off the land some 30-40,000 years before the colonialists turned up.
The tools, techniques and knowledge they accumulated is absolutely mind-boggling, and I think we have a responsibility to learn more about these cultures and to carry that information – respectfully – forwards. If the supermarkets closed tomorrow, we'd all be buggered. But I ate tree ants in Cape York and learned how to use their nests to help cure a cold and I was only there for a week. I feel like if you want to understand aboriginal culture in Australia, Uluru, and the story of the Anangu People (the traditional owners of the land), is a pretty good place to start.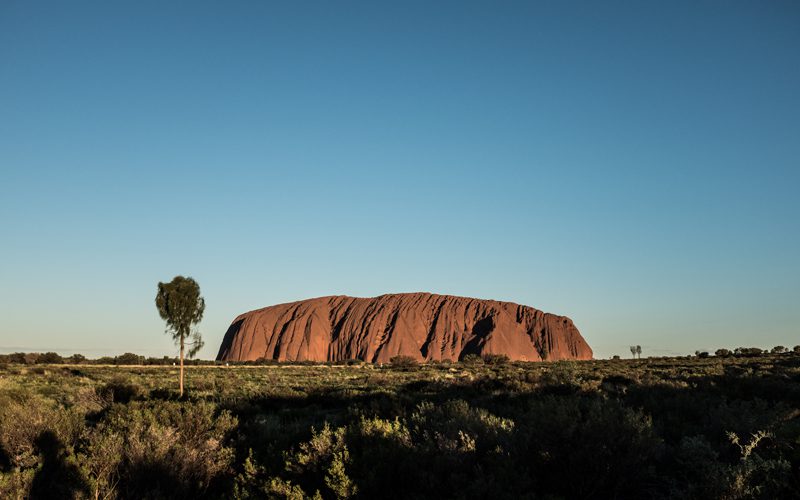 Adding context to the adventure
The week before we left, there was a show on at Arts Centre Melbourne called 'The Secret River". It had received rave reviews. The Sunday Telegraph said it was "a stunning, shattering piece of theatre that goes to the heart of our history". It's the story of an English family – the Thornhills – who arrive in Australia and claim a piece of land. Unfortunately for them, there's an indigenous family already living on the land too.
I thought the show would provide some good context for mum and dad before we travelled to Uluru and it delivered. They loved it. I mean, they were shocked, saddened and moved by it – but they were glad to have learned more about the story of Australia. It certainly set the scene.
Travelling with my parents, a summary
When I was a kid we'd go camping as a family in France every summer. And when they visited me last year we went to Sydney and Byron Bay. Generally speaking, I love travelling with my parents. We get on pretty well these days and we have a laugh. Having not seen them for a year, there's nothing like doing a trip – particularly to somewhere as powerful as Uluru – to really reignite those family bonds. That said, I'm pretty sure I pissed dad off quite a bit.
Our trip to Uluru was just a two-night trip, but in that time we did a lot. We bush camped, saw thorny devils, hiked around Kings Canyon at sunrise, walked through Katu-Tjuta's Valley of the Winds, watched a sunset fall across the face of Uluru itself, hiked around the base of Uluru, enjoyed a Mala walk with an Anangu guide and more. It was hectic, hot, dusty and I spent a fair amount of time worrying about whether or not dad was going to fall into Kings Canyon, but it was incredible.
Testing the family bonds
You definitely get to see a different side to your parents when travelling. Our trip was a group tour, the Intrepid Uluru adventure, so all three of us were in a situation where we had to make friends with and talk to people we'd never met before. Obviously, this is something we've all done separately, but never together.
It was like I got to just stand back and watch my parents be regular people, not just my parents, if that makes sense. Dad's usually pretty quiet, but there he was around the campfire cracking jokes with some Irish girls and toasting marshmallows for everyone. It was also great to hear mum and dad (especially dad) asking our guide questions as we went along and attempting to learn as much as they could. That's the whole point, right?
The curious incident of the car in the daytime
It's a funny thing, Uluru. The more you learn about the history of the place – how tourism was part of the deal when the Anangu got their land back in 1985 – the more you imagine how tense relations between the Anangu and the tour operators must be. Most tour guides we spoke to told us that relations were relatively good: the current set up with the national park meant that everyone – the tour operators, the tourists and, of course, the Anangu – benefit. Still, you can't help but think this is just the standard shtick the guides tell all of their travellers.
On our last morning in Uluru we set out on a base walk of the rock. It was literally the last activity of our trip before we drove back to the airport. We walked, the sun rose, and it was lovely.
Towards the end of the walk we reached a point where a dirt road ran parallel to the walking track. I heard a car coming along the track behind us and turned to have a look. Inside the car – a raggedy old thing with no plates – was an aboriginal family: a man, a woman and three young kids in the back. The man driving had the window down and his arm hanging out, resting against the door. He was sporting a big black akubra with some brightly coloured feathers tucked into the brim. I turned away and continued to walk.
A few moments later, as the car was just about to pass, we heard the biggest and most jovial "GOOD MORNING!" I think anyone has ever had the pleasure of hearing. The car passed and the entire family were waving – kids faces pressed up against the window to take a look at us. "Good morning!" we cheered and waved back. As they drove off, mum turned to look at me. She had tears in her eyes. I knew why.
We paid for our tickets to enter Uluru National Park, sure, but we never really felt like we had permission to be there. And then, in two words, all of the politics fell away. We were just two groups of people greeting each other. It was that simple. And it felt as though we had received that permission.
This tiny, simple gesture was mum's highlight of the whole trip. And it was my highlight. Dad didn't say it, but I'm pretty sure it was his highlight too. When we got back to Melbourne, he downloaded a book on aboriginal history onto his Kindle and wanted to watch films and documentaries on the subject.
And to think – dad didn't even want to go to Uluru.
Ready to explore the Red Centre? Get on our 3-day Uluru Adventure tour.
Written by Oliver Pelling
Feeling inspired?