When I think of Peruvian cuisine, I think traditional. Juicy lomo saltado spiked with aji amarillo chillies. Tangy ceviche and a hit of chopped cilantro. But sushi? Not so much.
One of my favourite things about traveling is diving deep into a culture and tasting the local flavour. Food is such an intimate experience. Every where you go, people put their stories on the plate. So it was a surprise for me to discover Nikkei, a culinary style I'd never heard of. One that combines the best of Japan with the best of Peru.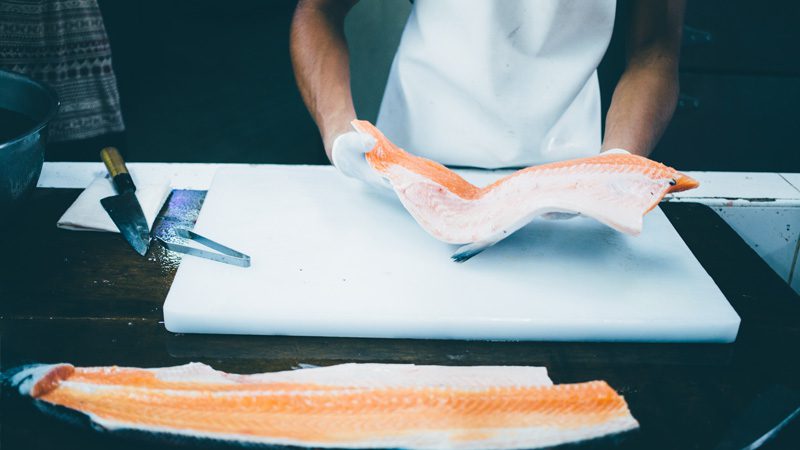 When you learn the history, it's not so strange. After Brazil, Peru has the second-largest Japanese population on the continent. And that cultural heritage has permeated into the food, fusing Japanese techniques with Peruvian ingredients to create something totally new. Nikkei. Think fresh fish and sashimi, but spiked with lime juice, grilled corn, aji peppers, yucca and any of the dozens of potato varieties indigenous to the country. That's Nikkei. My two favourite cuisines in one: why didn't Willy Wonka come up with this sooner?
Our Intrepid groupI head to Hanzo in Lima, one of the city's hottest restaurants. It's the home of Head Chef Eduardo Fujihara (great name), who gives us an introduction to Nikkei cuisine. Our first stop? The local market. It's obvious as we walk through the bustling stalls that Eduardo is well known in these parts. Fish vendors vie for his attention, calling out prices and the catch of the day. Eduardo makes his selections carefully; he's adamant that Hanzouses only the very best ingredients. The freshest, whitest squid. The most blushing, tangerine salmon. Eduardo says the quality of his work is dependent on the quality of these ingredients. There aren't any shortcuts. We stop at a stall to admire the local fruit. Eduardo points out a lime that looks to me like any other lime. "That is native to this country," he says. "It has a unique flavour. It's essential to Nikkei." Nikkei is such a particular and unique palate, that even the legendary Nobu Matsuhisa was inspired by it, adding touches of Nikkei to his own dishes. I can see why.
When we return to Hanzo, Eduardo heads into the kitchen and we start to clean and fillet the fish. We work carefully to clean a large tuna fillet while the pumping beats of reggaeton echo through the kitchen (Eduardo likes his music). Even the environment feels like a fusion. There's a mix of culture in the air, and I realise I'm starving. We sit down for lunch and watch Eduardo and chefs prepare the delicate Nikkei dishes. First, I clear my palate with ginger. My mouth salivates. The ginger is so fresh and full of zing that my mouth needs a double take. The next thirty minutes are like a foggy dream; I feel like I'm in some sort of food trance. Sushi rolls with tones of Peruvian ceviche, delicate salmon seared on an open flame and buzzing citrus notes all have my mouth watering.
Fresh Japanese sashimi and lashing of Peruvian tang is a mix my mouth has never experienced. Judging by the faces of my new friends around me, I don't think they have either. It's these subtle overlaps, this cultural alchemy, that has the potential to create something bigger than what either cuisine could do by itself. As the meal is ending, I'm already experiencing Nikkei withdrawal. While Nikkei is slowing making its way onto the food scene back home, I know the experience I had with Eduardo from the market to that table will be one I will never forget.
Want to taste the flavours of Nikkei? Book a spot on our 3-day Bite-sized Break in Lima.
Words and images c/o Marianna Jamadi
Feeling inspired?