Southern Africa, to many, means South Africa – safaris, seaside and wine. But northerly neighbor Namibia is in a world of its own. Literally.
Venture through Namibia's sprawling desert, weave through cobbled roads in 19th-century era towns and discover the diverse wildlife that unfolds on the expansive coastline. No matter what direction you head in, the spectacular country impresses with its many options for how travelers can immerse themselves into traditions and into the wild.
Not just this, but Namibia really has a refreshing take on tourism — we've got the facts to prove it. So, allow these Namibia facts you probably don't know to speak for themselves.
Namibia is the first African country to add environmental protection to their constitution
Namibians reclaimed their land after they gained independence from the South African apartheid regime in 1990. They show such pride in their land — so much so that they've designated the entire coastline as a national park. Not only does this initiate environmental protection but it's helping to restore populations of wildlife. Among them are the black rhino, African elephants, cheetahs and more.
As a result, Namibia is an ideal sustainable safari destination where wildlife roam free in the dry desert and wooded savannah. Maybe this is more of a well-informed opinion than a hard-hitting Namibia fact, but one of the world's best places to spot wildlife is in Etosha National Park. You can head out on a full-day game drive on this trip.
Along the Atlantic Coast, you can also spot the world's largest breeding colony of Cape fur seals at Cape Cross nature reserve. They are a smelly and loud bunch, but nonetheless, are a prime example of the extent to which Namibia's wildlife flourishes thanks to the conservation efforts.
RELATED READ: A GUIDE TO THE BEST TIME TO GO ON SAFARI IN AFRICA
Namibia was awarded for successful sustainable tourism by World Wildlife Fund
In 2013, Namibia received the Gift to the Earth Award from World Wildlife Fund (WWF) recognizing their progressive support for communal conservancies. So, it'd be fair to say that Namibia is a world-renowned role model in sustainable tourism.
Local communities run these conservancies and are directly responsible for protecting the land. This community-based initiative empowers indigenous tribes by providing social and monetary support in turn for stimulating sustainable experiences for travelers.
Overall, this approach to eco-tourism is keeping Namibia exclusive and assures local leaders are at the forefront of tourism. They do so by offering authentic, locally-run camping accommodations. It's key that they are small scale and unobtrusive to natural environments.
The Namib desert is world-renowned
The Namibia facts about the desert might just blow you away. It's no wonder this dystopian landscape was featured in Mad Max: Fury Road!
The field of fiery-red dunes are a sight to behold.  They are also some of the biggest dunes in the world. People often refer to the largest dune as 'Big Daddy' (it measures at around 325 metres tall). But, the most incredible clusters of dunes are near Sesriem.
To really get the ultimate desert experience, explore Deadvlei, a white clay pan near Sossusvlei (a 4×4 tour is included on this trip).
But wait, desert facts aren't done JUST yet. You can also set your sights on Dune 45. It's an epic photography subject (even Microsoft Windows has captured it for a screen saver!)
SEE MORE: A JOURNEY THROUGH SOSSUVLEI, NAMIBIA IN PHOTOS
Namibia is the second least populated country in the world
The dictionary backs up this fact — the name "Namib' translates to "vast place". The name is pretty fitting given that Namibia is one of the least crowded destinations on the planet (the fifth fewest people per square kilometre to be exact). Its population sits at about 2 million people, whereas its size nearly doubles that of California!
It goes without saying (but, we'll say it anyway), Namibia is the opportune destination to get off-grid.
The Skeleton Coast hosts eerie shipwrecks
The combination of strong and dry wind coming from the Namib Desert and the current of the Atlantic regularly creates a dense fog. The 18th-century shipwrecks that litter the shoreline are the eerie results of these poor navigating conditions. Rusted and decaying, the elements of sea and sand have corroded the once full-functioning vessels.
The desolate beauty in these shipwrecks make for remarkable photos. One was even the subject of a treasure hunt… In 2016, a 500 year-old shipwreck was found with $13,000,000 worth of gold coins.
SUBSCRIBE TO INTREPID'S NEWSLETTER FOR TRAVEL TIPS, COMPETITIONS, GIVEAWAYS & MORE
Namibia has the second largest canyon in the world
Stooping to a depth of 500 metres and stretching 160 kilometres long, Fish River Canyon is the second largest in the world behind the Grand Canyon. The grand scale offers views of the jagged rocks edge (you can even do a 4-day hike around the Canyon or canoe the rivers below).
The current Prime Minister is the first female to hold the position
In 2015, Namibia appointed Finance Minister Sara Kuugongelwa-Amadhila as Prime Minister of Namibia. She was born in Omusati region, one of the 14 regions of Namibia, but studied economics in Lincoln, Pennsylvania before returning to her homeland. She's been a constant promoter of gender equality, including at the 10th Namibian Women Summit.
RELATED READ: 9 PLACES YOU NEED TO VISIT IN NAMIBIA
Swakopmund combines adventure sports and German culture
The former German area (and coastal city) is a sports mecca for thrill-seekers. Activities include: paragliding or sand-boarding down dunes, skydiving and heading out on a quad around the town's slice of the desert (and the list goes on). You can also head out to the Atlantic for dolphin spotting or fishing.
The countries German influence still persists in the city. With German architecture, schnitzel and cold beer aplenty, you feel like you've entered a small German village.
San Bushman communicate in a clicking language
The Bushmen are the oldest of the 13 diverse ethnic groups in Namibia. Their deep understanding of nature and ecology is a testament to the 20,000 years they've inhabited Southern Africa. Although 30,000 of them are living in Namibia, only about 2,000 still follow a traditional way of life (you can spend some time with them just outside of Grootfontein on this trip).
One of the most notable ways they've sustained their identity is by communicating in a clicking language. But Bushman have also preserved traditions of hunter-gathering, and have passed along stories all the while living in harmony with their environment.
RELATED READ: AFRICA THROUGH THE LENS WITH PHOTOGRAPGER BEN MCRAE
You can canoe along the border of Namibia and South Africa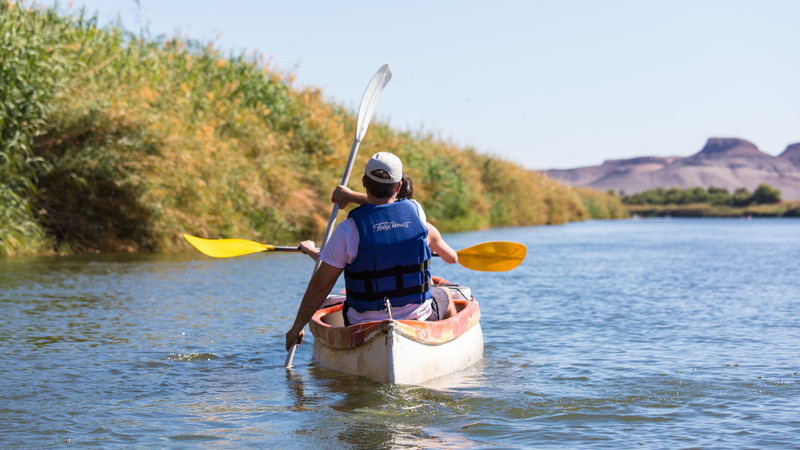 The Orange River is about 2, 090 kilometres long, which makes it the longest river in Southern Africa. It also acts as a border between Namibia and South Africa, flowing westward through South Africa to the Atlantic Ocean. The river is a significant medium for the transportation of diamonds (you might just find deposits of the stone along the Namibian coastline).
Take advantage of the fact that you can set off on the banks of Namibia for a half-day canoe trip down it. The slow-paced 10-kilometre voyage allows travelers the perfect opportunity to take in the surreal landscape. What an adventure.
Join Namibia's sustainable travel movement; book a small group adventure to Namibia with Intrepid.
—
(Car photo c/o Meaghan Raymond. Traveler on sand dune c/o Alan Lee. All other photos c/o Intrepid Travel.)
Feeling inspired?