Something incredible happened this past week. 28 women from across rural Africa – from Cameroon, The Gambia, Kenya, Liberia, Malawi, Nigeria, Tanzania, Uganda and Zambia – banded together to climb a mountain, both metaphorically and literally. The literal mountain was Mt Kilimanjaro in Tanzania, Africa's highest peak. The metaphorical one was the land rights crisis facing women across rural Africa.
Women own just 1% of Africa's land, even though they produce the majority of the continent's food. Many have no say over how resources and profits are distributed. But they've had enough. They're ready to raise their voices, to fight for a fairer world. And that's exactly what they did on 9 October 2016 as they took to the breathtaking slopes of Mt Kili as part of Intrepid and ActionAid's Women Move Mountains Solidarity Trek.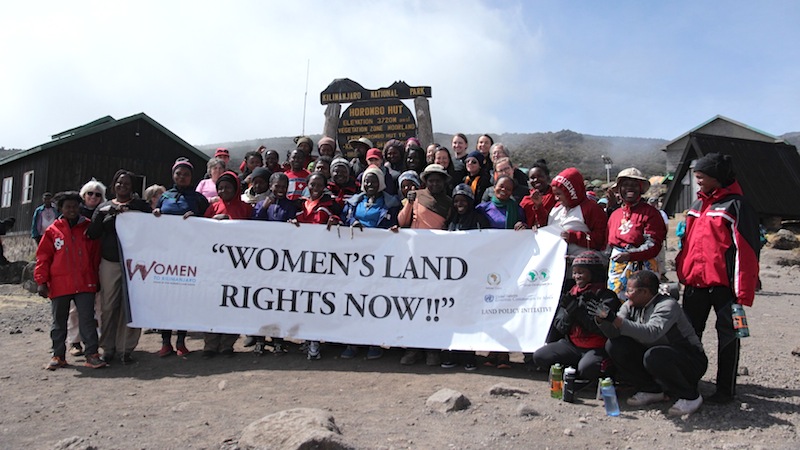 Joining these extraordinary women were 17 Intrepid solidarity climbers, staff and media, a stellar crew of 25 Intrepid guides, five cooks and 105 porters, and two of the Australian Women's Football League's biggest star athletes and spokespeople for gender equality – Melissa Hickey and Katie Brennan. All were there to support the women farmers, hear their stories and stand up for human rights and more equal land access across Africa.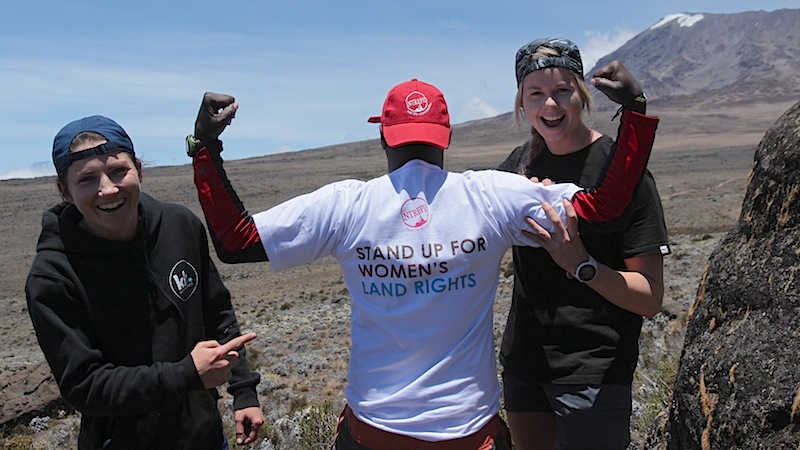 Heartwarming scenes of joy and camaraderie filtered through social media. In one video, a group of African farmers and crew break out into song and dance; in other, Katie shows a local how to kick an Aussie football.
At times, the going was tough, especially for many of the African farmers who had never been on trek before. Even hiking pants were difficult to get used to. But supported by each other and the tireless mountain crew, they made it to Uhuru Peak – 5,895 metres above sea level – on 15 October.
Intrepid Responsible Business Specialist Amy Bolger, who took part in the climb, said that the symbolism of climbing such a challenging mountain resonated strongly with everyone on the trip – from the female farmers to the female football players, and the solidarity climbers (both men and women) so passionate about breaking down gender inequalities around the world, whether they be land rights, gender stereotypes, pay gaps, or domestic violence.

"What an inspirational bunch of determined, strong women farmers, and to hear their stories first hand was beyond incredible. We heard stories of the challenges these rural women farmers face every day, and how they are overcoming them.
"Every climber walked away from the climb knowing they were even stronger (physically and mentally) after this challenge. One lady from Malawi told me, 'If I can get to the top of this mountain, I can do anything.'"
After the trek, the climbers joined a mass assembly near Arusha where over 400 African women came together to learn about their rights and exchange skills in farming and business. Most importantly, they worked on a charter of demands to be presented to the African Union, as part of ongoing lobbying for better land rights for women across Africa.
We're incredibly inspired by everyone who took part in the Women Move Mountains trek, and so proud to have led such a landmark event. It just goes to show that no matter our differences, no matter where we're from, when a group of people get together to fight for change, big things happen. Mountain-sized things.
But just because they've made it to the bottom, doesn't mean the climb is over. There's a long way to go in securing the rights of woman farmers across Africa, and you can help be a part of it. To support the ongoing work of ActionAid as they see through the submission of the charter and continue to work with women in remote communities across Africa, head to the The Intrepid Foundation page to donate. Intrepid will match each contribution dollar for dollar. Let's keep the conversation going.
A big mountain was moved this week. Together, we can move more.
Images c/o Amy Bolger and Brad John-Davis. 
Want to contribute to the fight for gender equality and land rights in Africa? Click here to donate. 

Feeling inspired?