Continent? Check. Country? Work in progress…
…but hey, that's what this blog is for.
South American countries don't come any more vibrant or colourful than Argentina and Chile. Both countries boast astounding beauty, animated cities, a rich culture and tasty traditional dishes your tastebuds will crave long after you've caught your flight home.
But if you've only got enough in the budget (or accrued annual leave) to visit one country, which one should it be? It's a tough question, one that I'll aim to answer with this comparative guide to the countries' cuisine, landscapes and cities. That's the plan anyway.
Discover our Argentina & Chile trips
Cuisine
If you're a red meat lover then Argentina is the country for you. With more cows than people, Argentina is renowned for its red meat obsession and when it comes to steak, this country really knows what it's doing. On your travels, you'll find steak in most of the traditional dishes, including empanadas (meat-filled dough pockets), matambre arrollado (flank steak stuffed with vegetables, eggs and herbs) and choripan (a pork and beef chorizo sandwich).
But, with a Spanish and Italian influence, there's plenty of other Argentinian foods you must eat. Think provoleta (a grilled cheese to eat with barbecued meats), humita en chala (a combination of creamed corn, onion, spices and goats cheese), milanesa (an Argentinian beef or chicken schnitzel) and carbonada (a hearty stew made from vegetables and bacon).
And, if you want to chase your main meal down with dessert, there's always medialunas (Argentina's version of the croissant) and the famous dulce de leche (a thick and gooey caramel-like sauce that can be used as a topping for ice cream and crepes). Is your mouth watering as much as mine?
Related: What to eat in Argentina that's not steak
While it might look like Argentina takes the cuisine cake, Chile has its own fair share of delicious meals to keep your tastebuds satisfied. Drawing from a range of Spanish and indigenous Mapuche flavours, Chilean cuisine is incredibly diverse and is big on using fresh and local ingredients.
There's a lot of things Chileans love but when it comes to food, they're big on quinoa and seafood. And vegetable stews (patasca). And steak sandwiches (churrasco). And chorrillana (loaded French fries). And hot dogs (completo). Okay, you get the idea. The point is, you really can't go wrong with anything from a street cart vendor or a restaurant menu.
Landscapes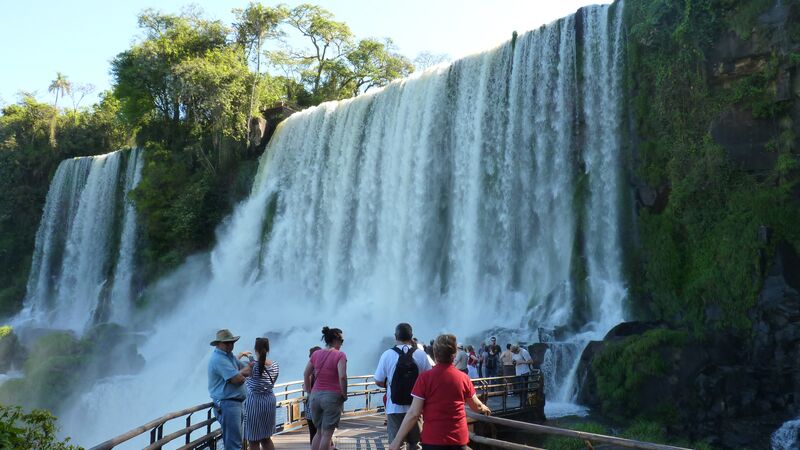 Your mind immediately went to Patagonia once you read this category's heading, didn't it? Don't say anything, I already know the answer. And if I had to guess, Iguazu Falls would be thought number two. And with good reason.
But Argentina caters for us all; the nature-lovers, the adventure-seekers, the avid-hikers and the wine-drinkers. And there's plenty more to see than two of the world's greatest natural landscapes.
Head to Salinas Grandes and explore 525 square kilometres of salty desert (hot tip: bring your sunglasses). Visit Argentina's very own Lake District (move aside England) and wander around mirror-like lakes and between jagged mountain peaks. Spot otters in the reeds of Esteros del Ibera and float over the wetlands while watching colourful birds take flight. I could go on.
Just because they're not as well known as the ones in Argentina doesn't mean the landscapes in Chile deserve any less of the three a's – appreciation, admiration and attention. In fact, they might actually deserve more. From taking a trip to the moon via the Atacama Desert to walking through Araucaria forests in Conguillio National Park, you'll be left dumbfounded at just how naturally beautiful Chile is.
Snap hundreds of photos of the El Colgante Hanging Glacier. Stare in awe at the patterned walls of the Marble Chapel in southern Coyhaique. Explore Torres del Paine National Park – one of the world's magnificent wonders – and breathe in the fresh air, spot fascinating wildlife and commit its unforgettable scenery to memory. And that's just the beginning.
Cities
When thinking about cities in Argentina, most of our minds go straight to the big one, Buenos Aires. And while that intoxicating metropolis of decadent buildings and charming boulevards is 100% worth a visit, Argentina boasts plenty more captivating cities you'll want to wander around and get lost in.
From Mendoza with its leafy-tree lined streets and love for good wine to Cordoba with its vibrant bar scene and cultural precincts, you could travel anywhere in Argentina and end up in a city that's easy to fall in love with. And I haven't even mentioned Ushuaia yet.
Often forgotten, overlooked or only thought of as a stepping stone to Antarctica, Ushuaia is simply stunning thanks to its snowy Martial Range backdrop and collection of fascinating museums. It's quaint, it's a little chaotic but most of all, it's a natural playground where activities such as kayaking, sailing and scuba diving aren't a maybe, they're a must-do.
Related: 8 awesome experiences you must have in Argentina
On a surface level, Argentina seems hard to beat in this category, but Chile gives it a run for its money with plenty of beautiful cities you'll never want to leave. Whether it's extraordinary scenery you're after, sun-drenched beaches you want to spend time on or historic architecture you want to marvel at, Chile's cities have it all…
…starting with Santiago. This capital city is the heart of the country, not only for its central location, but for its lively atmosphere and buzzing cultural scene. The perfect blend of sophistication and welcoming charm, this city will quickly become one of your favourites once you start exploring its diverse neighborhoods full of museums, theatres, art galleries and world-class restaurants.
My love for Santiago might be evident but Valparaiso, Iquique and Punta Arenas are all definitely up there with each city promising spectacular sights (I would travel to Iquique for a glimpse of its gigantic sand dune alone), eclectic locals and a foodie culture your tastebuds will appreciate.
Related: A guide to Valparaiso, Chile's city of artists
The verdict
I'm not going to lie; this is tough to call. While Argentina and Chile share a lot of similarities (makes sense considering they're located right next to each other), they're breathtaking in their own ways with cities you'll never want to leave, landscapes you won't believe are real and cuisines your tastebuds will salivate at the thought of.
If I had to pick one, Argentina edges out Chile by the length of an unrolled pionono (a thin, dulce de leche-filled, rolled-up sponge cake). But, if you have a little holiday wiggle room, visit them both on one of our South American tours. Your bank account may hate you and you might have to put yourself on a travel booking ban afterwards, but you won't regret it.
Interested?