'The Valley of Paradise'
For those that have cast their eyes across the ragtag city that is Valparaiso, it is difficult to imagine how this name came about. Dirty, dusty and down-at-heel, it is not a place built for tourists; there are no big draws or must dos – and yet this is perhaps why we fell so very much in love with it.
It's gritty and authentic, with a history shared between the docks and the dreamers, such as Pablo Neruda. Its architecture – colourful, sprawling and clattering up the side of hills – makes little sense but captivates even the non-photographer's eye, pulling you in and captivating for days. There are cafés and artists, street art and hilltop vistas, corner shops manned by little old ladies on the same street as boutique stores. Poetry and art decorate the walls, whilst ships and colourful containers form a barrier between the land and sea.
A mere two hours from Santiago, but a world away, Valparaiso was, without question, our favourite city in Chile.
And for those on a budget, you'll be pleased to hear that to experience it costs little more than a few sunny days and many lost hours spent exploring small cobbled streets and winding roads – but to point you in the right direction, here are a few things you can't miss.
The Street Art Scene
Valparaiso is a city full of artists, and there are few places we have been where street art is so interwoven into the structural fabric. From large scale murals to little hidden-away pieces, graffiti plays a large part in making sections of the city so colourful and enticing – a wonderfully non-permanent and free art gallery that is added to every day.
Either join one of the daily street art tours or grab a free city map and follow the route for the Museo a Cielo Abierto, a well-established circuit which brings you to the work of several notable artists.
 EXPLORE VIBRANT VALPARAISO ON URBAN ADVENTURES' COLOURS OF VALPARAISO TOUR 
Explore the Cerros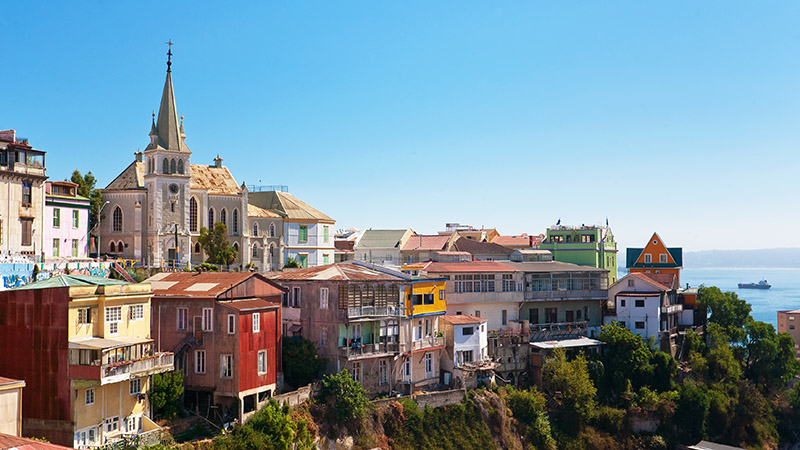 Like many South American cities, Valparaiso sprawls up the surrounding hills, and it's within these cerros that you'll find most of the action. With more than 40 to discover, to visit them all would taken weeks, so first-time visitors should focus on Cerro Alegre and Concepción, where you'll find some wonderful views, thrift stores, artisan shops, independent galleries, churches, cute cafés and restaurants – plus an abundance of beautiful buildings!
You'll almost certainly get lost down tiny alleyways, but that may just lead you to your favourite discovery in the city.
Come to celebrate the start of Spring
In a country where winter is more than a little chilly, it's understandable that the first day of spring is considered a pretty big deal in Chile – and no more so than in Valparaiso, where the first few days of October are celebrated with the Mil Tambores festival, and traditional dancers, markets, free concert and street parties take over the city.
So far, so Latin America. However, on the last day of the festivities, it all goes a little bit crazy.
Naked men, topless women, painted bodies, debauchery by the beach, lots of booze and crowds. Think of it as a small scale Notting Hill Carnival with more nudity and less Caribbean influence, and you're almost there.
VISIT VALPARAISO ON OUR 8-DAY CHILE ADVENTURE
Visit La Sebastiana
There are few people more cherished by the Chilean people, than the Nobel Prize winning poet Pablo Neruda. Immortalised in words, memory and materials, many of his previous residences across the country have become museums, providing a fascinating glimpse into the life of a man Gabriel García Márquez once called the greatest poet of the 20th Century.
And if you just happen to be a fan of his work, then don't miss the beautiful 'La Sebastiana', perched atop one of Valpo's many cerros.
Take a day trip to Viña del Mar
If the nitty-gritty nature of Valparaiso gets a little bit too much for you, or you're craving some summer beach time, consider a day-trip to Viña del Mar. Popular with the wealthier Santiaguinos, who descend upon the large sandy beach and beautiful public parks in the warmer months, Viña del Mar has a little of a resort feel – and, if you fancy dancing until the wee small hours, some of the best nightlife in town.
Sample the best empanadas in Chile
In a country where it appears every street corner is home to a weathered chalkboard boasting fresh empanadas, this is quite the statement. 'Le Pato' however, may just be the real thing. Located in Cerro Alegre, this delightful artisanal empanaderia has a daily changing menu of fabulous veggie (not always an easy find) and non-veggie fillings, served in brown paper bags to be consumed kerbside in the sun. Preferably with a chilled bottle of Escudo.
Ready to explore Valparaiso yourself? Check out our range of small group adventures in Chile! 
Words by Along Dusty Roads – check out their instagram feed for some serious wanderlust inspo!
Feeling inspired?