From how many Zodiacs we've got to whether or not there's a bar, it's time to answer your questions about the Ocean Endeavour.
So, you've picked the destination (Antarctica). Now you need to decide which expedition ship operator to go with – easier said than done, I know. There are plenty of companies out there promising you the trip of a lifetime, but with my full bias on display, there's none quite like Intrepid. Or should I say, there's no ship quite like the Ocean Endeavour.
Allowing you to explore the remote coastline of the world's 7th continent while still enjoying the class and comfort of a four-star hotel, the Ocean Endeavour is the perfect home base for your Antarctic adventure. And to prove it, I'll fill you in on life onboard the Ocean Endeavour and exactly what you can expect on your journey to the icy edge of the world.
Don't wait until you've finished reading, book now
But first of all, what is expedition cruising?
Forget traditional cruise liners. The only way to cruise Antarctica's waters is on a smaller expedition ship; one where the max passenger count is 200 and there's a real emphasis on the 'expedition' part. Not only because it offers a more personalized and comfortable experience for those onboard, but also because it gives you plenty of opportunities for excursions to the Antarctic Peninsula.
Meaning you shouldn't think of your trip to Antarctica as a holiday. Instead, it'll be an action-packed, thrill-inducing, adrenaline-pumping adventure full of photography workshops, penguin-spotting, snow-camping and afternoons spent sea-kayaking. And that's just the tip of the iceberg.
Related: The 10 Antarctica questions you want answered
So, why choose the Ocean Endeavour?
The Ocean Endeavour has 20 Zodiacs (smaller inflatable boats) to take you off the ship and onto land so there's no taking turns with the other passengers onboard when it comes to sea excursions and shore landings.
The ship also has one expedition crew member for every eight travellers. Yep, you read that right. Boasting one of the best staff-to-passenger ratios in Antarctica (1:8), Intrepid expeditions let you take full advantage of the expert team around you, whether that's asking questions about your surroundings or getting a little extra assistance to get on and off the Zodiacs.
As if that wasn't good enough, the Ocean Endeavour exudes comfort with contemporary interiors, a relaxing spa, lounges for learning, reflection and scrolling through the millions of photos you've taken during the day, breathtaking 360-degree-views from the deck and an emphasis on sustainability through the ship's citizen science program*. Did I forget to mention the professionally staffed bar, his and hers saunas and the polar library?
*more on this later.
How will I know if the Ocean Endeavour is the right ship for me?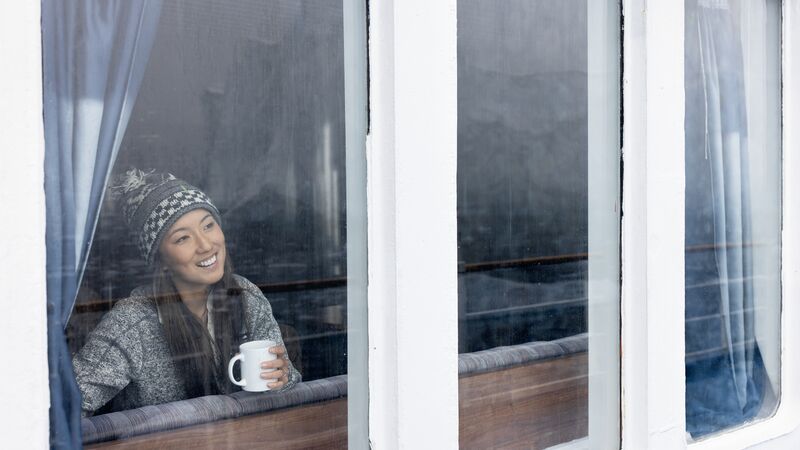 To be blunt, the Ocean Endeavour is the right ship for everyone. It's perfect for people who want a more active experience but also for those who crave a little comfort and flexibility; you don't have to participate in sea excursions or shore landings if you don't want to.
There's also plenty of rooming options and arrangements for those travelling as a couple, with a group of friends or as a solo traveller. Every cabin has a private bathroom equipped with a shower, toilet, washbasin and eco-friendly body wash and hair care products, a flatscreen TV, a telephone and a safe for your valuable possessions.
A daily housekeeping service and laundry facilities onboard make the Ocean Endeavour just as good as any hotel, except better. You can watch the Antarctic landscape go by through your window (if your cabin has one).
What are the expedition guides onboard like?
Our expert guides are some of the best in the biz and are always on hand to share their knowledge through presentations, lectures and seminars onboard the Ocean Endeavour. There's nothing you can't ask that our marine biologist, geologist, glaciologist, ornithologist, penguin-ologist (there's a lot of 'ologists') or naturalist can't answer.
But they're not just there to teach you stuff (even if that stuff is super interesting). They also play an important part in delivering your dream Antarctica experience from swapping stories over dinner and getting to know each and every one of you to pointing out wildlife when they see it. Their passion and enthusiasm are some of the many reasons why our trips stand out from the rest. They're also super friendly and approachable so you know, that helps.
Related: Meet Martin Cohen, Antarctica expedition guide and polar penguinologist
What's the citizen science program?
Sending long-term academic teams to Antarctica to conduct scientific research is costly, time-consuming and all 'round challenging at the best of times. But there's important work that needs to be done in order to help us better understand Antarctica and the issues it faces. Introducing the citizen science program onboard the Ocean Endeavour.
With the want to harness the power of the travellers that set sail for Antarctica each year, the citizen science program encourages passengers to observe, record and report on natural phenomena as part of a collaboration project with actual Antarctic scientists.
Work with the likes of NASA's Globe Observer, Happy Whale, Seabird Survey and phytoplankton organisations and contribute to the future health of the continent you've fallen in love with. From recording cloud cover, photographing whales' flukes, conducting bird surveys and collecting phytoplankton samples, becoming a scientist for a day has never felt so good.
Related: Meet Eva, the polar scientist heading to Antarctica with Intrepid
What is a typical day onboard the Ocean Endeavour look like?
Days will look different depending on what route your trip follows but there's one thing that'll remain the same whether you're on an 11-day trip or a 23-day trip: the vast and beautiful icy landscape right outside the window. So, first things first, wake up, get dressed and head to the deck for a look at your breathtaking surroundings.
Once you've got the lay of the land (or sea), the dining room awaits with a full breakfast buffet stocked with the foods you need for a busy day ahead. At around 8:30am, an announcement of the morning's activities will come through the intercom system so make your way to the mudroom to get suited up for your sea or land-based adventures.
You'll get back to the ship a little before lunchtime and, once you've warmed up with a hot cup of soup, you'll have time to roam the Ocean Endeavour as you please. Perhaps go for a sweat sesh in the gym or a dip in the heated swimming pool before making your way back to the dining room for some more sustenance in preparation for your afternoon outing.
Your afternoon excursion will follow the same routine as the morning's and when you're back from penguin-spotting/whale-admiring/seal colony-exploring, you'll be invited to the bar for a recap where our expedition team will let you in on some of the day's cool learnings.
A delicious three-course dinner in the dining room rounds out the day. Sit back and relax while soft music plays in the lounge, chat to your fellow travellers over drinks at the bar or ask the expedition team any questions you might have from the day's activities. There might even be some trivia or board games to keep you entertained throughout the evening.
After a night of fun, retire to your cabin and get ready to do it all again tomorrow.
Convinced?