It turns out comparing countries isn't all that easy to do…at least, not without a little help.
You might be under the impression that deciding which destination to travel to is the easy part, but the decision becomes a lot trickier when you're choosing between two breathtaking Asian countries – Japan and South Korea.
Japan has the tradition and the food, but South Korea has the city of Seoul and K-pop so how are you supposed to pick one?
To help you out with this almost impossible dilemma, we've put together a comprehensive guide comparing the two countries when it comes to culture, landscapes, weather, cuisine, and cities so you can jet off knowing you made the right choice.
Culture
Japan might be the land of futuristic technology and vending machines that sell everything under the sun (no literally, you can buy fresh lobsters and lucky charms) but its ancient culture dates back thousands of years with traditions influenced by Confucianism (introduced in AD285) and Buddhism (introduced in AD522).
Although there are several elements of old-school Japanese culture practiced throughout major cities and rural areas such as tea ceremonies, sumo activities, bowing, geishas, and kendo, it's actually Japan's newer generations that are setting the cultural tone these days in a fast-paced world full of avant-garde fashion and virtual realities.
However, there's still a focus on core traditional values such as modesty, respect, and discipline but this is more present in the older generation with the country's young people preferring a life of flamboyancy and ostentation.
DISCOVER JAPAN ON OUR JAPAN: LAND OF THE RISING SUN TOUR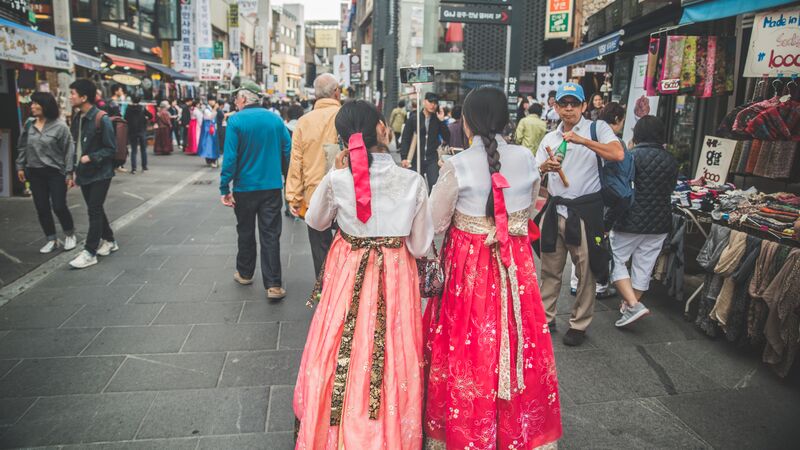 Thinking about South Korea's culture can be overwhelming considering it dates back to 2,333BC but it prides itself on several core values that are still practiced today: respect, fairness, harmony, and adaptability (among others).
It's these Confucius beliefs that underpin South Korea's society with the majority of nationals participating in daily ancestral offerings, adhering to tiered interactions (strict hierarchal roles), and respecting community elders.
However, like with many other cultures, the younger generations are forging a new, less traditional path with less emphasis on humility and more importance placed on individuality and equality among all.
Landscapes
When you think of Japanese landscapes you might automatically think of Mount Fuji and while that's definitely a landmark you have to set your sights on when you go to Japan, there's so much more natural beauty to marvel at.
Boasting more than 6000 islands including Hokkaido, Kyushu, and Honshu, Japan's geography consists of mountainous terrain, forested areas, natural hot springs, active volcanoes, and tranquil coastlines, as well as built-up cities, to explore.
Whether you feel like wandering through Aokigahara, a wildlife-infested forest on the outskirts of Mount Fuji, taking in the beauty of bamboo groves, or trekking up one of the many hiking trails on Mount Takao, this country's wonders are both diverse and unique.
RELATED: NOW IS THE PERFECT TIME TO VISIT JAPAN
You'd be forgiven for not exactly knowing if there are any South Korean landscapes worth travelling thousands of kilometres for, but we can assure you the country is full of natural wonders from mystical forested mountain ranges to rocky and dramatic coastlines.
While Japan has Mount Fuji, South Korea has the smaller but no less impressive Halla-san – an extinct volcano that rises 6,398 feet high (compared to Mount Fuji's 12,389 feet) and is located on Jeju Island. But that's not all.
From UNESCO World Heritage-listed national parks like Seoraksan National Park with its unique rock formations and refreshing hot springs to Suncheon Bay with its extensive wildlife and breathtaking coastal areas, Mother Nature really did her best in South Korea.
Weather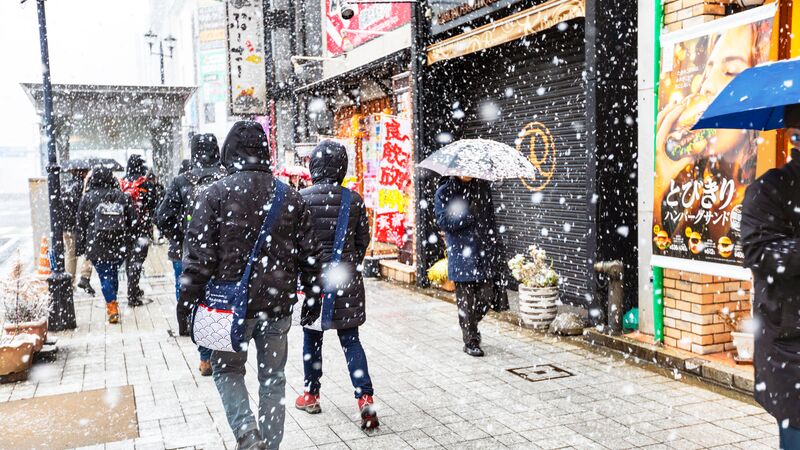 Japan's weather tends to surprise a lot of people with different conditions and patterns experienced in different parts of the country from sticky, humid summers to cold, snowy winters but regardless of the season, Japan offers plenty to see and do.
If heavy snow (and the snow-based activities that come with it) tickles your fancy then head to the northern region of Yamagata from December to February, but if a light dusting is all you're after, it might be worth visiting Hiroshima in the country's south.
If you're travelling during the summer and you'd rather keep humidity levels to a minimum, Tokyo's the city for you with expected average temperatures around the 27°C mark (hot but not sticky). Osaka also experiences warm weather during the summer months and a mild winter making it one of the better year-round cities to visit.
JOIN OUR JAPAN EXPRESS SMALL GROUP ADVENTURE
South Korea's weather is much like that of its Asian neighbours – the summertime is considered the hot and rainy season and winter temperatures tend to drop below freezing in most parts of the country. For this reason, spring and autumn are generally considered the best seasons to visit.
During the months of March, April, and May, as well as September, October, and November, you can expect mild but comfortable temperatures without the rain and humidity experienced during the peak summer season. However, these optimal seasons never seem to last long so you really have to make the most of this country's good weather while you have the chance.
Cuisine
Your feet don't have to do all of the exploring when you get to Japan. Embark on a culinary adventure and let your tastebuds take over with delicacies such as sushi, ramen, and okonomiyaki on the menu in most restaurants and eateries around the country.
Want to try something on-the-go? Pick up your next snack from one of the many vending machines you're bound to see with seafood, ice cream, and hot meals all options for when you're busy but peckish.
But a meal isn't complete without a refreshing beverage to wash it down with; luckily, Japan has plenty of those. From traditional sake to antioxidant-packed green tea, trying out Japan's cuisine is an experience you don't want to miss.
RELATED: WHAT IS JAPAN FAMOUS FOR?
It's hard to separate Japan and South Korea when it comes to their respective cuisines, like how can you pit sushi and kimchi against each other?! Answer: you can't. But where Japanese food is centred on variety and balance, South Korean food is generally hot and spicy with ingredients such as fermented chilli paste and powdered red chilli the star of many traditional dishes.
However, long before Korean corn dogs stole the hearts of foodies around the world, traditional dishes such as bibimbap (a concoction of meat, vegetables, egg, and rice), jeon (a savoury pancake), and mandu (boiled, steamed, or pan-fried dumplings) were what travellers immediately sought out.
Other notable meals to try in South Korea are kan poong gi (spicy fried chicken), yook hwei (South Korea's version of steak tartare), and gimbap (seaweed rice rolls). Oh, and you can't forget to have Korean BBQ.
JOURNEY THROUGH SOUTH KOREA ON OUR SOUTH KOREA REAL FOOD ADVENTURE
Cities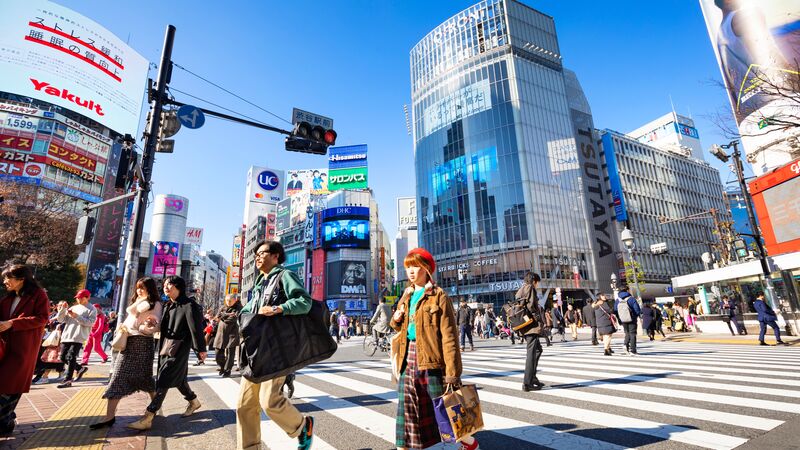 While Japan's natural beauty can't be denied, it's the country's vibrant, history-laden cities that steal travellers' hearts the world over – think Kyoto with its ancient shrines and temples, Tokyo with its entertainment and neon-lit streets, and Hiroshima with its cherry blossoms and war memorials.
But Japan's alluring cities go further than the popular, tourist-riddled ones. Take Nagoya for example. It's actually Japan's third biggest city but is often overlooked in favour of its bustling neighbours when in actual fact, it has a lot to offer in terms of attractions, culture, and cuisine.
From its collection of castles and religious monuments to the Osu district (the go-to place for second-hand goodies and delicious street food), Nagoya may just surprise you in the best way.
EXPERIENCE THIS DIVERSE COUNTRY ON OUR PREMIUM JAPAN TOUR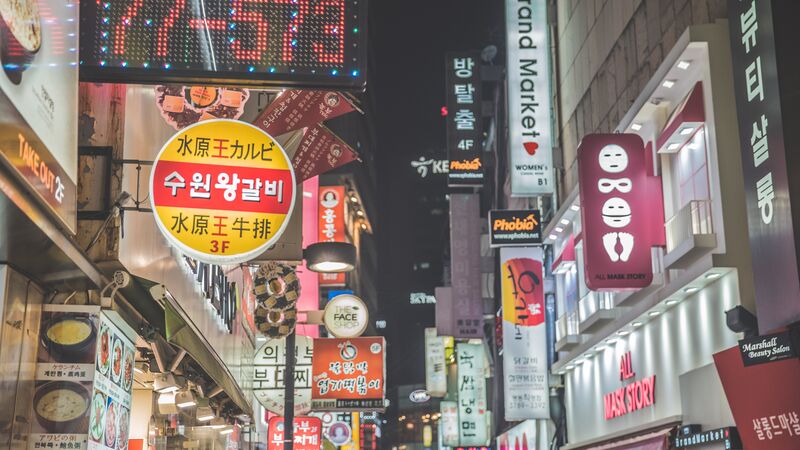 South Korea's cities range from chaotic and concrete jungle-like to peaceful and history-filled with destinations such as Seoul and Gyeongju at the top of travellers' lists – and with good reason.
Seoul is full of interesting things to see and do – Gwangjang market, Bongeunsa Temple, and Hanok Village are all must-visits – and even boasts plenty of breathtaking natural parks and gardens to wander around.
Gyeongju, on the other hand, is a slower-paced, ancient city that feels as if it belongs in a different time thanks to its UNESCO world heritage listed temples and historic monuments.
But these cities aren't the only ones popular among tourists with several others such as Busan (a beachside retreat), Suwon (known for its impressive scenery), and Daegu (the economic hub of the country) all capturing hearts and taking up camera roll space.
The verdict
Japan and South Korea might be similarly located in Asia, but they couldn't be more different, and to be honest, choosing between the two is pretty much impossible. Both countries offer incredible experiences thanks to their respective cultures, cuisines, and attractions – in fact, you can't really go wrong with either of them. So, we're calling this one a draw.