One year ago, Intrepid co-founder Geoff Manchester published an article – Travel can only rebound stronger if it rebuilds more responsibly – outlining four areas that we believed the tourism industry needed to address to create a more equitable and sustainable future.
Since that time, "build back better" has become a rallying cry for tourism. But with borders opening up and vaccines rolling out around the world, it's time to hold ourselves accountable and ask – how far have we really come in our pursuit to rebuild responsibly?
Well, for starters, I have proudly stepped into the role of Chief People and Purpose Officer for Intrepid. In this role, my team and I are responsible for continuing to use our business as a force for good, both within our own business and the industry more generally. Over the past 12 months we have taken this to heart, and I am proud the Intrepid of the future will look a bit different than the Intrepid of the past as we continue to grow our impact for people and the planet.
While our innovation and transformation are no doubt on-going and evolving work, I'd like to share five ways that we have actually "built back better" this past year:
5. We're committed to a 1.5°C future
Climate change is the most urgent issue facing the world and our industry. Intrepid has been on its carbon journey for more than 15 years, and in September 2020 we became the first and only tour operator in the world with verified-science based targets.
While this is the most significant step we've taken to address climate change since becoming carbon neutral in 2010, we further recognised that the climate crisis simply cannot be handled in isolation. To help, our Environmental Impact specialist, Dr. Susanne Etti, published a 10-step guide to decarbonising your travel business as a free resource for other travel companies. She continues to advise the wider industry as part of her work with Tourism Declares.
For our travelers, you can expect more reliance on lower carbon alternatives in the years to come. We have already launched 40+ decarbonised tours and will be reviewing our top 50 itineraries by 2022 and remove flights of 90 minutes or less, where a suitable road or rail alternative exists.
We are committed to building towards a 1.5°C future, and will be reporting on this annually via our annual report, so you can track our progress.
4. We dispersed over AUD $1.2m into communities in 2020
While our trips have largely been on pause, our philanthropy efforts have not.
Since 2002, The Intrepid Foundation has raised AUD $11.66m for more than 130 communities around the world. Last year presented unprecedented challenges for communities near and far and we're extremely grateful to donors around the world for continuing to make an impact.
In 2020 alone we raised over AUD $700,000 for the Red Cross Bushfire Emergency Appeal in Australia, launched a COVID-19 relief fund, and recently worked with Action-Aid on an emergency appeal in Myanmar, raising more than $20,000 to distribute food and essential goods to families.
These global challenges will remain this year and our foundation will continue to work to create impact in a number of areas. The Intrepid Foundation reports transparently on its work each year – you can read our 2020 Annual Report here.
3. We're advancing reconciliation in Australia – and beyond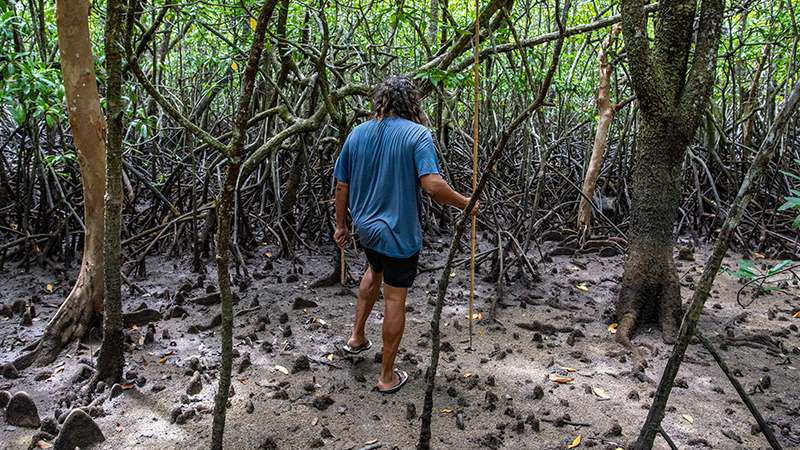 As a global travel business that was created to bring people together, Intrepid is privileged to work with and visit First Nations communities around the world.
We've never taken this responsibility lightly, but as a majority Australian owned business headquartered in Melbourne, over the past three years we've taken steps to deepen our commitment to reconciliation. In July 2020, we introduced our Innovate Reconciliation Action Plan (RAP), which builds on our inaugural Reflect RAP, that was endorsed by Reconciliation Australia and provides a framework for us to work towards by 2022.
To support this work, our new range of local trips in Australia feature at least one Aboriginal or Torres Strait Islander experience – such as a guided rainforest walk in the Daintree in Tropical North Queensland to learn about native plants from a Kuku Yalanji guide, the traditional owners of the land.
And, to ensure Aboriginal and Torres Strait Islander voices, perspectives and experience are reflected throughout our business, we've welcomed two First Nations advisors to our reconciliation working group. Bart Pigram is a Yawuru man from the West Kimberley region, who is a tourism expert based in Broome, Western Australia, and Patricia Adjei is an Wuthathi, Mabuiag Islander and Ghanaian woman, and arts, culture and heritage expert based in Sydney.
2. We're locking in our mission for the future
Intrepid is the world's largest travel B Corp – we certified in 2018 and we're working towards recertification later in 2021. As part of that process, we will be introducing several new policies and practices, one of which is a significant step to lock our mission for the long-term: voluntarily amending our company Constitution this year.
Under this amendment, our Constitution now includes a commitment to non-financial purposes and stakeholders with no fixed prioritisation, in contrast to shareholder primacy.
That might sound like corporate speak, but what it means practically is that we're formally committed to creating value for all stakeholders, not only for shareholders, and that we balance purpose and profit in our decision making.
1. We've launched over 120 new tours (and counting)
Back in May 2020 when Manch shared his thoughts on how to rebuild responsibly, it was already clear that we would be travelling closer to home for some time to come.
Our new ranges of local trips in North America, the UK, Australia and New Zealand feature more than 120 new local adventures, including over 40 low-carbon alternative tours.
Travellers, leaders and communities can be confident that all trips operate under our new enhanced testing and vaccination policy, and are underpinned by WTTC Safe Travels protocols.
With travel starting to gradually re-emerge, for me there is nothing more thrilling than seeing small group adventures start again in certain countries and some of our leaders being able to get back to what they do best – leading trips.
After the loss and grief that communities have been through over the past year, I'm confident that we're creating a better, safer and more sustainable tourism industry for everyone. To me, that's what rebuilding responsibly actually looks like.
Feeling inspired?