School's great and all, but sometimes, getting out into the world can teach kids so much more than being cooped up in a classroom. And the students of Amana Academy, a public charter school based in Alpheretta, Georgia, are testament to that.
The academy is one of a handful of public schools in the U.S. that teaches Arabic as a second language. Every year they incorporate a language or cultural trip into their curriculum, and this year they chose to travel with Intrepid to Morocco.
We sent 20 students and parents to the land of souks and medinas in April to practice their Arabic and enjoy a once in a lifetime experience. That experience ended up including souk shopping, a desert excursion and Sahara camp, drive through the high Atlas Mountains, and lots of fun and games with locals along the way. They had an amazing time and can't wait to plan their next trip with us in 2016.
The following is an excerpt from a short diary the group posted whilst they were out on their adventure.
Days 1-2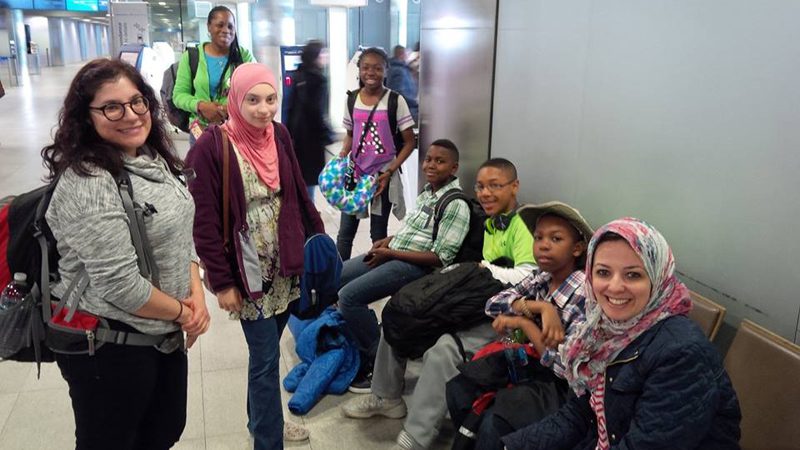 Morocco-Bound! Amana's first overseas trip is off to a great start. Twenty students, teachers, parents, and alumni have landed in Paris, and are headed to Casablanca for a seven-day, three-city adventure.
Day 2: The Morocco spring break crew had a wonderful time in Fes, seeing the oldest university in the world, palaces, artisan stores, museums, and the old souk (market place). Now off to a desert overnight excursion!
Day 3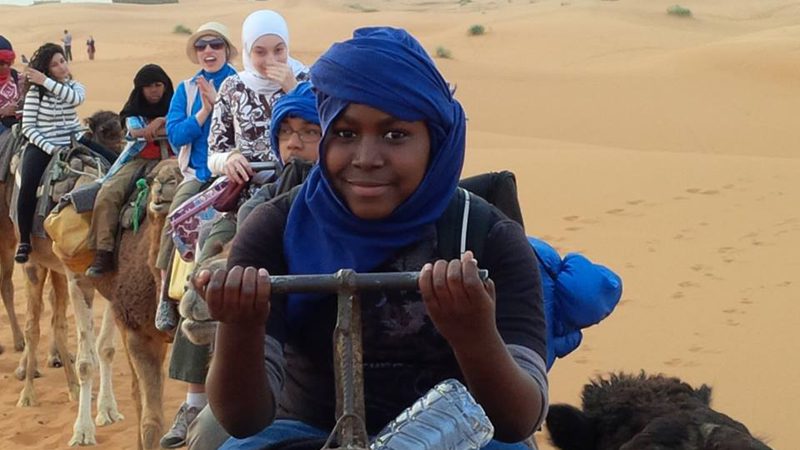 High Adventure! After a journey into the past in Fes, the crew drove south through the Atlas Mountains with a stop in the alpine town of Erfoud on the way to the Saharan settlement of Merzouga, where they climbed into 4-wheel SUVS for a thrilling ride into the desert.
Students were especially excited to ride camels over stunning sand dunes to an overnight camp (with running toilets and solar electricity). After feasting under the stars, it was a night of story-telling, traditional songs, and drumming with Berber hosts around the campfire. Riding back this morning at sunrise, everyone knew they experienced something few people have.
Next stop: west to Todra Gorge.
Days 4-5
Traveling toward the imperial city of Marrakech, the crew stopped in Todra Gorge to see the spectacular 1000 foot canyon and to eat lunch at a traditional Berber rug-maker's home.
Then it was off to Ait Benhaddou to get a glimpse of times gone by via the ruins of ancient kasbahs, former colonial military outposts, and valleys of palm trees and irrigated fields. The day ended with a surprise birthday party for Ms. Falkenburg.
The next day was a stop at Ouarzazate, the film capital of Morocco. This is the location where productions such as Lawrence of Arabia, The Sheltering Sky and Black Hawk Down were filmed. The crew toured the Atlas Movie Studios where filming of the upcoming movie King Tut was recently completed.
Everyone is awed by the morocco landscape, and the hospitality of its people.
Day 6/7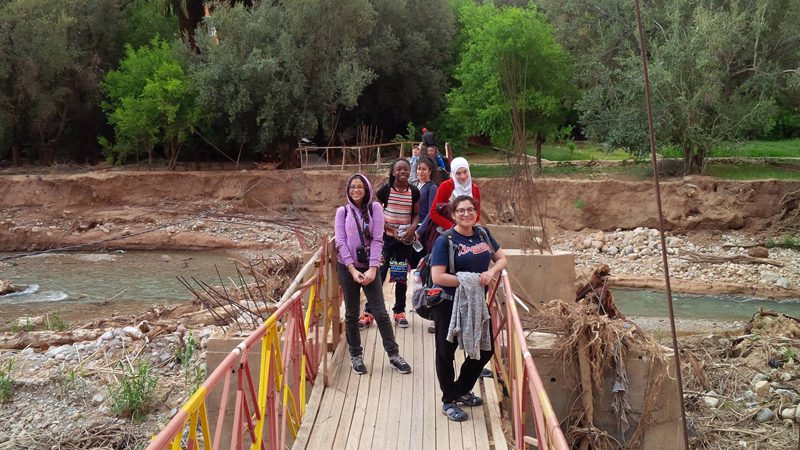 Yesterday, our group of middle school students, alumni, teachers, and parents finished their spring break adventure in Morocco with final stops in Marrakech and Casablanca. But, first their bus traversed some of the most scenic landscapes in the country through the Atlas Mountains westward from Ouarzazate.
The crew enjoyed the contrasts of Marrakech, named the world's #1 tourist destination in 2015. They toured a palace, shopped in the massive souk market while testing their Arabic (seriously, there is no place like this market), and enjoyed eating at modern cafes and passing golf course resorts. The last day was spent in Casablanca, the commercial capital, where they visited the Hassan II Mosque which featured the tallest minaret in the world, and enjoyed a last meal together.
Our first overseas trip was a huge success; and Amana wishes to thank the families and teachers who participated. We also wish to thank Intrepid Travel for creating an experience of a lifetime for us, and Delta Airlines Group Travel. We can't wait to offer more experiences like this trip in the future!
Interested in organising a private group tour for your school, club or friends? Intrepid can get you there.