NOTE: This article was inspired by our 8-day 'Explore Croatia' trip
With its ancient walled cities, shimmering sapphire waters, impeccable wine and delicious cuisine, Croatia is where Mediterranean fantasies come true. (And yes, all the adjectives are necessary.)
With so much to see and do, it can be daunting to plan a week's itinerary in Croatia. But never fear, for it CAN be done (looking at you, vacation-deprived Americans)! Here's how:
Day 1: Dubrovnik
Known as 'the Pearl of the Adriatic,' Dubrovnik is an incredibly well-preserved medieval city perched on the southern Dalmatian Coast. You may have heard of it. Apparently some little TV series is filmed there (*cough* Game of Thrones *cough*).
A walk along the walls is the best way to get acquainted with the Old City and scope out your surroundings. You're going to want to stop as much as possible for photos, so all in all, it should take about two hours to complete (double that in high season).
You will start and finish the walls at the Pile Gate– one of Dubrovnik's main entrances. This sets you up perfectly to spend the rest of the afternoon exploring the Old City.
If you're a seafood fan, stop for lunch at Lokanda Peskarija, a café overlooking the Old Port on the eastern side of Old Town. The mussels and oysters here cannot be beat.
READ MORE: 7 UNDERRATED SPOTS IN CROATIA (WHERE YOU CAN AVOID THE CROWDS)
Day 2: Dubrovnik
By now, you should have noticed the giant hill overlooking all of Dubrovnik. That's Srđ Hill (or Mount Srđ, or Srđ Mountain, or just Srđ…I still haven't figured out which one it is).
Located just behind the city walls is Dubrovnik's famous Cable Car that runs to the top of Srđ Hill. The journey takes about five minutes to get to the top, where you will enjoy breathtaking views of Old Town and the nearby islands.
There are also hiking trails and a 'Buggy Safari' tour, or you can just sit back with a coffee or a glass of wine at the "Panorama" Restaurant & Bar.
After Mount Srđ we are heading to Lapad – a neighborhood about three kilometers outside of Old Town with a beautiful bay, great beaches, and a promenade full of coffee bars, gelato shops and restaurants. Head over to Cave Bar More to cap off the day with a cocktail or glass of champagne.
Day 3: Split
Begin the day by visiting Split's main attraction, Diocletian's Palace– a 1,700 year-old Roman Ruin that now makes up Split's 'Old Town'.
Take some time to wander through the narrow passageways and hidden alleys, but don't leave Old Town without a trip to Split's iconic Bell Tower – here you'll find stunning panoramic views of Split and the surrounding areas.
Lunch at the Olive Tree Vintage Café was one of the best meals we had in Split, which came as a huge surprise given its touristy location along 'The Riva'. With a menu of regionally-inspired dishes and a comprehensive wine list, it's one of our favorite places to enjoy good food, good wine, and a buzzing atmosphere.
If you're feeling especially indulgent, order another bottle of Croatian wine and stick around for a breathtaking sunset over Split Harbor.
RELATED: THE ULTIMATE GUIDE TO EVERYTHING SPLIT HAS TO OFFER
Day 4: Vis Island
Vis Island is the furthest of the central islands from the coast, but still only a two-hour ferry ride from Split. (It's also one of the stops on this 8-day sailing trip through Croatia!)
While the gourmet delights and local wines certainly impart a feeling of laziness, or 'island time' as we like to call it, there is no shortage of things to do here. I suggest you visit the center of the island to see one of its many local vineyards, or go on an excursion to the famous 'Blue Caves' off the coast of Komiźa, on the west side of the island.
However you choose to spend the day, cap it off with some fabulous local cuisine at Restaurant Pojoda. Hidden in a quaint garden setting in the village of Kut (20 minutes walk along the waterfront from Vis Town), if you ask anyone in Vis for a restaurant recommendation, Pojoda is always at the top of the list. The prawn and barley risotto is to die for, but you really can't go wrong no matter what you choose.
Day 5: Vis Island
Since you'll be catching the ferry back to Split in the late afternoon, grab your coffee and some pastries to go, because we're heading to my favorite place on the island – Grandovac Beach.
Grandovac is a 20-minute walk from the village of Kut, where you'll pass by beautiful island greenery and picturesque old stone villas. Take your time to revel in the history and natural beauty of the island (tons of great photo ops!).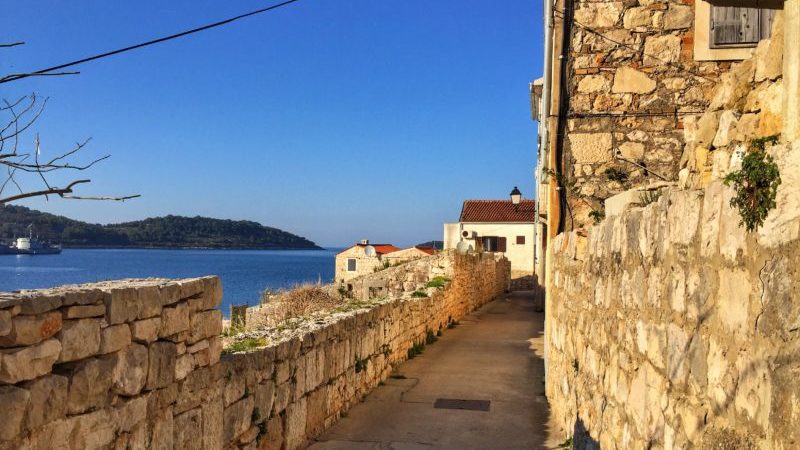 The crystal clear bay and pebble beach is protected from the breeze by a beautiful forest of tamarisk and pine trees, offering ample shade.
If you're feeling like something other than seafood, stop by Karijola Pizzeria for a bite to eat on your way back through town before hopping on the ferry back to Split.
HERE'S EVERYTHING YOU NEED TO KNOW ABOUT CROATIA'S ISLANDS
Day 6: Plitvice Lakes National Park
Plitvice Lakes National Park is made up of 16 crystalline lakes that tumble into each other via a series of spectacular cascades and waterfalls. There are 10 miles of wooden footbridges winding their way around and across the flowing water, as well as trails through dense pine forests that run from lake to lake..
It takes about six hours to explore all of the lakes on foot, but if you don't feel up to exploring the entire park, you can choose either the upper or lower lake sections, each of which takes about two hours.
There are many more beautiful national parks in Croatia (Krka is beautiful, too) but Plitvice provides the perfect taste of the country's stunning scenery.
READ MORE: AN ESSENTIAL GUIDE TO PLITVICE NATIONAL PARK
Day 7: Split
Since yesterday was a long day, you'll probably want to take the morning to relax. I recommend a walk down to Bavice Beach, where you can grab a cappuccino with a great view at Caffe Bar Žbirac.
Once you feel ready to start the day, we're headed to Marjan Hill. You'll want to dedicate at least a few hours for a leisurely hike around the hill. There are plenty of shaded benches all along the way, perfect for taking a rest and enjoying the beautiful panoramic views.
After your hike, head to the small café bar at the base of the hiking trail. It's a great reward after a long day on your feet, and the perfect place to celebrate your Croatian adventure. And, if you're like most people, an opportunity to start planning your return trip.
Tempted to visit this insanely picturesque country? Check out our range of small group adventures in Croatia.
—
(All images c/o Sarah Tate at psletstravel.com except hero image c/o iStock)
Feeling inspired?