Let's be honest; the thought of undertaking an eight-day hike is a gruelling one, and Peru's Choquequirao Trek takes you on a pretty mammoth journey.
The hike challenges the body, with long days of walking up and down high-altitude passes. But those who put in the effort will be seriously rewarded on this epic trail in south Peru.
Wondering what to expect on the Choquequirao Trek? Here's what your trip might look like.
Day one
Starting at Capuliyoc Pass at 2915 metres (9563 feet), you ease into the hike along a gentle path, taking in views of the countryside, then walk downhill for two and a half hours and stop for lunch. See the snow-capped mountain of Apu Padreyoc in the distance. Trek for another three and a half hours to reach the campsite.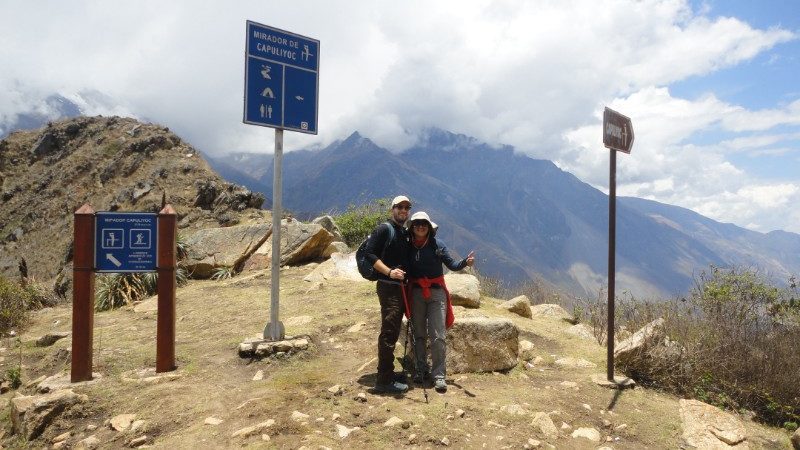 Day two
After an early start, prepare yourself for a big day of uphill trekking, with several passes to get to the impressive site of Choquequirao at 3100 metres (10,170 feet). You will arrive at camp by mid-afternoon after about seven hours of walking, with small stops and a lunch break included. This is the only camp site with flushing toilets and a cold shower throughout the entire duration of the trek.
RELATED: 10 FACTS YOU PROBABLY DON'T KNOW ABOUT PERU
Day three
Today you get to explore Choquequirao with our expert local guide. The day takes you to the religious quarters of the priest house and ceremonial room, then to the urban area. After that, walk through lined terraces with ancient fountains and grazing llamas. Learn about the history of Choquequirao, which was built around the same time as Machu Picchu. Appreciate the rawness of the ruins, with large parts still being excavated and restored.

Day four
To begin the day, you make your way up to Choquequirao Pass (3270 metres) where you get striking views over the Apurimac River. Walk to Pinchiunuyuc, where you'll come across restored Inca terraces. The day takes about eight hours before getting to Maizal camp site, at 3000 metres (9842 feet).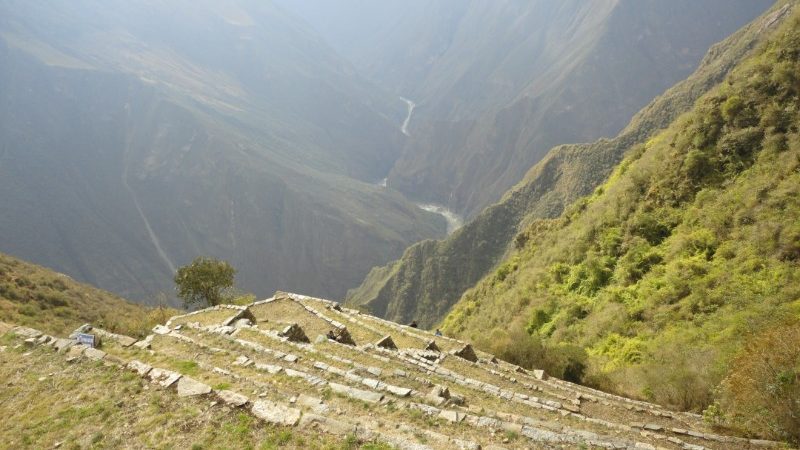 Day five
Make your way uphill and into the cloud forests, where the terrain changes to dense bamboo growth. Here, you start to reach higher altitudes with the highest pass at 4125 metres (13,533 feet). In the distance, you'll see Sacsara Mountain and Pumasillo Mountain. If you haven't spotted a condor yet, today could be the day. Arriving late afternoon, you camp for the night at Yanama, which sits at 3600 metres (11,811 feet) above sea level.
RELATED: A BRIEF HISTORY OF CHOQUEQUIRAO: PERU'S REAL 'LOST CITY' ARCHAEOLOGICAL SITE
Day six
This is one of the most challenging days of the trek. You'll make your way up a steep incline to Yanama Pass, sitting at 4660 metres (15288 feet). The views from this pass overlook snow-capped mountains, rivers and evergreen hills.
Day seven
It's all downhill from here. Today you'll visit a local farm that produces coffee beans and grows fruit crops. You will start to see more people as you make your way through villages, and get the opportunity to sample coffee grown in the area.
SUBSCRIBE TO INTREPID'S NEWSLETTER FOR TRAVEL TIPS, STORIES, OFFERS, GIVEAWAYS & MORE
Day eight
The final day of the trek takes you to a section of the Inca Trail where you visit the impressive site of Llactapata. Wind your way downhill again to reach the hydroelectric power facility and then catch a train to Aguas Calientes – the gateway town of Machu Picchu. The next day (after a well-deserved hot shower) is dedicated to exploring the ancient citadel.
To learn more about the trip to Choquequirao, visit our trip page.
 Images by Maritza Chacacanta
Feeling inspired?