Whether you've been to one country, or one hundred, a visit to Cappadocia is sure to be one of the most memorable travel experiences of your life.
When I first moved to Turkey in 2014, I would talk about where I'd been and almost without fail I'd get interrupted and someone would ask, "…but, have you been to Cappadocia?" Eventually, I realized that I couldn't keep answering no to that question.
When I finally did visit, I instantly understood why everyone asked that question. The landscape itself is dramatic and otherworldly, and, in truth, it reminded me more of my childhood visions of other planets more than any other place I'd been on earth.
As a travel writer, I've written about and recommended many places, all with varying levels of enthusiasm and verbosity. Yet, in the case of Cappadocia, I have to muster all my strength just so my brain doesn't short circuit with a cacophony of adjectives.
There's no other way to say it, Cappadocia needs to be on more travel bucket lists because there are few, if any, places like it.
What makes Cappadocia special?
Cappadocia is a notable region for a number of reasons, but, namely because of its lengthy history and breathtaking scenery. Cappadocia's human history is estimated to have started as far back as 1800 BC, and it has always occupied this "in-between" space as empires fought battles on either side (and sometimes through it). Due to its rocky formation, Cappadocia has been a hiding place for millennia, and most notably for the Christians in the fourth century who were petrified to face the wrath of Rome.
These people weren't just "hiding," they were creating. When you go to the region of Cappadocia, and particularly near Göreme, you'll find literal cave chapels replete with stunning frescoes. That's what resonated with me when I went, that even in a time of great duress, these people managed to establish a place of incredible beauty – a sanctuary within the rocks. You can still see these frescoes today, though, sadly, at varying levels of preservation.
It's important that you learn about the history when coming to Cappadocia, but the geographical formations in this region are without comparison.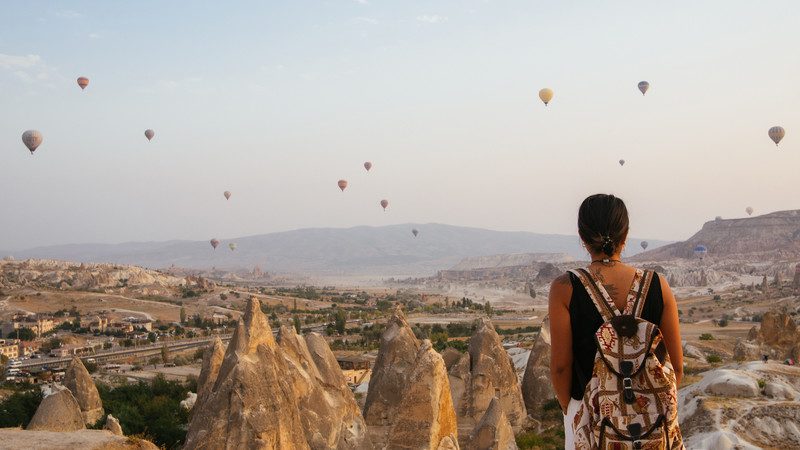 Everywhere you look, soft volcanic rock has been formed into what are colloquially known as "fairy chimneys," as well as other structures. The ground is cut, carved, and battle worn, which means you've got no shortage of caves, underground tunnels and bizarre formations. There is, quite literally, a whole world that you can't see with the naked eye when you're visiting Cappadocia.
VISIT CAPPADOCIA ON A SMALL GROUP TOUR OF TURKEY WITH INTREPID
What should I see and do in Cappadocia?
In many ways, just being in this region of Anatolia is enough, but there are certain areas and activities that are well worth investigating. The good news is that the vast majority of Intrepid's Turkey trips do an excellent job of covering the Cappadocia bases. I can tell you from personal experience that 2-3 days is going to give you a great feel for the area, and you might even need a new memory card for your camera when you're finished.
Göreme Open Air Museum
To me, this is the best place to take in the feel of Cappadocia, both from a geological and historical standpoint. You can wander in and out of old frescoed churches and duck through houses carved into the rockside, but you can also stand on balconies and look across the valley at the great breadth of fairy chimneys. If you've brought a camera with you to Cappadocia (and you should!), make sure it's charged before you arrive here.
Between the architecture and the rock paintings, this is the top tourist attraction in the region without question. Just think about it, some of these frescoes were painted over a thousand years ago and are still as vibrant as if they were painted yesterday.
SUBSCRIBE TO INTREPID'S NEWSLETTER FOR TRAVEL TIPS, COMPETITIONS, GIVEAWAYS & MORE
The underground cities
There are several major underground cities that are worth visiting in the region, but Derinkuyu and Kaymaklı that come to mind for me (in fact, they're connected). I must admit, I always giggle when I read Kaymaklı Underground City because "kaymaklı" in Turkish literally translates to "with cream." 
That is, however, besides the point. The underground cities of this region in general are incredibly impressive. The caves were most notably used by Christians to evade persecution, and some of these cities were built up to 10 floors underground – just let that sink in for moment.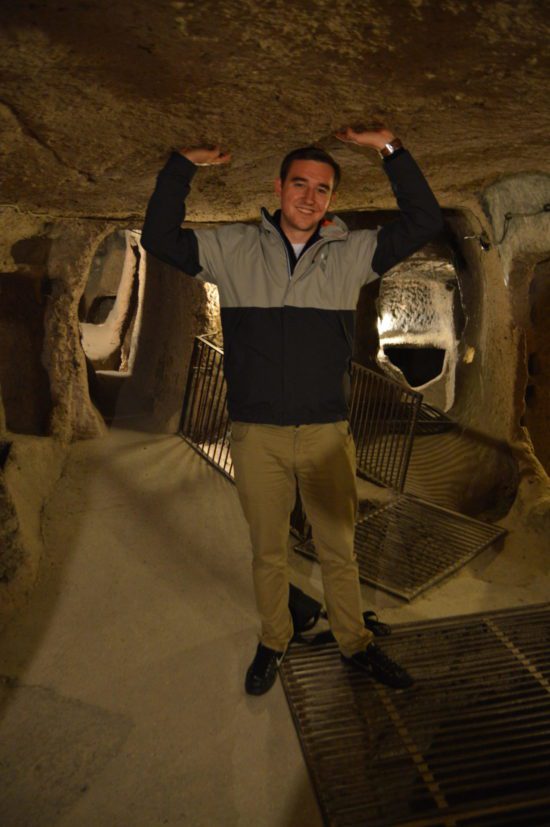 I'm not claustrophobic, but I swear when I was on the lowest floors of kaymaklı, I could feel the weight of the ground above me. It's interesting because you can see how there were actually tunnels that served as escape channels should the caves be entered from the front, complete with defense mechanisms and the like that wouldn't allow the persecutors to chase after them.
READ MORE: WHAT IT'S LIKE VISITING TURKEY SOLO ON A GROUP TOUR
A hot air balloon at sunrise
Going up in a hot air balloon over Cappadocia can be expensive, but it's worth every single penny (or lira, as it were). This was one of the defining travel experiences of my life, and I've been lucky to travel to nearly 80 countries. You shoot up high over the cracked earth below, then effortlessly drift down into the valleys, as you skirt past fairy chimneys. I was in literal awe the entire time, and the pictures I have from that experience are cherished possessions of mine.
The cuisine
The Turkish food you'll try in this region will, in all likelihood, wow you. I'd personally recommend the testi kebap, which is an array of meat, vegetables, and spices cooked in a sealed clay pot. I also found the gözleme, a Turkish crepe of sorts often served with potato or spinach, to be excellent in Cappadocia. I'm not the world's biggest fan of Turkish coffee, but the Turkish tea (known as çay) was very much to my liking there. Cuisine in Göreme is cooked slowly and with care, so whatever you order is likely to be good, even your average kebab.
READ MORE: 6 DISHES YOU ABSOLUTELY HAVE TO TRY IN TURKEY
So, why visit Cappadocia?
There isn't anything else like it, period and, to me, that's enough of a reason. Trust me, I've spent most of my life in pursuit of what makes this world unique, and this, my friends, is unique as it gets.
It's a history few people know about in a place that not enough people have visited. If anything, that's more incentive to go and see it for yourself.
Your ticket to Cappadocia is a ticket to another world, and I mean that in the most literal sense. Let Cappadocia change you, as, thankfully, it changed me.
Ready to experience this incredible region for yourself? Check out Intrepid's small group trips in Turkey.
—
(Image credits from top to bottom: Intrepid Travel x4, Christ Mitchell, Intrepid Travel, Chris Mitchell.)
Feeling inspired?