Northumberland has seen many battles over the years and the rolling hills, rugged escarpments and sparkling rivers of Northumberland National Park in the UK reveal the story of those who came before. Hadrian's Wall snakes across a landscape where hills are scattered with Roman ruins, rugged castles and crumbling forts like rough cut diamonds on a jeweller's velvet cloth. Northumberland National Park has a rich heritage and scenery that will knock your socks off, making it the perfect spot for an active adventure with a dash of history. Bring your sense of adventure and get ready to roam.
Start your visit at The Sill
The Sill: National Landscape Discovery Centre doesn't just offer the usual visitor centre facilities like a café and shop, you can also soak up incredible views of the National Park from a walking trail on the roof. The Whin Sill Grassland Roof is the first walk of its kind in the world and was inspired by the shapes, soil, plants and geology of the surrounding countryside. When you've finished enjoying the view, head inside and check out the exhibition showcasing the surrounding area and educating visitors about the most significant features of the National Park. Don't miss the interactive topographical sand exhibit which enables you to create different landscapes and then see how rain affects them.
See stars at the Northumberland International Dark Sky Park
Thanks to Northumberland's remote location, small population and no major towns, you get an incredible view of the sky at the Northumberland International Dark Sky Park which is the biggest and best place to stargaze in the United Kingdom. It's possible to book a tour at one of several observatories but you can also enjoy Northumberland stargazing for free at one of the many Dark Sky Discovery Sites. These are located away from streetlights and anything else that may block the view like trees. Many of these sites have 24 hour toilet facilities and star maps to help you pinpoint galaxies and stars.
Go hiking in Northumberland National Park
FIND YOUR PERFECT NORTHUMBERLAND ADVENTURE
If you love walking through spectacular scenery without the crowds, an Intrepid group tour that visits Northumberland National Park is your dream come true. Covering more than 1,050 square kilometres (410 square miles), there are more than 30 Northumberland National Park walks to choose from with something to suit every age and ability. Trails range in difficulty from the family-friendly Elsdon Burn Walk to the challenging Dunsdale to West Hill Walk which takes hikers to air crash sites in the Cheviot Hills where the landscape is littered with aircraft wreckage. If you want a break from walking, there are plenty of castles and fortresses to explore along the way or you can simply find a comfortable spot to perch and enjoy the view.
Go cycling in Northumberland National Park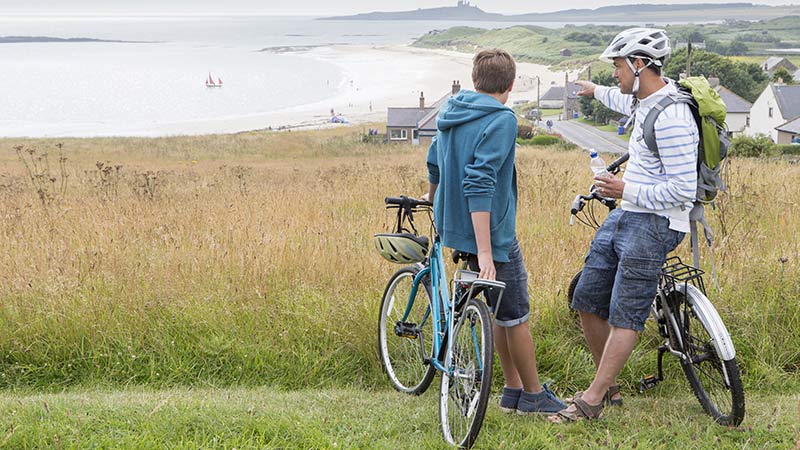 Northumberland is great spot for a holiday on two wheels as the roads have little traffic and there are myriad cross country mountain bike trails for off road adventures. Kick off your adventures with the ride from Alston, the highest market town in England, then zoom down through the Tyne Gap valley, enjoying plenty of great scenery along the way. The two hour Black Grouse Cycle Route includes historic churches, charming villages and fortified farm houses. If you're after a longer ride and don't mind cycling along (quiet) roads, the College Valley and Yetholm ride travels up hill and down dale through scenic valleys and includes a short hop over the Scottish border to Kirk Yetholm and Town Yetholm.
READ MORE: WHAT IT'S LIKE TO JOIN AN INTREPID UNITED KINGDOM CYCLING TOUR
Walk alongside Hadrian's Wall
The ancient Roman ruins of Hadrian's Wall, the largest section of which is located in Northumberland National Park, are Britain's largest archaeological feature. The Hadrian's Wall Path is an unbroken 135 km (84 mile) signposted footpath that stretches from one coast of England to the other. However, you don't need to walk this far as Northumberland National Park is home to a much easier (and shorter) walk. The family-friendly Steel Rigg and Crag Lough Walk travels along some of the most scenic sections of Hadrian's Wall and only includes a handful of hills so you don't need to be super fit to enjoy it.
Feeling inspired?